3:12pm Spencer and Andy
Spencer says Helen was wacky.
Andy says jokingly that Helen was crazy. Andy tells him about the knock outs alliance and how Helen was always telling him knock outs till the end then a couple hours later she was saying they need to take out Amanda. (Who was a member of the knockouts)
They both have a laugh about Helen, They mention how horrible she was at comps. Andy says he shared a early bond with Helen because they were both from Chicago.
Andy jokes that they were a rag tag bunch of rejects that got Elissa out. He says how funny it was because Elissa's greatest fear was going home during a double eviction and that is what happened. "What a awesome way to send that B1tch packing"
Andy says Amanda would always tell him she would die if she went home by the hands of Ginamarie and she went home solely by the hands of Ginamarie.
Andy – "I don't think we're going to have the comp today"
Spencer says he's going to take a sh!t and shower. Andy mentions how he's slept for 18 hours there is no more sleep left in him.
3:41pm Spencer and GM
Talking about how Andy will win this game. Spencer goes up to the memory wall and points out all the people that will vote for Andy to win. He selects almost everyone.
Spencer – "Gm baby i'm going to bust my a$$ in that competition" Spencer says they both have a chance to win it if they are against each other. If they are against Andy they will lose.
Spencer says Andy came up to him before the first HOH and said if they are competing in the final HOH together they should keep each other. Spencer Is worried Andy is trying to make the same deal with GM. Gm tells him not to worry she knows she won't win beside him. Spencer Wants GM to know he's still solid with her.
Spencer- "You got nothing to worry about me i'm solid like a f*** rock"
GM – "I'm solid to"
Andy comes out of the diary room. He says they will not tell him when the Head of household competition is.
3:58pm GM building an exterminator outfit.
GM exterminates.. Notice the knife in Candace's memory wall slot in the image below. .. GM goes around the memory wall spraying everyone that has been evicted with her Chemical spray. She makes sure to do the base boards to get the last few pests
4:30pm GM tells Them Tuesday she gets her stitches out.
5:02pm playing bullSh!t
Joking around about Elissa having 8 inch long blonde pubic h@ir.
Spencer – "She was the rapunzel of public h@ir "
…
6:00pm Cockpit
Spencer posing like he's on the cover of Bear weekly… Just chit chat. Spencer tells them he went and saw man of steal the night before he left to be on Big Brother 15.
6:17pm Cockpit the Exterminators Andy is telling them the time he had "Special Guest" pass last November to the Obama Headquarters during Election night.
GM says if nothing happens soon she is going to just run around. "I'm turning into mush.. I'm going to wait until 9.. if it's not tonight it's going to be Monday because I don't think they are going to do shit tomorrow"
Andy – "Ya"
6:35pm Spencer tells Andy it's probably safe to drink those beers he has laying around they won't be doing the competitions tonight.
6:47pm
Andy comes out of the bathroom goes into the cockpit.
Production comes over the speakers "Did you wash your hands"
Andy – "I did.. roll the tapes"
6:58pm GM tells them that her EX was trying to get her to have a threesome with another guy. GM told him she's not a threesome type of girl.
GM says if another girl looks at her man she rips their "F*** face off" There is no way she would want to have a threesome with another girl and her boyfriend.
Spencer asks them if there is any s$xual fantasy they have not fulfilled.
GM tells them her only s$xual fantasy is to have Nick F*** her brains out.
They start talking about Amanda saying Howard told her he wanted to f*** her brains out. Andy doesn't really know what to think. He finds it hard to believe. Spencer doesn't think he said it but even if he did Spencer doesn't care. Spencer mentions how McCrae was telling them that Howard was a "Red blooded American man" so he obviously wanted to have s$x with Amanda. Spencer laughs "Dude not everyone wants to get with Amanda"
GM – "I never heard him curse once"
Spencer doesn't care either way what was said.
7:14pm Trivia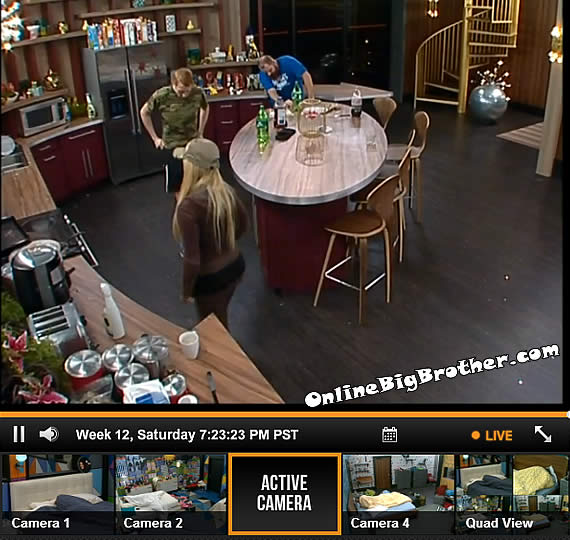 7:22pm House guests getting ready HOH competition must be starting soon.
Any – "Good luck my friend"
Spencer – "Good luck my friend"
Andy -"Alright we're ready"
GM – "Good luck both of yous"
8:11pm Trivia
8:55pm Trivia yo
9:14pm Trivia
[polldaddy poll=7394123]
Use the Big Brother Live Feeds to FLASHBACK to SEE what they can't show you on TV:
BB15 N!p Sl!ps / N*des