Big Brother 13 Live Feeds Can be watched on your iPhone and Android Mobile devices sign up -> Watch Big Brother 13 on Your iPhone or Android Phone
9:23pm Final 3 Chit chat..
Porsche brings up what Jordan said in on the show. "I didn't really talk to you very much but I know you wear bikinis and like hosting Competitions"… Adam chuckles says Jordan made your decisions a lot easier with a comment like that.
They starts talking about Competitions in general and which comps they are most proud about. Adam mentions that before he started winning comps he was starting to feel pretty bad it made him feel like he didn't deserve to be in the house. Rachel says that "Mini games" was her favorite comp this year and Greek games was her least favorite because she dropped the ball so many times. Adam says that comp was his most favorite ..Adam: "It made me feel like I can compete in this game" Porsche: "Yeah… because you were so close to Jeff" (close in terms of the comp)
Rachel mentions how She was first to Jury last year and Brendon is first to Jury this year, "But he didn't make it as far as me"… Rachel jokes that Her making it to final 3 trumps Brendon using the Veto on her.
9:43pm
Rachel tells Porsche she needs to win the Next HOH comp.. She's worried about going up against Adam in the final HOH. Rachel thinks if Adam wins the next 2 HOH he will be evicting Rachel. POrsche thinks Adam is going to take rachel. Rachel: "If you took Adam he will probably beat you". They both laugh at how Adam has a really good chance of winning this entire game.
Rachel brings up a second time how Adam will have the votes. Rachel is pretty sure Jeff, Jordan,
Rachel is positive Dani and Shelly will not vote for her. She jokes if POrsche evicts her she will not vote for Prosche to win. Rachel: "if it was me and you Adam would be the swing vote" Porsche agrees.
Rachel jokes if Adam votes to evict Rachel then her and Brendon will not vote for him. They count the votes of for rachel and Adam final 2. Rachel thinks adam will Have Jeff, Jordan, Shelly and Rachel will have Porsche, Kalia, BRendon and Dani would be the swing vote. Porsche thinks it's a given that Dani will not vote for Adam. Rachel says then POrsche would be the swing vote. rachel now says she thinks Jordan will vote for whoever Jeff tells her to, but Jordan love Adam so rachel isn't sure they may split their vote. Porsche: "Pretty much what we're saying is they're all equal.. and we don't know what is going on in the Jury vote"
Rachel believes that nobody in the jury will vote based on game play they will all vote based on who they hate the least.
(most of that conversation was them talking around in circles… Rachel being very confusing saying one thing then 2 minutes later saying the exact opposite)
They start talking about how Jordan didn't better than Adam in the last POV comp. Porsche thinks he didn't care because he was in a good position with all the girls.. Porsche thinks he probably just wanted to have the girls duke it out.
Rachel : "I can't believe Adam gets Tori Spelling and will probably win the game"
Rachel mentions if Porsche had kept Jordan than Porsche would of won the endurance, Adam would of won part 2 and Porsche would of had to compete with ADam in questions and she probably would of lost. Porsche agrees, she adds that she didn't think she had a chance to beat Jordan in the final 2.
UPDATED
10:30pm Rachel brings up how Jeff threw the POV that resulted in Brendon getting backdoored. Porsche thinks it's pretty obvious now from things Jordan and Adam have said that Jeff had no intentions saving Brendon.
Rachel sighs.. "I wrote a blog about it how are alliance turned on us… and they acted how they were America's sweethearts"..
Rachel: "Do you think if you voted for Brendon that JEff and Jrodan would have"
Porsche: "No"
Rachel: "That's so BLANK up"
Porsche points out how valuable a player like Rachel was to the JJSA alliance. She was always a target and she was winning comps. Rachel agrees says she was kept around to shield Jeff. Rachel wonders why Adam is so long in the DR. Porsche says she's probably crying "My best friend in the house left" They both giggle..
Porsche was kinda upset that Rachel didn't jump on board with her and Dani.. She thought for sure rachel was going to do it. Rachel says she told Dani not to tell Shelly but then found out that Shelly knew and then there was that big fight in the morning..
They start to joke if they make it to final 2 they will tell the Jury that Rachel and Prosche were playing together the entire season. Rachel will say to the jury , "Ahh we have a secret to.. we've been playing you all this summer" Porsche: "That would be soo funny.. then they will go home watch the show" rachel: "And find out it's not true" They both laugh.
11:06pm Adam talking about Kalia and Shelly talking in the room when he was laying down. Kalia was trying to convince Shelly to vote out Adam and Keep Dom. Rachel says that her and brendon had made a deal before they entered the house if given the opportunity to decide Rachel would be the one left playing the game. Rachel: "I probably would of made it farther than he would of had.. " Adam agrees thinks that Brendon would of been taken out at the double eviction.
Adam brings up how odd the POV picks were this year.. the first three were all vets except for the 2 newbs on the block. He also points out during dani's second HOH, BR were not selected to play int he POV.
Adam brings up Kalia ridiculous reason for him to keep her last week. She was claiming she would guarantee she won HOH and POV. Adam: "How the BLANK can you guarantee any thing in this game"
They're basically going over the entire season..
Rachel about Kalia: "She was popping deals out like a toaster"
Adam brings up his biggest regret was turning his back on the Rachel and Jordan when Porsche had the HOH and him, Shelly, Porsche and Kalia were in the back yard. Adam adds that Kalia was really trying to rally the troops and Adam was in it as long as they were all willing to start on a clean slate. (Actually what happened was pandora's box and KPSA lots the power so Adam floated to JR.)
Adam mentions the one thing that pissed him off most this season was when Dani told him if her dad didn't Hate Adam he sure does now.
Adam the second worset thing was when Jeff was evicted and he turned to adam and said why didn't you vote for me.. Adam: "I was like I FUC…. did vote for you"
11:33pm Porsche and Adam talking about how the endurance comp was making them dizzy. Porsche says she felt like puking.
Adam tells Porsche if it was them in final 2 it would be a toss up but her and Rachel he's not sure.. Porsche: "We don't have Jeff and Jordan's vote" Adam thinks who ever wins the final HOH definitely has a case" Porsche: "you've played in 27 comps.. I've only played in 19.. and rachel played in 20"
Porsche: "Jordan has Jeff's, Kalia, and Shelly's vote all she needed one vote"
Adam thinks if he wins the final HOH and if he takes rachel he's going to call Brendon out. He's going to say all season Brendon said he was going to vote for who was the biggest competitor. Adam is going to say he won 2/3 of the HOH comps he got were he needed to be. (Adam believes the person who wins the final HOH should get the money)
Adam brings up how production said he only lasted for 22 minutes in the endurance comp.. (Porsche and Adam were getting dizzy.. that makes more sense to me why they dropped so fast)
12:06pm Adam really thinks he's been a strong competitor. He claims his veto, HOH, veto and if he wins it his final HOH will prove to everyone he deserves to win the money. He mentions if he goes up against rachel he has a vaild case for the jury . Adam does think it will be tough for PA to beat racel. Porsche says she will not vote for someone who evicts her, Adam stumbles and says she needs to think about it differently..
12:20am Porsche knows if she didn't win that POV it would have Been Rachel, Adam and Jordan final 3. Adam says he put up Porsche and Jordan first because he knew it really didn't matter who went up and he was hoping it was going to motivate Porsche and Jordan to excel at the comp and he knew that Rachel didn't need any more motivation.
Adam says he was with the newb 4 alliance he really was but that alliance went to BLANK.. Porsche points out that he was with JR and she felt like she got the BLANK end of the stick She thought they were going to take out JR but it felt like Adam was more with JR than Porsche. Adam says he was with JR and he knew if he turned on that alliance than whatever alliance he made after that wasn't worth "Foo FOo". Adam adds that he made a decision to stick with JJR and and stuck to them.
12:33am ARP playing cards Adam telling them they will never see the jury house..
12:43pm ARP POsche and Adam are joking about how they like to smoke weed. Adam says in 8 days he can smoke grass again, he adds that maybe he won't "do" that anymore.. rachel: "Like every day" Adam claims that He hasn't done the "everyday thing" for a long time.
Porsche: " whats a long time.. Like 59 days"
Adam: "no No no longer than that"
Rachel: "2 weeks"
Adam: "No no longer"
rachel: "How did you pass your tests?"
Adam says he hadn't smoked it in a long time.
1:00AM cards…
Adam asks them if it's OK he moves into the ROYGBIV room.. POrsche and rachel both say yes. Porsche "we can have a slumber party" Adam: "Do I need to wear fara's pajamas"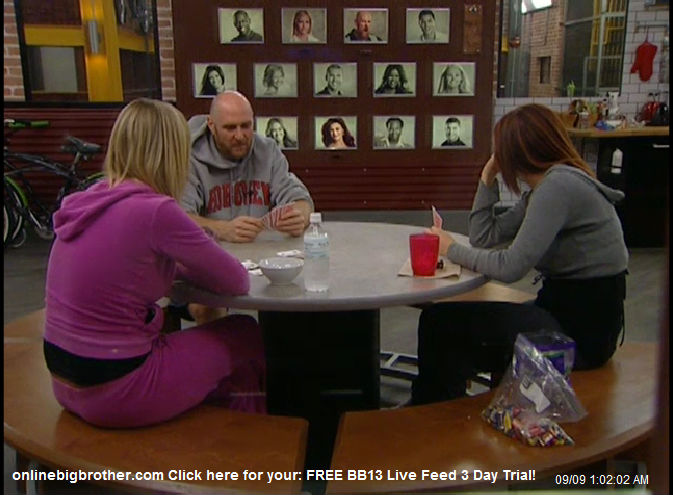 1am – 2:10am Rachel, Adam and Porsche continue to play cards. 1:15am They finish up their card game and head to the bathroom to get ready for bed. Rachel talks about how tomorrow they can lay out and relax. Porsche says that the two people that she was closest to are who she is in the finals with …maybe thats good luck. Rachel asks Porsche if she ever thought it was weird that Kalia slept in the bed with you. Porsche says no. Adam wonders if they will get a HOH camera again. Rachel says oh yeah …I would assume we would. Adam leaves the bathroom and goes to the kitchen to look at the memory wall. Porsche says that the physical part of the season is over. Rachel says well ..the last skill is sometimes physical …but we don't know. Porsche says that she can't believe she looked so ill. Rachel asks who said that you did? Porsche says everyone. Porsche and Rachel continue to talk about the competition. Rachel says that she thinks Dani would have done well at the competition, but that Kalia wouldn't have done well. Adam heads into the candy room to make his bed. Adam and Rachel climb into bed in the candy room. Porsche heads into the kitchen and stops to stare at the memory wall. Porsche, Adam and Rachel are now all in bed in the candy room. They continue to talk about past competitions. Rachel says that the jury house is probably expecting me or you Adam. They talk about random stuff and then roll over to go to sleep…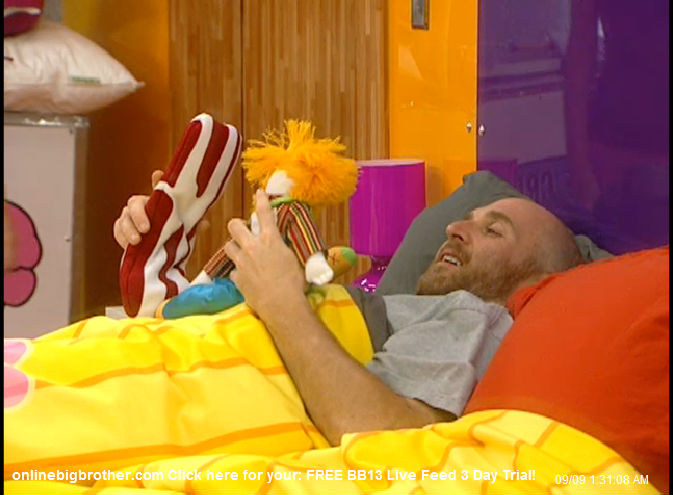 5:40am All the houseguests are still sleeping..
9:30am No wakeup call yet … They are all still fast asleep..
10:10am Big Brother is letting them sleep in this morning .. ZZzzzz…
10:50am Rachel, Adam and Porsche are still sleeping…
11am Big Brother switches the live feeds to the we'll be right back screen to wake up the houseguests.
WATCH the last few days of Big Brother 13 for FREE!
Click here for your: SUPERPASS – 3 DAY Trial!