POV Holder:
Gary
Next POV
April 20th
POV Used
Yes
POV Ceremony
April 22nd
HOH Winner:
Emmett
Next HOH:
April 25th
Original Nominations:
Gary and Andrew
Current Nominations:
Andrew & Talla
Last Evicted Houseguest
Peter
Have Nots
Gary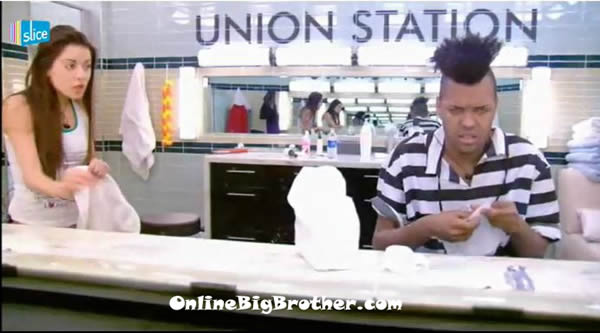 9am Big Brother wakes up the house guests. Talla and Gary are in the bathroom talking. Talla is complaining about how Andrew has been. Gary says that he knows he is playing for second place and he is okay with it. Gary tells Talla that out of everyone here he wants her to win and that he would be happy if she won. Talla brings up how Andrew said he was happy he won the $10,000 Brick gift card because he owns a house. Talla says my mom loves the Brick too and we need a couch! Talla says my mom worked her a$$ off so that I could sit on the couch! Well not sit on my a$$ but you know what I mean.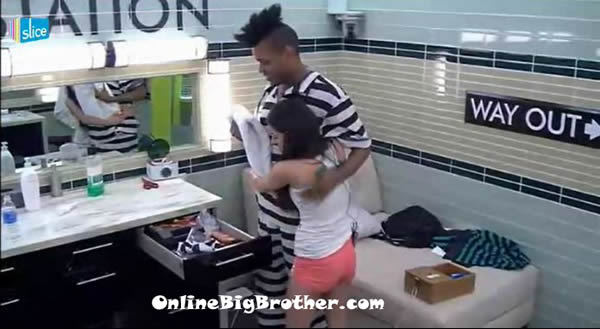 Talla heads to the kitchen where Andrew and Jillian are and she grabs her breakfast. Andrew makes a comment of peeing in the middle of the night. Talla says I would rather just sleep and if I pee my bed, I pee my bed! Talla laughs. Talla then starts telling a story about how she asked for a no foam latte in the drive through but got all the way home and "it had more than the required amount of foam." She says that she then called and complained. Talla says that she wants to go fart on the walls of the house. Jillian asks what are you talking about? Talla says I don't know I am weird!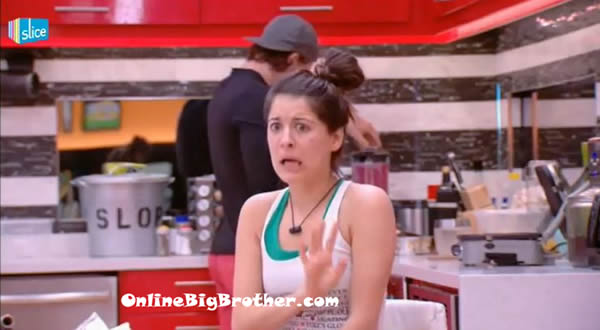 9:45am Jillian asks what should I do? Talla says what do you mean? Jillian wonders if she should say anything. Talla says milkman what should we do? Emmett says don't do it! I hinted at it to him and he freaked out! If you are going to do it .. then do it when there is only 5 minutes left. Jillian says that she feels so bad .. I have been so reassuring to him. Emmett tells her its better not to tell him anything. Emmett heads to the bathroom and helps shave Gary's hair. Emmett asks how his eye is? Gary says its good. Emmett asks is there any more in it? Gary says a little. Gary says and I am supposed to tell you that nothing ever happened.

10am – 10:15am Jillian is in the bathroom talking to Gary. Gary tells Jillian that out of everyone he thinks she has the jury votes in the jury house. He says that she has Alec, Topaz and Peter's vote. Jillian questions having Topaz's vote .. I lied to her a few times. Gary says well okay maybe you don't have her vote. Jillian and Gary continue to talk game and about the finals. Jillian thinks Gary has a good shot at winning .. you are good at comps, you're entertaining. Gary stops her and says that he thinks Andrew will go to the jury house and make them not vote for me because I came back.
Video is uploading:

10:20am Andrew and Gary are in the bathroom talking. Andrew thinks that it will be a double eviction tonight. Gary hopes he can take off his prison suit for the show. Andrew says that he's glad he can shave his head before the show. Gary doesn't understand why he can shave his head but I can't change. Andrew says because I took a hair cut and you said you would wear that for a week. Andrew and Gary talk about having heart to heart conversations in the house. Andrew asks Gary if it looks like I've been losing it this week? Gary says only that one time..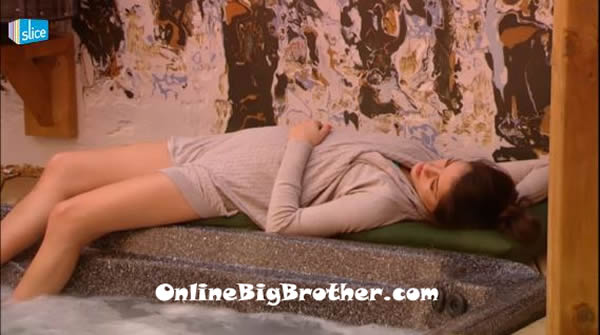 10:25am – 10:50pm Emmett and Talla are out in the hot tub room talking. Emmett continues to convince Talla that she can't win any competitions because it will go against her game. Emmett says that its your social game that got you to the end not having to win competition. Talla agrees that she can't win the HOH competition. She says thanks for helping me Emmett! Emmett and Talla talk about how Andrew is feeling right now about knowing he is going home. Talla says that she is very thankful that it isn't her going home.. Thanks GOD! Thanks Henry! Andrew joins them and they talk about random things. Emmett gets called to the diary room. Andrew asks Talla what she thinks is going to happen tonight. Talla says that she is just going to try and enjoy it until she has to sit on the stool. Andrew wonders what Gary is going to do. Talla asks you haven't talked to him? Andrew says not really, I am not like a Dan or someone who talks game a lot. Gary and Jillian join them. Gary almost puts his feet into the hot tub. (He can't because he took the punishment for a week not to wash or use the pool/hot tub.) Talla and the other yell at him not to get in.

10:50am Gary and Jillian talk in the bathroom about getting Emmett out next. Jillian thinks everyone is going to hate her. Gary says look at Dan he back stabbed and lied to everyone.. Jillian says yeah but in the season he back stabbed everyone.. no one voted for him.. whereas, season 10 he stuck to his alliance and didn't back stab anyone and he won.
11:10am Jillian and Andrew are going to the living room to sit down. Jillian calls for Emmett to come .. Big Brother cuts the live feeds.