POV Holder:
Gary
Next POV
April 20th
POV Used
Yes
POV Ceremony
April 22nd
HOH Winner:
Emmett
Next HOH:
April 25th
Original Nominations:
Gary and Andrew
Current Nominations:
Andrew & Talla
Last Evicted Houseguest
Peter
Have Nots
Gary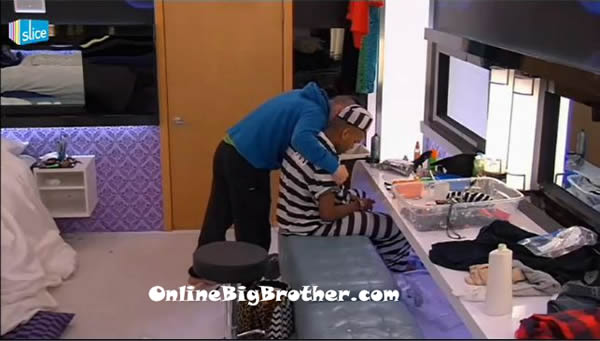 ****
While the live feeds were cut and all the house guests were gathered in the living room where they sat and watched images on the TV. The images were possibly HOH camera photos or photos of past competitions. The house guests think it will be for tonight's HOH competition and that it will be a TRUE or FALSE competition.
****
11:40am Andrew tells Gary that he would be a good person to take to the final two because the jury is already bitter ..do you think they want to give it to someone who got a second chance. Gary says no I didn't think that. Andrew asks Gary for his vote. Gary says that he doesn't know yet he is still trying to think. Andrew says that is okay I understand. Andrew says its down to Talla or me and if its a split vote them Emmett will break the tie. Andrew says people see me as a threat. Gary says I don't know. Andrew brings up how Emmett and Jillian also have similar wins totals. He says that the people in the jury will look at those wins and Jillian and Emmett have won the last 4 HOH's. Andrew tells Gary that he will leave him alone. Gary says again I don't know Andrew… Andrew says if you want to come talk to me you can. Gary starts studying the past events of the house. Emmett starts bringing his stuff down from the HOH room into the bedroom.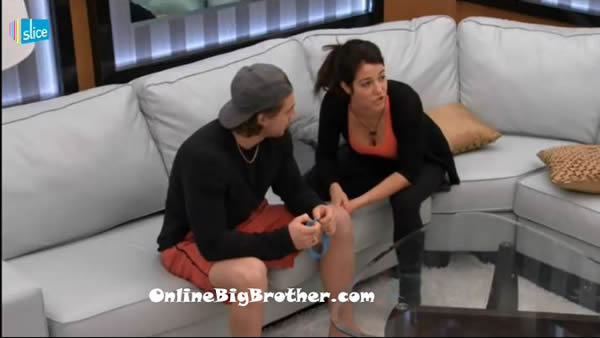 11:50am Gary goes to stop Emmett in the hall to ask him questions about studying. Emmett then heads up to the HOH room. Jillian starts telling Emmett about a conversation with Andrew. Jillian says that Andrew thinks you and Gary are working together. Jillian says that Andrew said he would go talk to Gary. Jillian comments that Gary didn't even come to tell you that he talked to him. Emmett says I know I can't trust Gary 100%. Jillian says that she trust that Andrew will take us both to the final 3. Jillian says that Gary will take Talla. Emmett asks Jillian to run over what is going on in the house. Jillian says that so much is going on right now. Jillian says Andrew said he didn't know if Emmett is 100% so I need to go talk to Gary. Emmett starts getting upset with what Jillian told Andrew and tells her that she needs to be careful about what she says to people!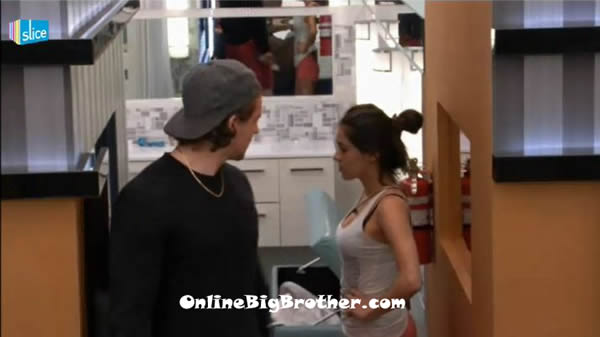 12pm Talla comes up and tells Emmett I saw you talking to Gary and I want to know what it was about! Emmett says he wanted to talk about the pictures because we all had to sit there an look at them. He thinks it might be for the HOH competition. Emmett says I don't even care, I'm not even competing in it! Big Brother cuts the feeds. When they come back.. Jillian and Emmett are talking about Gary being sketchy. Emmett says that he is going to go have a talk with Gary and if he doesn't bring anything up ..like hey I was just trying to feel Jillian out to day to see what they are saying .. then.. Jillian says that Gary has been talking to Andrew today and he has not told us. Big Brother cuts the feeds again.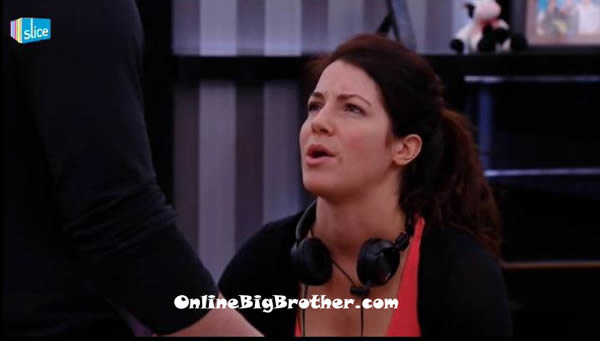 12:15pm – 12:30pm Andrew and Emmett are in the main bedroom talking. Andrew things the photos that they viewed in the living room have to do with a TRUE or FALSE competition. Like when Peter was catching the apples did he have 3 apples in the bin. Andrew says and that would be false. Emmett and Andrew discuss it possibly being a double eviction tonight. Andrew says Talla will definitely not be talking to me after the show. Emmett asks if Talla talks game with Gary. Andrew says I don't know, I don't think she is a big gamer. Andrew tells Emmett that he asked Gary who he is voting for and he said he didn't know. Emmett brings up how all his clothes are dirty. Andrew asks you don't have anything for tonight? Go shirtless .. give them what they want! Emmett leaves the room. Big Brother cuts the live feeds again…

12:50pm Still Hush Hush..
1:25pm Still Hush Hush..
2:35pm Still Hush Hush..
5:20pm Still Hush Hush.. The Big Brother Canada Live Feeds will likely get turned back on some time during the episode tonight or shortly after..
The following VIDEO is Emmett's HOH Video Diary where he talks about the difficult choices you have to make as HoH. He also shares his top picks for final two and dishes on the future of his alliance with Andrew.