POV Holder:
Gary
Next POV
April 20th
POV Used
Yes
POV Ceremony
April 22nd
HOH Winner:
Emmett
Next HOH:
April 25th
Original Nominations:
Gary and Andrew
Current Nominations:
Andrew & Talla
Last Evicted Houseguest
Peter
Have Nots
Gary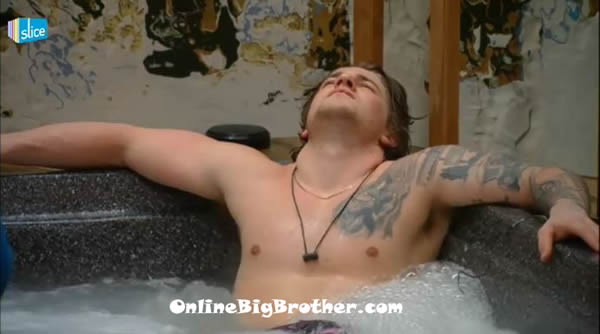 8:25pm The Big Brother Canada Live feeds get turned back on. Emmett, Talla, Jillian and Andrew are out in the hot tub room. (Gary is no where to be seen. He is probably still seeing the doctor about his eye.) Talla and Jillian are talking about hair cuts / styles. Jillian heads inside to shave her legs and get ready for bed. As she walks away Talla says nice bum Jillian .. It really is nice! Andrew says it would be nice to play chess right now. Emmett agrees and says that he thinks Big Brother just didn't want to have all of us up there. Emmett heads inside. He goes up to the HOH room to shower with Jillian. Jillian takes off all the make-up that Gary put on her this morning. Emmett tells her that she looks way better now.. you look healthy now .. before you looked sick!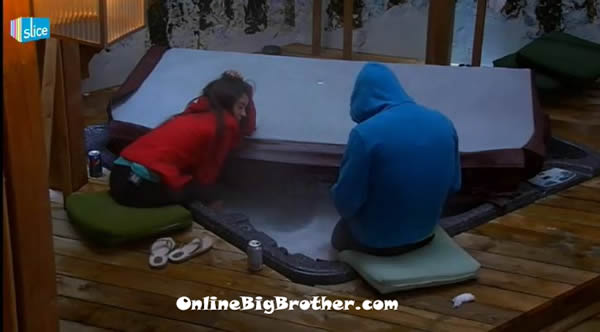 9:10pm Talla is in the kitchen cooking. She has been going off talking about how there is no marinara sauce. Andrew tells her yes there is it's in the fridge. Talla goes to look and finds some. Emmett brings the chess board down from the HOH room. Andrew and Emmett head out to the backyard to play chess. Talla comments to herself if he (Andrew) stays I will be so mad! Out in the backyard Andrew and Emmett talk about the broken glass. Andrew says that he cleaned it up because you know who (Talla) wouldn't do it. Andrew says that he asked her who else is going to do it. He says that Talla said Gary. Andrew says yeah right. Andrew says and last night I was cleaning up broken glass from her. They head out to the hallway out to the hot tub to play chess. Big Brother cuts the live feeds and when they come back Andrew and Emmett have packed up the chess game. They were told that they can't play chess and that he has to return it to the storage room.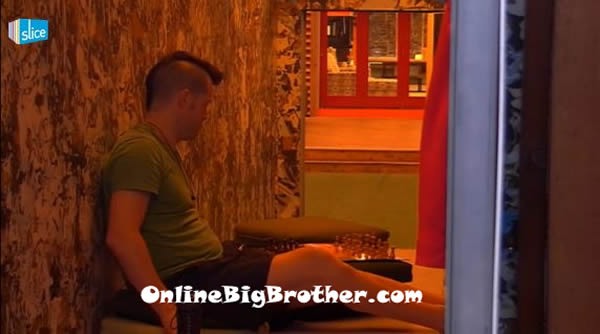 9:25pm – 9:45pm Emmett heads up to the HOH room to listen to his music. Meanwhile down in the kitchen Talla is making Chilli while her and Andrew talk about random things. Talla complains about how messy the kitchen is. Andrew says well think about who was cooking in here last (Gary). Andrew says living with a bunch of people is a god damn nightmare! Andrew says that there isn't a dish fairy that comes in here to dirty them up. Jillian goes down stairs and says that Gary said her a$$ was fat. Andrew tells her it looks lovely. Jillian asks Do you think it was a task!? Andrew says I don't know .. what you should be more worried about is what Emmett or I think about it rather than Gary.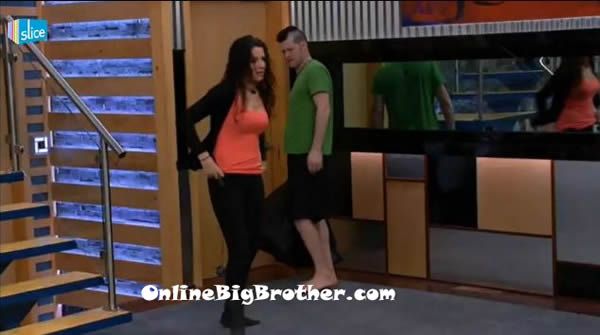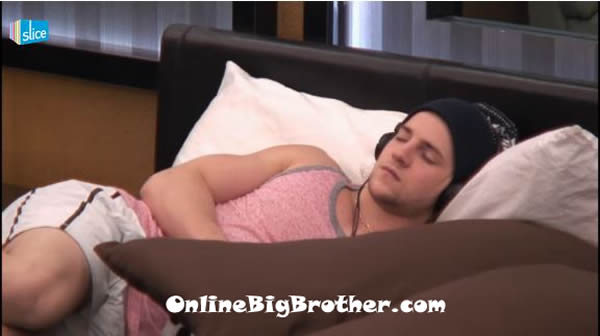 9:45pm – 10pm Andrew, Jillian and Talla are in the kitchen.
Cooking with Talla:

10:20pm Andrew heads into the storage room to grab a popsicle, when he returns he stops at the living room and says to Jillian and Emmett. Andrew asks where are the stools .. I should practice my speech for tomorrow.. Dear a$$holes.. He then laughs and sits down with them. Jillian heads back into the kitchen. Talla asks her .. you don't think Emmett is thinking of keeping Andrew do you? Jillian says nope, nope not in a million years. Talla says good! Then she says it really depends on you and Gary.. They continue talking about cooking. Meanwhile in the living room Andrew and Emmett talk about the possibility of it being a double eviction tomorrow. Andrew comments that Topaz was a nice girl when you talk to her .. but she will never be asked back. Emmett agrees and says that she didn't make enough moves. Andrew heads to the kitchen. Jillian tells Emmett that it is hard to do studying down here because people see it and are already scared of you.. Emmett agrees.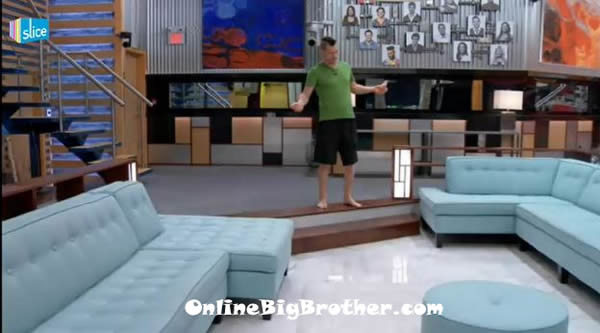 10:30pm Jillian, Andrew and Emmett sit in the living room. Andrew says that this is how it should have been .. just me and you two ..with her going home. They comment on how they wonder if Gary had to wear the prison costume to the hospital or not. Jillian cracks up laughing. They laugh about how he hasn't had a shower since Saturday either. Big Brother cuts the live feeds.

10:40pm Talla brings Jillian and Emmett her chilli to try. Emmett says that its alright. Andrew says that its okay it's a 6/10. She says she thought it was a 10. Andrew tells Talla that there is a Pepsi over here for you. Emmett tells him to shake it. Andrew says that he couldn't do that to her. Emmett says toss it over I will. Andrew gives it to Emmett and he shakes it and throws it back. Andrew tells Talla again there's a Pepsi here for you that Jillian brought you. Talla says thanks but I think I will have a beer. Emmett says dammit I wanted her to open it. Andrew and Emmett talk about HOH wins. Emmett says that Jillian has 3 and if she wins tomorrow that will make four. Andrew says she would be scary to take to the finals. Emmett laughs. Emmett asks Andrew what he would look at as a jury member. Andrew says he would look at it like a combo.. and look at each person differently. Andrew says that he thinks the speech wont matter most jury member will have their mind made up before it even happens. Emmett asks really? Emmett comments that the worst thing would be getting put out by Talla. Andrew says what got you out.. BUSY! Andrew says it would be just as bad to be gotten out by Gary. I could see that I got him out so he gets me out.

11pm Emmett heads out to the hot tub hallway where Talla is sitting. Talla asks Emmett if he will tell Andrew he is going to be voted out or just let it happen. Talla says what would you want him to do if it was reversed. Emmett doesn't answer. Emmett and Talla talk about jury votes. Emmett and Talla talk about if they were in the final two together. Talla thinks they would be pretty even in votes. Talla talks about how some people say a competition wins only matter if you needed to win, but I don't think that way .. a win is a win is a win! Talla says each one is a notch on your belt. I don't even know what kind of belt I have. Emmett explains to her that she needs to tell the jury that she didn't need to win anything .. she could just rely on her social game… they all stressed out while I got to sit back. Talla asks if Emmett feels bad for sending Andrew home tomorrow. Emmett says yeah I do, I am going to go back home and hang out with him. Emmett tells Talla that if it were Jillian and Talla up there he would have to vote for her.. just because I will be going back to Nova Scotia and seeing her. Talla tells Emmett that Andrew will get over it being voted out. Emmett tells Talla to just be nice to him tomorrow. Emmett says that he hasn't lied to Jillian and that he avoids the final two question so that he doesn't have to lie to her because he is going to pick the best option to win. Talla says it's just a game. Emmett says yeah its just a game but it will take a while to get over it.

11:30pm – 11:50pm Meanwhile inside Andrew and Jillian are in the kitchen and he wonders what the hell Emmett and Talla could be talking about.. Andrew and Jillian head up to the HOH room and talk about random things. Talla joins them and Andrew heads downstairs to go to bed. Emmett joins them. Talla says that she is going to go annoy Andrew. Emmett tells her to go give him a rub. Talla says that's disgusting. Emmett says a back rub, your mind went to the gutter. Talla leaves and Emmett motorboats Jillian's boobs. Jillian says that she feels like sh!t after talking to Andrew. She says that Andrew was talking like he is still going to be here to take out Gary. Emmett tells her its called big brother you have to lie. Emmett wants Gary to see Jillian not sleeping in the HOH room. He wants to put holes in their relationship so that he (Gary) won't think they are so close and take one of them to the final two if he chooses. Emmett says tomorrow night will be a wild one .. Gary thinks we are taking him and Talla thinks we are taking her. Emmett says best case is you win HOH and then Gary and Talla will both think they are safe. They wonder who will go on the block if Gary wins HOH. Emmett tells Jillian that she needs some block experience. Emmett and Jillian start studying the past events…
Video is uploading:
11:55pm Meanwhile Andrew and Talla have gone to bed.. (GARY IS STILL NOT BACK YET)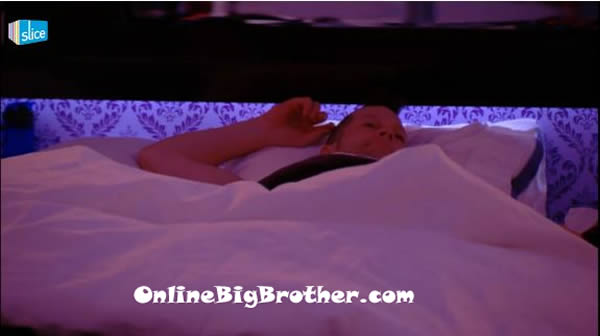 12:00am Talla and Andrew

Stooges saying goodnight the only way stooges know how using hand puppets
At one point Talla starts screaming and they cut the feeds.. (the only time i'm happy for them cutting the feeds that scream was killing my ears)
Andrew: "Goodnight Talla you stoogette"
Talla: "Goodnight stooge"
Talla: "Goodnight Andrew"
Andrew: "Goodnight Talla"
Talla: "Busy"
Simon: ":("
After about 5 minutes
Talla: "Did I saw Good night to Big BRother.. Goodnight Big Brother love you"
12:22AM Milkmance milkmancing and studying
1:14AM Feeds on hush hush
2:25AM Feeds on hush hush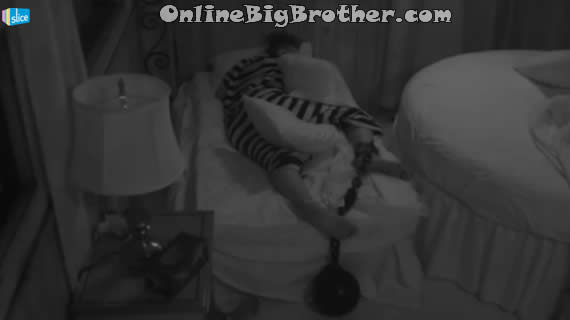 2:32am Feeds back
Share it YO!
Tweet