POV Holder:
Andrew
Next POV
April 20th
POV Used
Yes
POV Ceremony
April 15th
HOH Winner:
JILLIAN
Next HOH:
April 18th
Original Nominations:
Andrew and Peter
Current Nominations:
Peter & Talla
Last Evicted Houseguest
ALEC & TOPAZ
Have Nots
Talla & Andrew (Servants for haves)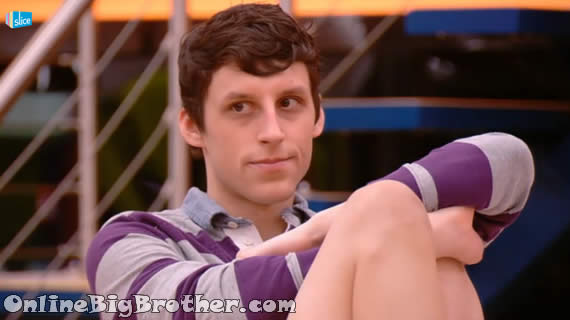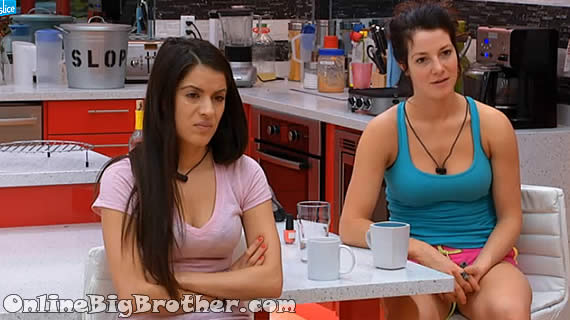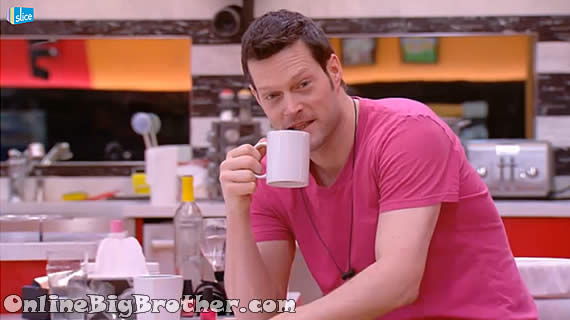 9:33AM Kitchen Peter, Talla, Jillian, Emmett, and Andrew
Morning Chit Chat
Jillian: "Temptation island was so good.. whatever happened"
Peter: "It was so great they decided not to air it anymore"
Andrew: "What was the idea of that?"
Jillian: "12 couples they could be married they could be long term… They could be fake together.. they get split apart on the island" She continues to explain the rules for Temptation Island. the 6 guys get separated and are introduced to 6 single women and the 6 girls get split up and introduced to 6 single guys.
Jillian: "They are supposed to be tempted by these other people"
Jillian adds that only one couple stayed strong the rest broke up.
Jillian: "If you are looking for something else you will find it.. it's not that hard"
Andrew says the people on the show just wanted to be on TV even though they all said they were trying to "Test" their relationships.
Jillian says she's had 3 serious relationships and none of them were broken off becuase of her cheating.
Talla asks them if they could go to one spot for a month where would they go.
JIllian wants to go to Australia. Andrew has zero desire to go to Australia. Emmet: "It's so Americanized"
Andrew and Emmett both think New Zealand is a more interesting place to visit. Emmett: "Lord of the Rings was filmed there.. .you can ski with you shirt off"
Talla: "Where is New Zealand .. it's on the southern Hemisphere"
Andrew mentions that Whistler and Banff is full of Australians working.
Talla: "I want to have a kangaroo.. I want to crawl in his pouch they are so cute"
Andrew: "Why.. its full of goo.. like putting your hand in your butt"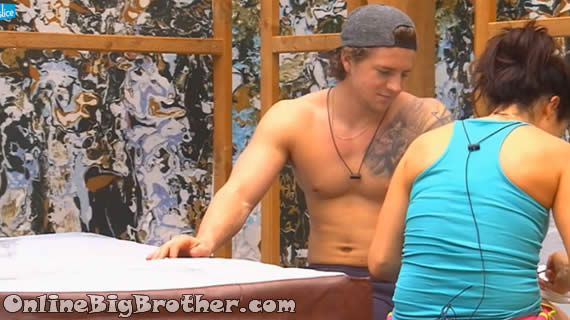 10:20AM Emmett and Jillian head to the hot tub to milkmance a bit and do Emmett's nails.
Jillian is still talking about her mom telling her to stop complaining so much.
Jillian: "You said your family couldn't do it"
Emmett: "They hate being trapped inside"
Jillian: "Oh I thought it was because their morals and stuff"
Emmett: "Mike could do it.. Nobody wins this game without a little lying and cheating" (I believe Mike is Emmett's brother)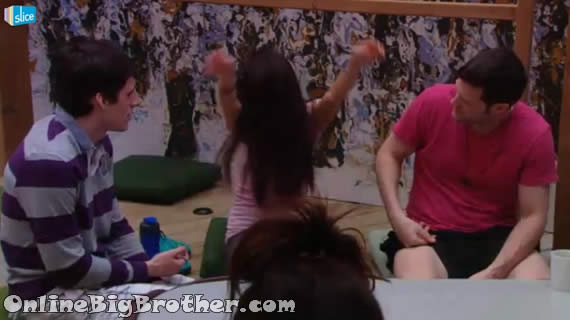 Andrew joins them, Talla is behind him "STOOGE".. "STOOGE" They tell them they've decided to be the refs for Emmett's reward (badminton net)
Talla: "I'm going to be the cheerleader.. Milkman milkman we love the milkman.. see milkman I got it trending.. unce unce unce unce "
Andrew starts making a techno beat "Unce Unce Unce" Talla begins dancing around.. (Typical stooge tomfoolery)
Talla starts talking to the Moose.. "Ahh I'm talking to the moose.. she's so cute"
Andrew: "Better than talking to me"
Peter joins them..
(Watch this video it's hilarious. For the last 3 days the only remotely entertaining thing on the feeds have been the stooges. )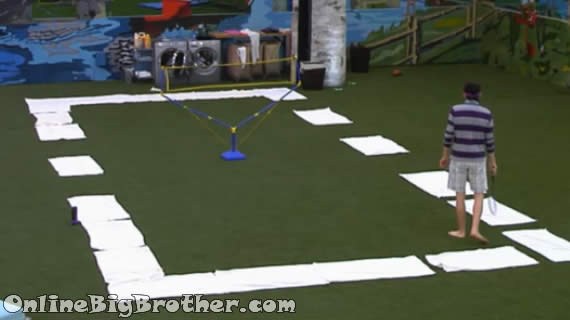 11:02AM Setting up the court for Badminton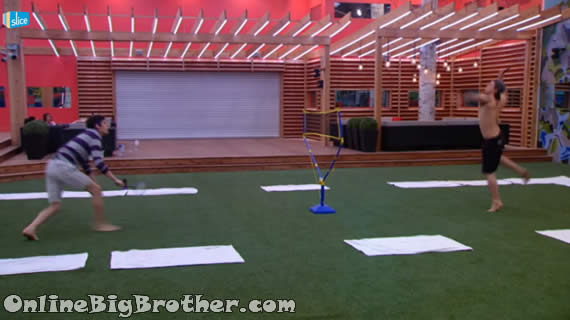 (Video uploading)
11:31am Hot tub Room Everyone but Andrew
Talla: "Is there any way a bird can go grab me a pack of darts.. I'll give you a piece of bread"
Emmett and Jillian bring up getting a "STOP THAT ANDREW" in the main bedroom when they were looking in the bedroom. They're not sure why because Andrew was in the Have Nots sleeping.
Talla: "I'm the human lost of found.. I have your stuff"
Emmett asks them if Topaz gave back the hair oil. Talla: "ya"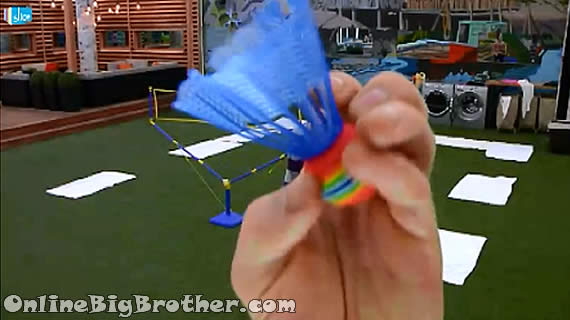 12:00pm Emmett plays Jillian
They are in outdoor lock down right now.. Andrew: "I gotta pee" Emmett: "Take a little swim Monaghan drain the main vein"

(Video uploading)
[polldaddy poll=7031963]