POV Holder:
Gary
Next POV
April 20th
POV Used
Yes
POV Ceremony
April 22nd
HOH Winner:
Emmett
Next HOH:
April 25th
Original Nominations:
Gary and Andrew
Current Nominations:
Andrew & Talla
Last Evicted Houseguest
Peter
Have Nots
Gary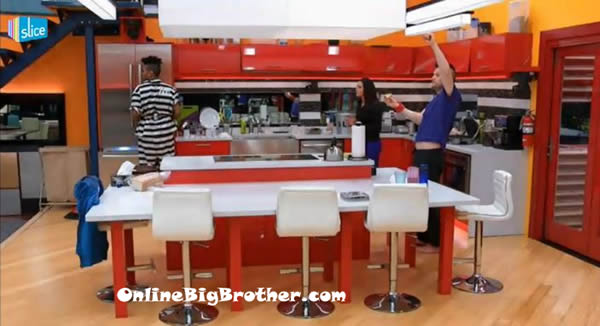 2:30pm – 3:20pm Emmett comes out of the diary room and says okay .. we have something fun to do? Jillian has to dress up like Andrew. Andrew like Talla. Gary like Jillian. Talla like Emmett. And Emmett has to dress up like Gary.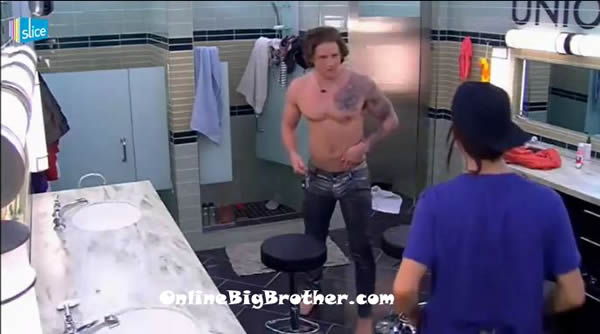 Andrew asks how am I supposed to dress up like Talla? Emmett says I don't know put on her clothes. Emmett goes out to tell Talla. He tells her its a task. Talla asks why are you telling us? Emmett says because its my HOH thing, we are going to take photos. Emmett tells them that they have an hour to get dressed up. Gary tells them that Emmett has to look as gay as possible! Andrew is complaining saying this is ridiculous! Emmett tells Talla .. I usually don't wear a shirt. Gary wants to give Emmett his tight jeans. Emmett says my nutz are going to blow up in those. Emmett comes out of the shower with Gary's pants. Jillian screams and says AHHHH… YOU LOOK LIKE A STRIPPER!!! Andrew says you look like an a$$hole. Jillian tells him that she loves the pants and says that he needs a pair like that! She says she is really turned on right now! Andrew says who gets the sh!tty end of the stick? Me! Gary says he just doesn't want to look like a trans.. Andrew says I look liek a sexy trans! Andrew says lets just fu*king do this! Andrew points out how Talla barely has to do anything. They tell him to just go with it. Andrew says he is a bitter old fu*k! Gary starts doing Emmett's make up and says that he is going to make him as black as can be. Andrew says I look like a horses a$$! Andrew says if you (Emmett) dressed up in Gary's jean dress .. that would make me feel better. Andrew says I look like a brutal tranny. I look like some sort of a gay pirate! Talla comes into the bedroom trying to talk like Emmett saying Give me some milk, I love the milk, I am the milkman!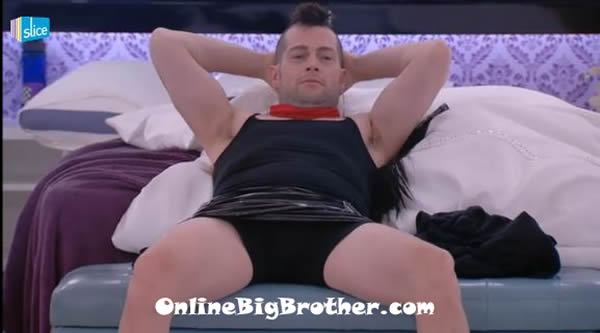 3:20pm They continue to get dressed up like each other. When they are ready they have to go into the diary room to impersonate their house guest. Andrew says that his family is going to disown him. Jillian tells Emmett is it weird that I am still attracted to you?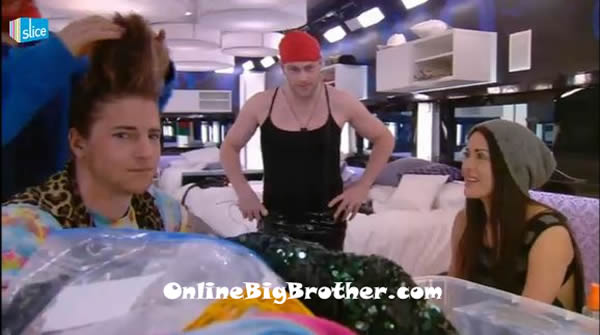 3:35pm – 4:10pm Emmett asks so what do you what me to say in there Gary? Gary says I want you to say that you believe in the power of glitter .. in the gayest voice you have. Jillian starts looking through the photos and realizes that Gary and Talla (Dressed up as Jillian & Emmett) went into the diary room together. Jillian and Gary laugh. Gary tells Jillian that she is going to die when she sees it on TV. Jillian heads into the kitchen. Andrew and Jillian talk about being dressed up. Andrew says first the french maid out fit and now this sh!t. Andrew says that when he was in the diary room he said Do you love it?! Busy?! Gary joins them. Andrew rips off the skirt and hands it back to Gary. Gary says my skirt is hating me right now! Emmett comes out and says we have to take more photos together. Jillian says she has a new line to imitate Andrew "Can some give me a blunt instrument to hit over my head!"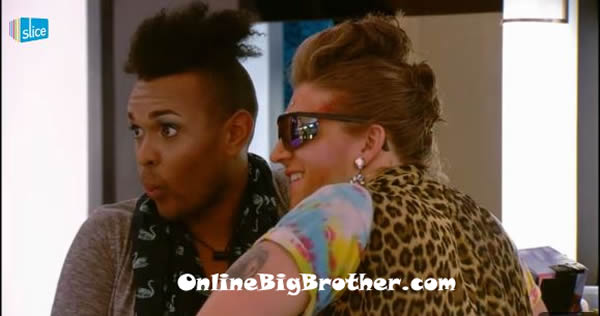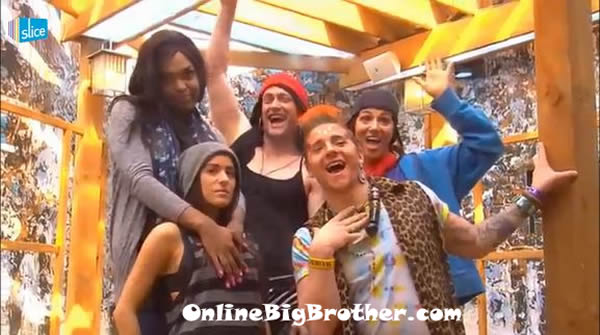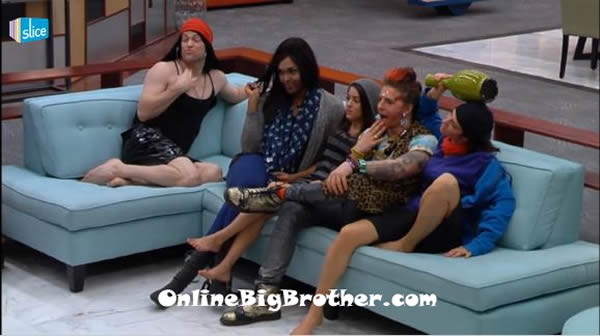 4:20pm Big Brother staff are seen in the storage room fixing Gary's ball and chain. Gary tries to open the door and hurts himself.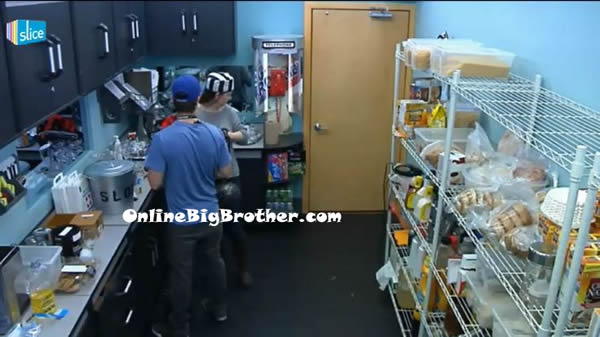 4:35pm – 5:10pm Andrew and Talla are in the backyard. Andrew is complaining about the situation they are in with Gary being back in the house. Andrew heads into the kitchen and talks to Jillian about wanting Thursday night to come. He says that he feels very confident with getting Jillian's vote. He says that he just isn't sure about Emmett's vote. Jillian says and Gary's vote. Andrew says it would be so sweet if I stay. Hopefully Emmett doesn't make the decision to send me out because that will obviously make you mad. Jillian agrees. Andrew tells Jillian if Gary wins HOH … then you or I have got to win the Veto. Which is very possible. If I win the veto or you do …we have to take each other to the final two. I know I will and I hope you will too. (It's so obvious when Jillian is lying or doesn't want to answer a question. She won't look at the person and barely answers.) Jillian tells Andrew I liked the idea or our final two. Andrew says I don't know what Emmett is going to do and if he keeps his word. What is he thinking keeping Gary .. Talla will take him to the final two. Andrew says I hope if Emmett doesn't keep me .. then I hope Talla and Gary get to the final two! Andrew asks Jillian if Talla has talked to her. Jillian says I think she thinks she is safe. Talla joins them and they start eating their dinners.
Stay connected and interact with other Big Brother Fans on our Facebook page.
And Follow: @BigBspoilers and @Dawgsbigbrother on twitter
[polldaddy poll=7054334]