POV Holder:
Gary
Next POV
April 20th
POV Used
Yes
POV Ceremony
April 22nd
HOH Winner:
Emmett
Next HOH:
April 25th
Original Nominations:
Gary and Andrew
Current Nominations:
Andrew & Talla
Last Evicted Houseguest
Peter
Have Nots
Gary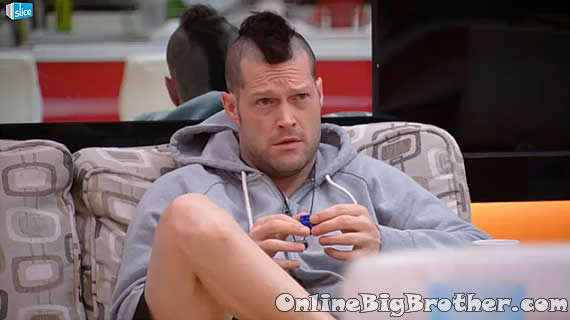 9:30am Andrew and Emmett kitchen Emmett telling him that in the middle of the night production turned the bathroom lights on. They've been doing that a lot during his HOH and it's pi$$ing him off, he's going to ask them today why they are doing that. Andrew points out how there is so much light that enters the HOH room from the hallway, "Good thing you can put up the sheets" Andrew says Big brother wakes them up at 9 every morning unless they have some sort of special activity to do.
They start chatting about working out.. Emmett says he use to do preacher curls and his lower biceps were "So Huge" you couldn't see the vein. Talk moves to sports… Emmett says he's played competitive Soccer and Hockey, "I played junior C in University.. not super serious.. there's guys there to drop the mitts and there's guys there to score goals"
Jillian comes down from the HOH carrying all the dirty dishes that has accumulated up there. She also spends the early morning making the bed and tidying the HOH room while Emmett showers and shoots the sh!t with Andrew. They all start joking about a zit/rash/i don't know that is on Jillian's upper lip, they call it herpes.
Andrew points out that they've (Andrew/Jillian/Andrew) have been up for over an hour now and Talla/Gary have spent the entire time int eh bathroom getting ready putting on makeup (This is only 1/2 true Gary is resting on the bathroom couch Talla has been getting the makeup on) Emmett says that Jillian says if she is in a rush it only takes her 7 minutes to put her makeup on. Andrew: "They spend hours caking it on.. " (They = Gary and Talla)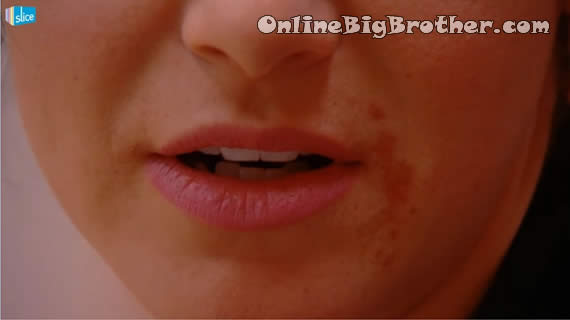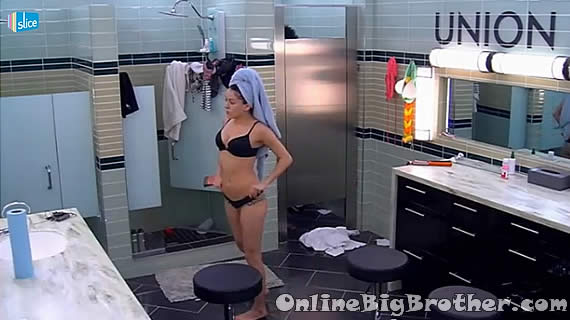 9:56am Talla getting ready
10:30AM Hush Hush for the last 20 minutes
10:50AM HUSH HUSH must be another powershift.. 😉
11:40AM HUSH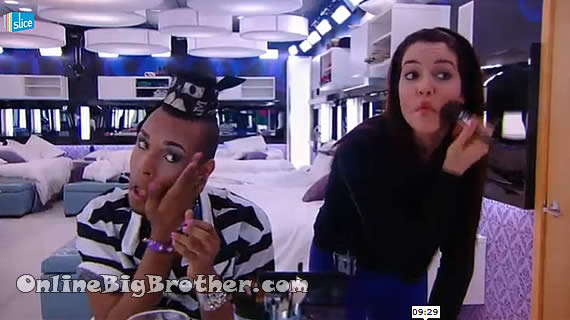 12:25pm Feeds back
12:30pm Hot Tub Room Talla, Emmett and Andrew
Talking about CHess..
Emmett: "It's a very easy game.. all about who knows it better"
Andrew wonders what Jillian and Gary are doing.. Emmett: "He's (Gary) been putting his makeup on for 3 hours"
They wonder what is going on.. sounds like they are going to be outdoor lockdown for some time. Emmett thinks it's for maintenance.. Talla thinks they might have a "Canada Votes" and get booze.
Talla heads inside to make a shake before outdoor lockdown..
12:45pm Feeds cut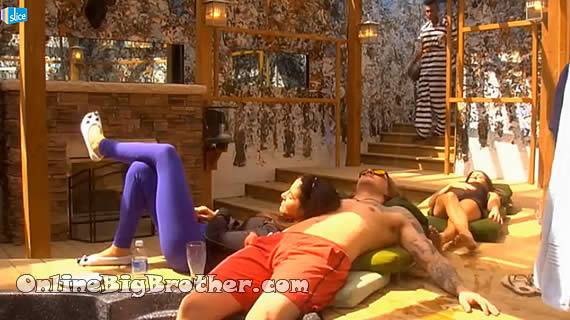 12:50pm Hot Tub Room Everyone Gary wants a cushion but all that is left is the wet ones. Jillian, Emmett and Talla have the dry ones and won't share. Emmett: "Beggers can't be choosers" Jillian laughs
Gary says he wants to paint the Chevy Traxx pink with a glitter interior.
Andrew: "I thought you wanted a jeep"
Gary: "Andrew.. you were born in the 70's did you have any crazy psychedelic sheets"
Andrew: "Yeah I was born in 1974.. My father was a lawyer.. he wasn't like Wife what do we do tonight.. lets do some acid.."
Andrew: "Not a lot of psychedelics in the Monaghan household"
1:06pm Lockdown over.. Talla is the first one in the house, "I smell SMOKE!". The rest of the house is still in the hottub room.
1:12pm Gary says he was eating 1/2 a cup of slop a day and he was told by production he has to eat at least 3 cups a day. Talla says the same thing happened to her she said she was going on a slop strike and they told her she cannot.
Gary: "I think they are concerned and that makes me really happy"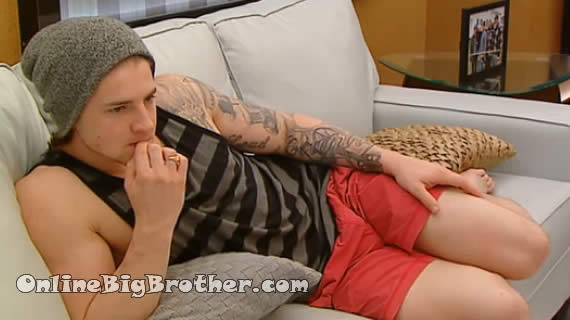 1:30pm Andrew and Gary playing Chess Andrew is engaging Gary in small talk as they play.
Gary has to go to the Diary room. Emmett comes up and coaches Andrew a bit on chess. Emmett points out the moves that Gary does regularly. Andrew wishes they had a couple more boards and the entire house can play.
Andrew likes the idea Emmett had that they would go play chess one a week once they get out of the house. Emmett says they can buy the pieces online and meet up at Starbucks.
Emmett wonders if people will notice them and make a big deal about them being on Big Brother Canada.
Andrew starts talking about when he saw Jason Priestley at the Apple store. Emmett doesn't know who that is, Andrew goes on to explain that he was in Beverly Hills 90120. Etc etc.. Blah blah blah..
1:53pm Gary comes back up and an argument starts. Emmett gives Andrew a quick hint. Gary gets Pi$$ed and tells them if Emmett doesn't be quiet he's not going to play.
Jillian in the bathroom and says someone has been in the bathroom moving things around.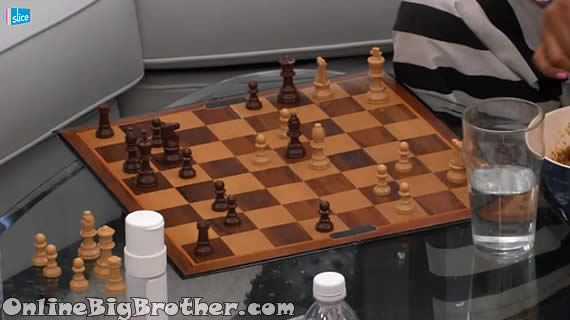 2:12pm Gary and Andrew continue to play chess while Emmett watches.
Andrew wins "Thank you sire.. my first win"
Stay connected and interact with other Big Brother Fans on our Facebook page.
And Follow: @BigBspoilers and @Dawgsbigbrother on twitter
[polldaddy poll=7054334]