POV Holder:
Gary
Next POV
April 20th
POV Used
Yes
POV Ceremony
April 22nd
HOH Winner:
Emmett
Next HOH:
April 25th
Original Nominations:
Gary and Andrew
Current Nominations:
Andrew & Talla
Last Evicted Houseguest
Peter
Have Nots
Gary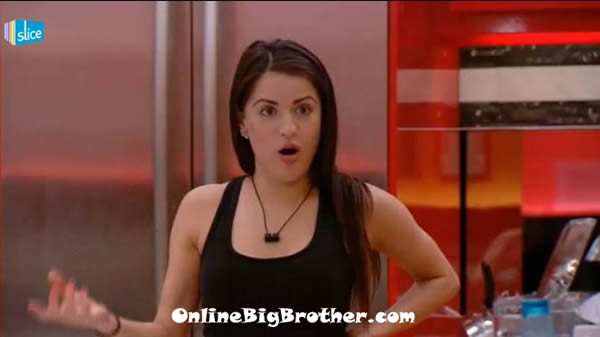 5:20pm The house guests are on an indoor lock down. Andrew, Jillian and Talla are in the kitchen. Talla does an impersonation of Andrew. Hi, I'm Andrew .. TOTES BRUTES! Flonk! Pissed! You couple of Ya Whos! Andrew laughs why weren't you me then! Talla says I could do that for hours. Talla leaves to take a shower. Andrew asks Jillian if Talla talks about him. Jillian says no, I don't think she wants to talk about it. Andrew tells Jillian that she is in a very good position right now… She gets to compete in HOH and if she wins it .. she just needs to win two more competitions and then she is in the final two. Andrew says I should be in a good position but I'm not right now. Jillian heads up to the HOH room to lay down on the HOH bed. Andrew goes to nap in the main bedroom. Emmett and Gary finish up their chess game and head down to the kitchen to eat. They then head back up to the HOH room to play another game of chess.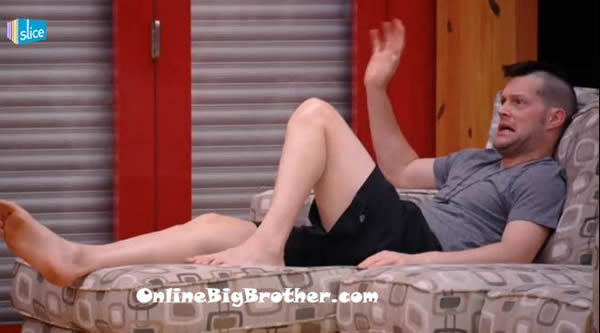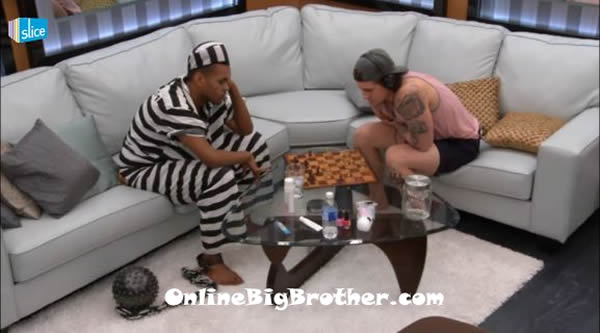 5:46pm – 6:15pm Andrew and Talla sit out in the hot tub room. They talk about past events of the house. Andrew comments that Gary is probably up there making a deal with them. Talla says that she thinks this Thursday will be a double eviction. Andrew says it most likely will be. Talla says that she can't believe it is almost over. Andrew says yeah especially when you think about the Kat's and Aj's … Aj has been in the jury house for 35 days! That's the other thing .. Gary was out of the house for two weeks relaxing. They continue to talk about random things and relationships they have/want outside the house.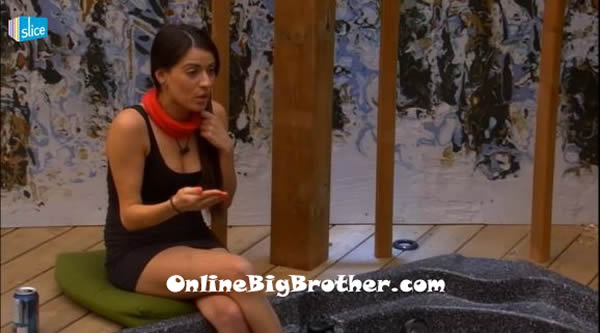 6:20pm – 6:35pm Talla is trying to get into the diary room but they gave her the red light before she even touched it. She then hid around the corner and went to go press it and it flashed red a bunch more times. Big Brother then told her to stop that! Talla heads out to the backyard and tells Jillian about it. Talla says that talking with Andrew is hard .. she has to keep trying to change the subject. She leaves saying she will go back out to talk to the stooge.
6:40pm Andrew goes up to the HOH room to play chess. Emmett beats Gary. Andrew then plays Gary. Meanwhile Jillian is working out in the backyard and Talla is in the diary room. Gary gets called to the diary room. Gary tells Emmett not to help Andrew with the chess game. When Gary leaves Emmett gives Andrew pointers on how to beat Gary. Talla joins them and gets into the HOH bed. Emmett says that he is going to come over there and he sleeps naked. Talla doesn't get it she asks so this is your spot? Emmett says I didn't say that. Andrew says I think Talla is a virgin. Emmett says I highly doubt that!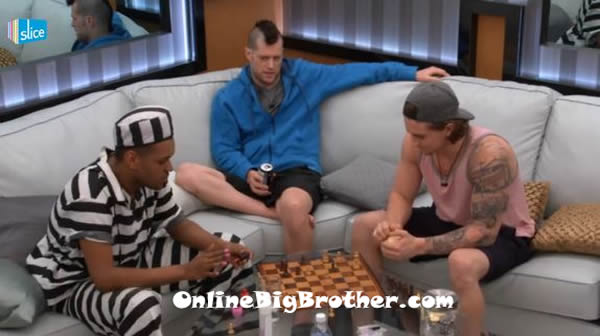 7:10pm – 7:20pm Gary comes back. And Andrew goes to the diary room. Emmett asks Gary what is the worst punishment you took other than slop? Gary says not being able to shower. Emmett asks that's worse than having to wear that? Gary says yeah because I don't have to think about what to wear. Emmett says I can't believe they (Big Brother) came in here and started screwing with the clocks on us.. they must want us to stay up later. They went ahead a few hours eh? Gary says yeah. Emmett and Talla try and sleep in the HOH room bed. Jillian tries to sleep downstairs. Big Brother wakes them up with the alarm.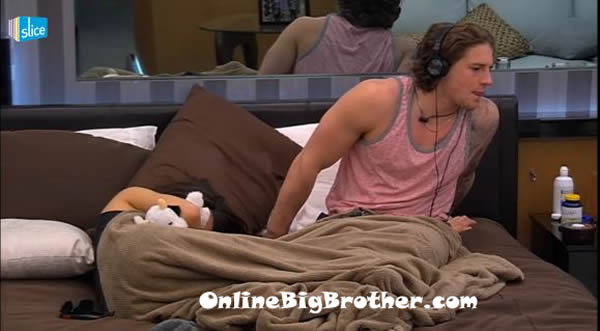 7:50pm Emmett and Jillian are lying on the HOH bed. He tells her that he did his HOH diary room session today. She asks what did you say? Did you say you were going to propose to me at the finale? Emmett says I said you were good enough .. I might take you on a date when this is all over. Then he says he told them to get him a ring so he could propose.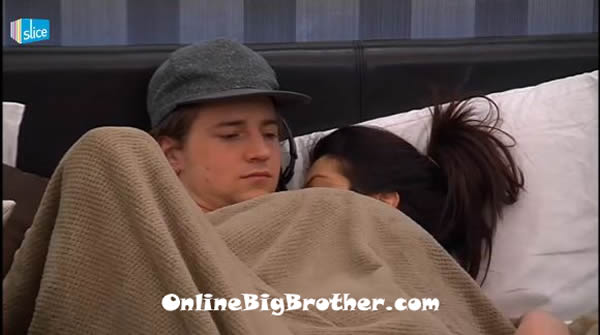 8pm Andrew and Gary say that they will call their chess game a draw. Andrew climbs on top of Gary and tries to kiss him. Gary yells RAPE! They decide to continue their chess game.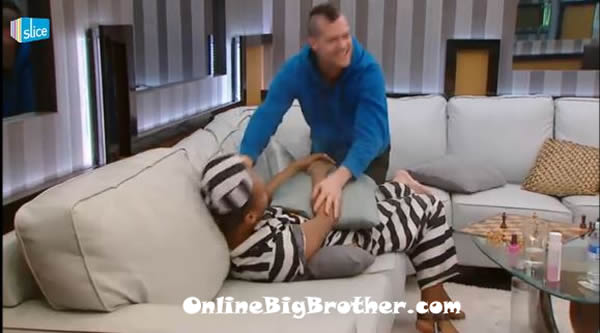 While the house guests sit in silence playing chess, take a look at a couple new videos of BBCA Talla:
Tallaisms Do You Love it?

And Cheerleading with Talla:

NEW Photos of the jury house:

Please consider donating. Simon and I work 24/7 all season long to bring you all the live feed updates and spoilers. ANY amount is greatly appreciated, your donations go directly to paying the server and bandwidth fees needed to run this site. Donation Link
[polldaddy poll=7054334]
Stay connected and interact with other Big Brother Fans on our Facebook page.
And Follow: @BigBspoilers and @Dawgsbigbrother on twitter