POV Holder:
?
Next POV
?
POV Used
?
POV Ceremony
?
HOH Winner:
Alec
Next HOH:
?
Original Nominations:
AJ & Suzette
Current Nominations:
?
Last Evicted Houseguest
Tom & Liza
Have Nots
?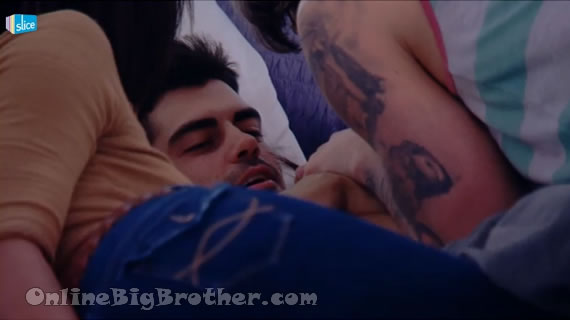 9:40pm Bedroom Emmett, Jillian and Topaz are trying to find out how ticklish Alec's is.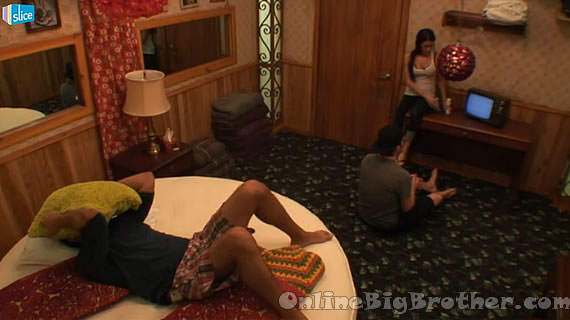 9:40pm Have Nots Andrew and AJ
Andrew: "Oh my god why is this taking so long.. Where is Suzette?"
AJ says the girls are all bonding he adds that Topaz and Suzette are sharing stories about rough neighborhoods they lived in, "They have a Ghetto alliance now"
Andrew: 'She better not fucking win man.. you hear me"
Aj: 'I'm pretty sure Gary won't use it"
Andrew: "Lets just get through this comp"
Aj: "gary as the replacement nominee would be the logical choice.. everyone has to go"
Aj is planning on selling himself as useless, "Your name could go up". Andrew: 'Dude that is not going to happen..he could put Talla up"
Andrew: "Why didn't he put up Gary and Suzette"
Aj: "He's scared.. he's not thinking with one head more than the other" They come to the conclusion that Alec is semi protecting Gary because Gary and Topaz are friends.
AJ: 'I have a reason to put him (Alec) up on the block now.. he has given me that card"
Andrew: "Dude lets just get through this week.. it's a pivotal week"
AJ: "Every week is a pivotal week"
Andrew: "let's just get out there PLEASE.. and i'm not even in it" (Andrew's not in the POV comp.. he's crazy stir crazy right now"
Aj: "The best ally between us is Talla it would suck if she goes up"
Andrew points out that when Liza went home Gary told him he wanted Talla gone "That b1tch's gotta go home" was his exact words. Aj says that Gary is all over the place they can never figure out whose side he really is one or who his target is.
AJ: "I almost want Suzette to win it so that Alec puts Gary up"
Andrew: "NO"
Aj: "Does anyone ever realize how much waiting around there is in those show?"
(Everyone has gone bananas waiting for the POV)
10:01 Have nots houseguests in and out basically everyone crazy stir crazy
Andrew has gone completely crazy from all the waiting around… Andrew grabs the coat hanger tells them "Just take this coat hanger jam it in my ear and pull out my brain" Alec and Topaz start making out in front of AJ and Talla..
AJ: "Is it weird that I constantly stare at these people making out" They decide to do a "mock" porno… (you really need to watch the videos on this.. Andrew is hilarious. Team 3 stooges)_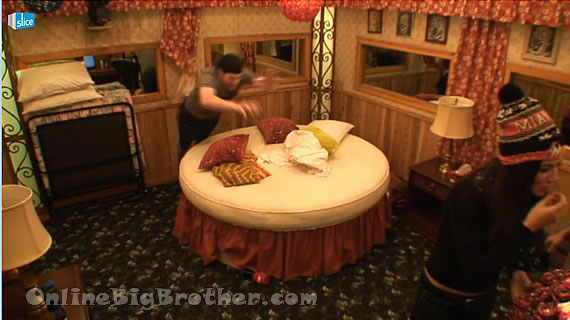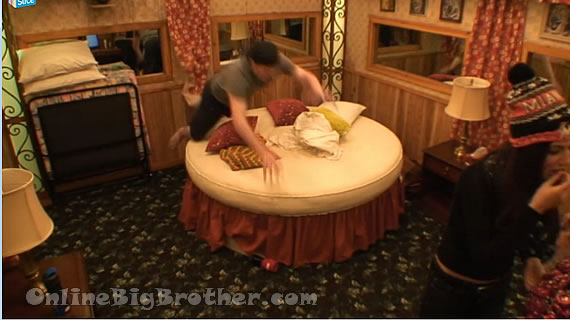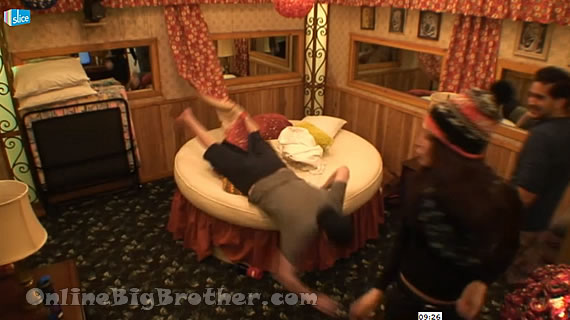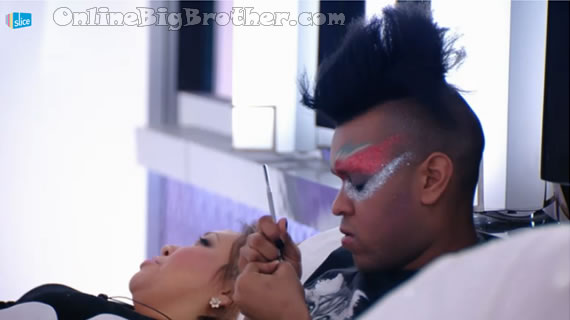 10:03pm Bedroom Suzette and GAry
Suzette says she might have to move away because of some "stalker Weirdos"
It sounds like Suzette has accepted that she's going home unless she wins the POV. She tells Gary she'll know how to leverage her fame on Big Brother Canada for better things outside the house.
Suzette is glad she made it this far in the game she's also happy that Canada got to see she was a competitor. (Apparently she did well in the HOH)
Suzette mentions how awesome Gary's makeup looks. Says that Emmett did s great jobs. Gary: "I know.. I Kinda have a crush on him"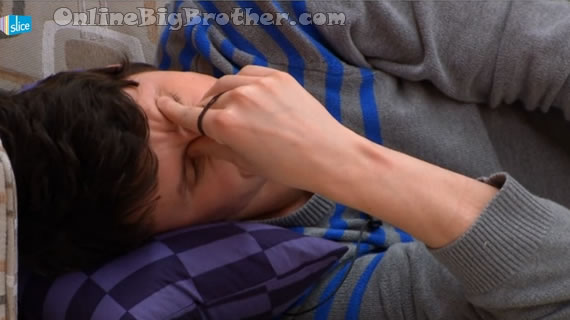 10:18pm Peter is sick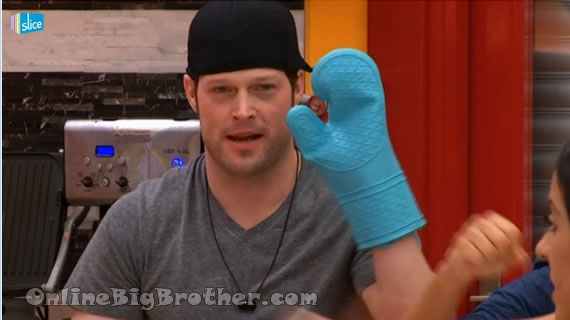 10:19pm Andrew losing his mind some more

10:20pm Alec starts kissing Topaz while starring at AJ / camera
10:30pm HUSH HUSH…
10:51pm HUSH HUSH…
11:40pm HUSH HUSH…
12:23AM HUSH HUSH…
12:40AM Feeds back!
( POV Comp is happening right now.. looks like an all-nighter for OBB! )
Share it YO!!
Tweet