POV Holder:
Emmett
Next POV
March 30th
POV Used
No
POV Ceremony
March 25th
HOH Winner:
Alec
Next HOH:
March 28th
Original Nominations:
Aj & Suzette
Current Nominations:
Aj & Suzette
Last Evicted Houseguest
Tom & Liza
Have Nots
No Havenots this week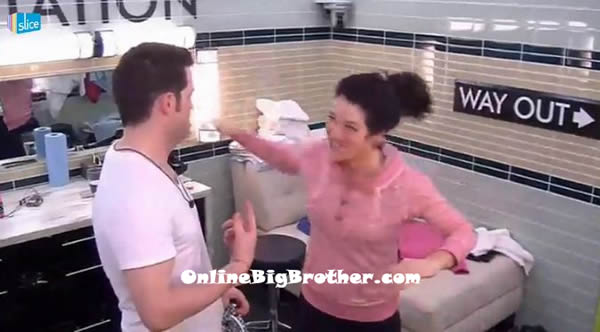 *** GARY won the power to remove & replace one of the Power of Veto Players in next weeks POV competition. ***
9:20pm
Andrew and Jillian are in the bathroom talking about how during the dinner they had to wear blind folds and open something. Andrew says that Alec CHEATED and took off his blindfold. Andrew comments that he was scared it was for this week. jillian comments that she is so mad and that she won't forget about this!!! Andrew tells her to just kiss him right now! Andrew tells Jillian that her little a$$hole boyfriend won't let anyone win anything. Jillian says he is not my boyfriend. Andrew says well kiss me! In the kitchen Andrew comments to Alec that he is so fu*king pissed off. Fu*king Piñata! (Apparently after the dinner the house guests got a Piñata where they wore blindfolds. And Alec cheated by taking off his blindfold. Gary picked it up first but Alec grabbed it.) Alec and Aj comment on how they got the dinner and the others got the chance at the power. Alec says can you imagine if Suzette had won that!? Andrew tells Alec "that was a d!ck move!" Andrew and Emmett head out to play a game of Air hockey. Andrew comments on how that was a d!ck move for Alec. Andrew says that Jillian was pretty pissed off. They talk about how they really want to get Gary out next week. Emmett says that he plans to put up Talla and Topaz .. and then back door Gary. Andrew says that he would put him straight up with Topaz. Andrew says that he likes Peter …and some times likes Alec but some times he really pisses me off.


9:45pm – 9:55pm In the kitchen: Suzette, topaz and Gary are talking about the veto ticket. Suzette says so your prize was that you got a veto ticket to replace one of the players in a Power of Veto Competition. Gary says yeah. He comments that Emmett was already pressuring him to use it on him (Emmett) so he can play the veto competition. Topaz comments that Alec grabbed it from Gary and tired to hide it but that it was whoever picked it up first so Gary won it.
10pm Alec, Peter, Emmett and Andrew are out in the hot tub talking. Peter brings up how even if Gary isn't playing in the Power of Veto competition he can use his power and replace one of the players with himself to try and win it to make sure he doesn't get back doored. Alec and Andrew says yeah I didn't even think about that. Peter says that Gary might not even think of that though. Andrew says yeah but Big Brother will make sure he knows because they want him to stay. Emmett talks about his foot and says its fine he just hopes the HOH competition isn't a jumping comp. The conversation turns to talking about if Topaz had quit the game or Emmett had hurt his foot too badly and had to leave.. they wonder if Big Brother would keep Suzette or bring back another house guest. Andrew is worried about Gary winning HOH this next week. Alec says that even if he wants you gone, we have the votes. Andrew says if you did decide to get me out, that's fine .. I would just haunt you in your fu*king nightmares! Andrew gets called to the diary room.

10:30pm Alec, Peter and Emmett talks about what scenarios could happen next week and the week after. Alec says that he is more worried about Talla than anyone else in the game. Emmett says she doesn't even know what she would do .. its the last person that talks to her. They think Talla would put up Emmett and Jillian. None of them think they can trust Gary's word after the Tom thing. They all agree that Gary has deals all over the place. Emmett gets called to the diary room. Andrew comes out and Emmett and Peter head inside. Peter says he is going to bed. Alec and Andrew talk about the scenarios. Alec tells Andrew if he takes out Topaz he won't come after him. Andrew wonders why Gary is after him. Alec says its probably that he doesn't like your humour. Andrew says he is confused he because some times he is flirtatious with me and other times he is pissy with me. Alec tells Andrew if Peter is up on the block with Andrew … Alec says that he will campaign to keep Peter. That's just the gods honest truth. Andrew says that's fine ..and I will try my hardest to get Jillian and Emmett's vote. Alec says that if it comes down to the final two .. I will take Peter. Alec says that he knows Andrew doesn't have the highest opinion of Peter and that you think he is a floater.. Andrew says that he is a floater .. he hasn't won anything or tried to win anything. He's a great social player but that's it.
11pm – 11:30pm Jillian and Emmett join them. The conversation turns to talking about Liza. Alec explains that Peter was actually pretty broken up about Liza leaving because he said girls don't usually like him. They talk about when Liza's lies got exposed. Alec gets called to the diary room. Andrew asks Jillian and Emmett why am I now the target. Andrew tells Emmett and Jillian that Alec said if he (Andrew) and Peter were on the block ..he says he would campaign for you to keep Peter. Emmett says of course he would. Emmett then tells Andrew that he would vote for him over Peter. Andrew heads inside.

Meanwhile in the bedroom: Gary talks to Suzette and Topaz in the bedroom.

11:40pm Jillian and Emmett are making out in the hot tub room. Meanwhile Topaz and Alec are talking game up in the HOH room.
OnlineBigBrother.com
Stay connected and interact with other Big Brother Fans on our Facebook page.
And Follow: @BigBspoilers and @Dawgsbigbrother on Twitter for the most up to date spoilers.
Share it YO!!
Tweet