POV Holder:
Next POV
March 16th
POV Used
POV Ceremony
March 18th
HOH Winner:
Gary
Next HOH:
March 21th
Original Nominations:
Current Nominations:
Last Evicted Houseguest
Aneal
Have Nots
Jillian, Emmett, Talla and Alec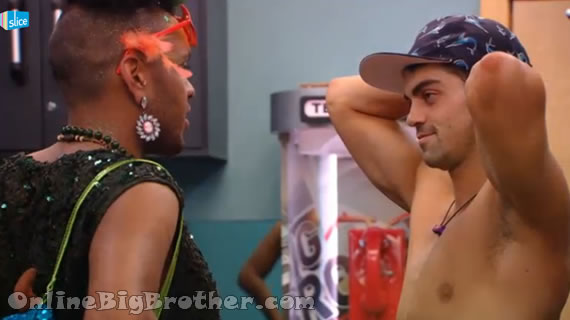 10:39pm Storage Room Gary, Alec and Peter Peter says if he (Gary) wants someone gone they can get the votes for him and get that person out of the house in return they will also will keep Gary safe next week in return they don't want to be nominated. They tell Gary that the "other side" is shaking in their boots. Gary: "The Power has Shifted". Gary asks them what he should do. They tell him to do what is best for Gary.
Tom Jones them and him and Gary decide to talk in the HOH later tonight.
Peter and Gary leave.. Tom is talking to Alec. They are hoping they can get Gary to put up Suzette. Tom thins there is a good chance Aj and Andrew will be going up. Alec asks Tom to come clean about Liza because Alec has been saying a lot of things about putting him and Topaz up. Alec says he's got Topaz wrapped around his finger whereas Liza is running around the house talking to people. This is why Alec is more concerned with Liza than Topaz. Alec needs to have a conversation with Liza cause he's heard all this shit and it needs to be cleared up.
Gary is Head of Household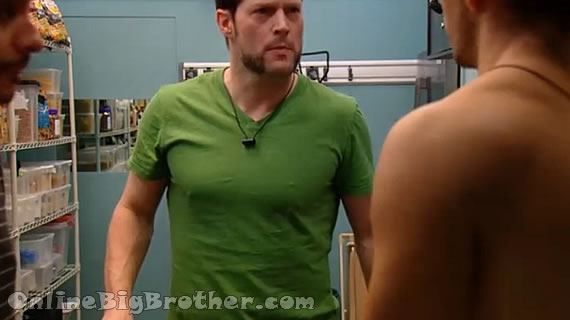 11:00pm AJ, Alec and Andrew Alec says he's talked to Tom and Peter and they have told him not to worry about Liza. Alec mentions that Peter swears that he never talks game with Liza. Andrew says that is complete bullshit. Alec is acting really worried. Aj tells him to chill out Topaz is very close to Gary there is no way he's going to get nominated. Aj say he's got his boys they'll back Alec up if he's on the block (Aj's boys = Andrew)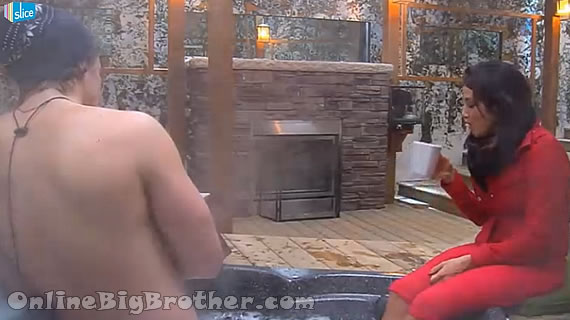 11:15pm Jillian and Emmett in the Hot tub
Jillian says she's pretty sure Tom has been throwing her name out there. She wants to punch him in the head.
Jillian: "Gary wants to make a big move.. put up me and you probably.. though.. topaz said he wouldn't"
Jillian: "I have a strong Feeling i'm going up tomorrow"
Emmett: "I had a talk with Gary this morning.."
Emmett says he was wanting to keep Tom safe in this game, he really meant that but with Liza in the equation he's having trouble. Emmett: "Liza is running around making alliances with everyone in the house" Jillian mentions how Tom is making a big deal that he "Didn't listen to everybody.. and Saved Gary" last week
Jillian says that Liza is really manipulative she almost had Jillian convinced that Emmett was against her. "I don't know this game is going to be the death of me.. "
Emmett says that Tom is starting to "veer" towards the dark side.. some of the things he is saying he cannot believe.
Emmett: "The thing that worries me most is before I came onto the show I had purchased a lot of protein.. and they told me the protein would be provided.. and well the protein hasn't been provided to us.. The cheap stuff they give us doesn't work" (Ridiculous)
Emmett is worried that he's losing muscle mass.
11:40pm LIza and Gary Liza is telling Gary to WATCH out about the guys because if he makes a deal with them they will stab him in the back next week.
Liza really builds up that Tom and her are on Gary's side and they are her to protect him. She wants to give him some advice.
Liza: "Make alliances.. with people" She hints that the entire house thinks all Gary has is Topaz.. She points out that Topaz is in a showmance with a biggest threat in the house
Gary: "You mean Alec"
Liza: "yes.. he told me to now trust you"
Gary: "Hmmm hmmmmm "
(HOLY cow Liza is scrambling, she wants Tom and her self safe and wants two of Topaz, Alec and Emmett up)
Liza says she's really worried because Alec was telling her not to trust Gary and that Topaz and Gary are after her. Gary: "He's so lying Oh my GOD"
Liza says that the biggest physical threat is Emmett and the biggest mental threat is Alec"
Gary: "What about Peter"
Liza: "I'm not worried about him….. "
Liza: "Talla doesn't know if she's sneezing or shitting.. you have to have people in the end that you can beat"
Liza wants him to put up Alec and topaz. Liza: "Gary.. I've had your back since day one.. i'm telling you YOU ARE NEXT" Liza apologizes for Danielle being sent out and is sorry she lied to Gary and Danielle at the time but tells him gettin Danielle out wasn't her play.
12:00AM Suzette and Gary
here the summary,
Talla and AJ are votes they both think they should stay. Gary knows he's a target next week regardless so he's going to try and "BANG ONE OUT" Suzette wants him to Backdoor someone. GAry: "Who" Suzette: "I don't know i'm scared" Gary: "You would make a pu$$y move b1tch.. you don't want no enemies"
12:05AM Gary and talla
Talla wants Jillian and Emmett nominated or Emmett and AJ. She suggests Gary backdoors Emmett.
Gary: "I don't want to backdoor.. i want it to be clean.. my game"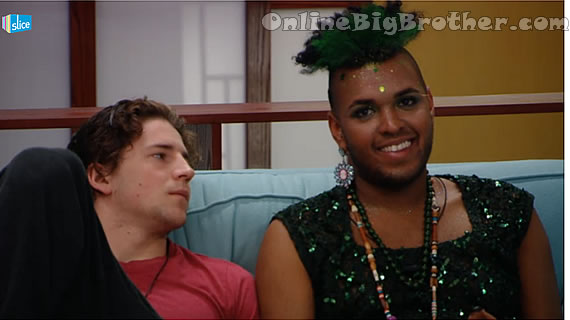 12:15AM Emmett and Gary
Emmett wants Liza up he doesn't care about the repercussions from Tom. Emmett said when he was HOH he knew he was going to get rid of Liza. Gary says he trusts Emmett he knows that Emmett has his back out of the boys that he can trust.
Gary says they can work together he's got his side and Gary has the "Freaks" (lol) Emmett wants to know who Gary is close with. Gary says the only person he was close to is "grey".. you are the only one I have in this game the only one I trust" (Danielle has turned grey)
Gary explains that day one he wanted to be close to a guy and a girl, "Danielle and Emmett done"
Gary: "tom is going f**** nuts can you control him.. keep me safe"
Emmett: "Yes"
Gary tells him they should be honest he knows Emmett is going to take Jillian to final 2. Emmett says the only deal with Jillian is final 6, he likes Jillian because they can hang out and not dwell on game.
Emmett: "You help me out I swear to god I will do whatever I Can to get you to the end"
Emmett warns him if he puts Tom up it might be hard for him to shield Gary.
Tom: "That motherF***** will grow horns"
Emmett: "I have a few friends here that can take yo ua long way.. when we get to final 4 it's every man for themselves"
Emmett: "The only person that will vote to keep Liza is Talla"
Gary: "Cause she's in everyone's ear"
Emmett explains Liza's game and how she's going around talking to everyone telling lies.
Gary: "Thats a lot of testosterone left in the house" (If Liza goes this week)
Gary adds if Liza is after Emmett that doesn't help him.. Emmett points out that Gary is really good at sifting through the bullshit and right now the house is full of bullshit. Gary says if Tom doesn't go know he'll never go, Gary adds that he's not going to take him out. He's already said to everyone that he won't nominate Tom from when Tom used the POV on him last week.
Gary about Tom: "If this motherf**** comes after me because his pu$$ is gone i'll be pissed"
Gary "what about Pu$$y power.. a lot of girls will be gone"
Gary asks who should he put up beside Liza. Emmett says he's was going to put up Suzette and Liza, Suzette was the pawn.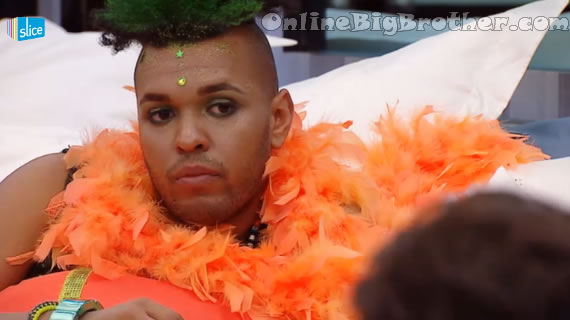 12:45AM HOH Gary and Peter
Gary wants names he wants to make a big move what should he do.
Peter suggests the pairs as the big targets. Peter says that Alec is his best friend in the house so Gary has to pick the person that is the biggest threat to him. Gary wants names. Peter says he can give Gary 4 names.. (Tom, Liza, Jillian, Emmett) Peter suggests Talla and Aj as targets.
Peter suggests he should not back door anyone. Gary asks him why did Peter vote for Danielle. Peter says that he was confronted by people the last minute and they all told him the vote was flipped.
Share it YO!!
Tweet