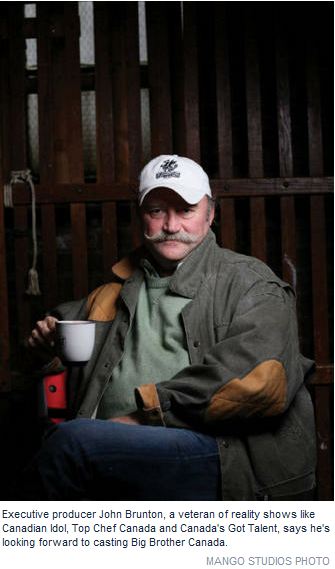 Less than 24 hours after the press release regarding the newly scheduled Big Brother Canada edition, John Brunton the executive producer says that he has already been overwhelmed with hopeful hosts and contestants wanting to be a part of the show.
The Chief Executive Officer of Insight Production, John Burton, says:
"What's amazing we've just had the most bizarrely aggressive response since that press release went out yesterday. I think I've had 10 emails already from people that want to host the show, some known and others who have been in the news lately, and we've got hundreds of emails from people that want to be in the show. People have been sending photos in. Weird photos. I know Canadians are considered to be shy, but we definitely aren't seeing that."
Burton stated that the company had their first pre-production meeting about the new series on Thursday. He says that they are hoping to begin shooting early in 2013 at a location somewhere in Toronto. Burton continues saying that he is looking forward to casting and says that it is the absolute key to any reality TV show to cast the right people.
Burton states:
"The casting is going to be so much fun, because it's kind of hot mess TV a bit," he says. "We have experience doing that from our other shows, but this is different from looking for people who can dance or sing."
They plan to cast their net as wide as possible but states that they are still in the process of figuring out the exact details of the casting procedure.
The production company, Insight Production has partnered up with Endemol, the company responsible for spreading the big brother franchise around the world. This partnership was a perfect fit, as Insight Production has a long history of creating reality TV shows in Canada, such as, Canadian Idol, Battle of the Blades, and Canada's Got Talent, just to name a few. Burton went on to state that although those reality TV shows have been a great success, they do not even compare to the scope being put forth for the Big Brother Canada Series.
Burton concludes by saying:
"This show is a major viewing commitment, three hours a week, but the complications of pulling it off as a production are really exciting to us. It's new technology, it's building a house inside a studio that you can shoot in, that people have to live in, that has real plumbing and all that stuff. There's something really fascinating to us about the format and to us it's a big, big, big show. It shoots for over 70 days, 24-7, and it never stops."
It's not surprising that the news of a Big Brother Canada has spread like wild fire with hopeful contestants and hosts vying for their shot at being a part of the first Canadian season. We are excited for the new reality series and cannot wait for new details to be released. Stay tuned for more information about the Canadian edition, including how to apply to be cast on the new series. If you are serious about applying, you may want to read up on the book written by Big Brother 10 Winner Dan Gheesling from the US series: How to Get on Reality TV. It is also worth taking a look at Susan Monson's new book called
Me on TV: The First Ever Kick A$$ Guide to Get You On Any Reality TV Show.
Interview source: Toronto.com