The Big Brother Chilltown reality stars Mike "Boogie" Malin and Dr. Will Kirby are featured in another Big Brother Canada commercial. In this just released commercial, Mike and Will discuss Big Brother strategies and which strategy is the best ever.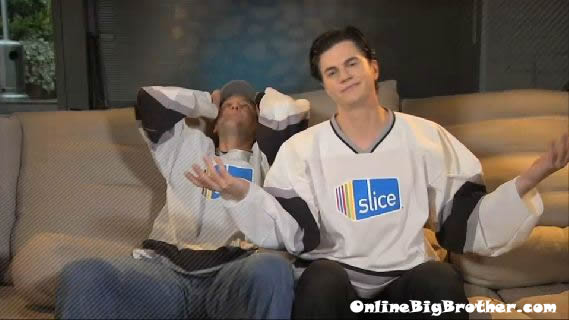 Dr. Will Kirby: "As former Big Brother winners.. I feel like we have a duty to …we have an obligation to give the Big Brother Canada house guests some advice on how they can win the show."
Mike "Boogie" Malin: "I couldn't agree with you more."
Dr. Will Kirby: "What do you think is the SINGLE best strategy to win the entire game?"
Mike "Boogie" Malin: "That's a tough question because there are so many important aspects to the game. Um I think one important thing is that you have to leave your morals/ethics at the door. That sets the stage before you can even get into the strategy and then there's the social strategy where you just kind of get along with everyone and be the fun person, the kind of person everyone likes. There's the laid back strategy where you hide in the corner like you're not even there.
Dr. Will Kirby: "Floater"
Mike "Boogie" Malin: "The floater is what it's commonly known as.. There's the competition guy or girl that wins all the competitions. That's a very over rated strategy in my opinion.
Dr. Will Kirby: "Wait, may I interject?"
Mike "Boogie" Malin: "Did I forget one?"
Dr. Will Kirby: "The single, most effective, scariest, most difficult to implement strategy in the history of Big Brother… Are you ready for it? Showmances!
Mike "Boogie" Malin: "AGGGHHHHH.. I can't believe I forgot that one!"
Dr. Will Kirby: "That just happened, that just happened!"
Mike "Boogie" Malin: "He's right!"
Dr. Will Kirby: "A winter of Showmances!"
Mike "Boogie" Malin: "How could I forget that one, its not like they can be outside hanging out. There will probably be a hot tub, break out the thermal bikini's kids."
Dr. Will Kirby: "SHOWMANCES!"
Big Brother Canada Premières on February 27, 2013!
Stay connected and interact with other Big Brother Fans on our Facebook page.
And Follow: @BigBspoilers and @Dawgsbigbrother on Twitter for the most up to date spoilers.
https://youtu.be/T-gpK-ozgU0
In this next video Mike "Boogie" Malin reveals who is the Biggest, Baddest, Best Player in Big Brother History…