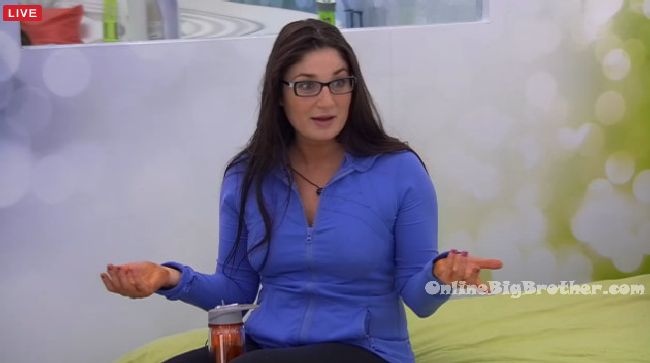 4:25pm – 4:50pm In the bedroom –
Tim tells Maddy and Ramsey that if Cassandra makes the wrong decision I would be willing to work with you (Maddy) to get her (Cassandra) out. She is about to do the same thing that she laughed at you for last week. Maddy asks what was that? Tim says when you voted worked against your alliance to get Loveita out. She's worried that you'll come after her. I get why she's doing it because she see's you as a threat.
Tim tells Cassandra that she is acting weird today. Cassandra says I'm having a weird day today. No one listens to me. Cassandra says I'm not in brain mode today. Tim says well get into brain mode and come talk to me. Cassandra says I don't play emotionally, if I did I would vote Maddy out because she annoys me. If she is still here she is going to come after me. Tim says if she does then we'll look after you. That's what an alliance does. Cassandra says she is going to vote Dallas out because she is voting with the group. Tim still thinks Cass is in turmoil. Jared says the moral of the story is that you have to lose the attitude about it. Cass gets up and leaves the room.
[polldaddy poll=9362001]
Share it YO!
Tweet