POV Holder:
Gary
Next POV
April 20th
POV Used
Yes
POV Ceremony
April 22nd
HOH Winner:
Emmett
Next HOH:
April 25th
Original Nominations:
Gary and Andrew
Current Nominations:
Andrew & Talla
Last Evicted Houseguest
Peter
Have Nots
Gary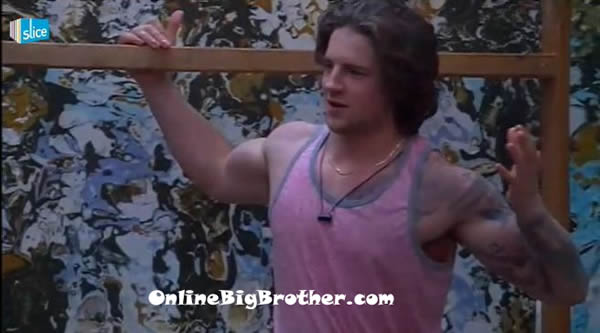 8:10pm Emmett and Andrew head out to the hot tub room. Emmett comments on how the chess board will be gone Thursday morning so might as well get as much use out of it as we can. Andrew says yeah they gave us Gary and the chess board .. I would much rather give Gary back. Andrew starts talking about how they he or Jillian need to win the HOH and POV to send Gary home and then its the final 3 like we planned.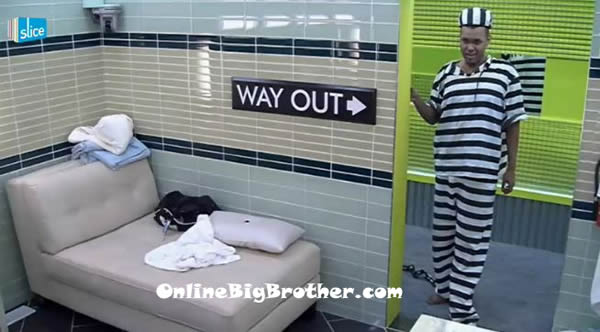 Emmett and Andrew head inside to get ready to workout. Andrew heads to the bedroom and comments about on how Gary is fixing his ball and chain. Gary is annoyed with it because he spends more time fixing it. Andrew leaves and comments to Emmett in the bathroom ..imagine if Big Brother had given Gary a real ball and chain.. but I guess it would destroy the house. Gary hears Andrew and yells what are you saying about me?! What did you say! Gary goes to confront Andrew and asks did you just say you wished they had given me a real one!! Andrew says no I said imagine if.. Gary says oh because I was going to ..

8:35pm – 8:50pm Gary, Andrew, Talla, Jillian and Emmett are all in the kitchen talking. Gary hopes that he will be able to get rid of the prison suit by Thursday before the live eviction. They tell him probably not since you got it in the veto. Gary and Andrew head out to workout. Andrew complains about how annoying Gary is. Emmett says that's why they voted him back. Emmett says it doesn't matter any ways he will never win this thing even if he wins every competition from here on out .. because no one would ever vote for him after getting a second chance. Andrew asks what do you think he is going to do, is he going to vote me out. Emmett says yeah probably he hates you. Andrew says yeah. Gary comes out and apologizes to Andrew about what he said inside about wanting the eviction to just happen so he can wash. Gary says that it is just getting to him and he doesn't want it to come off that way because he knows what it's like to be on the block. Andrew appreciates him apologizing and says not to worry about it. Gary says but I am looking forward to Thursday to give my balls a wash!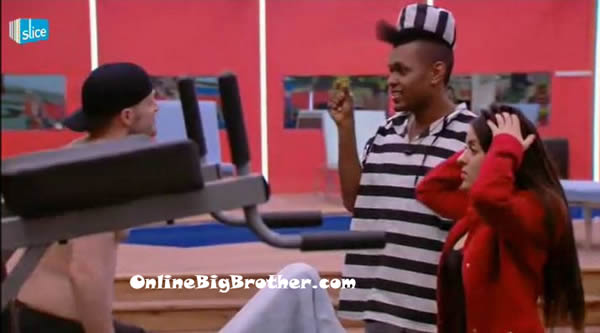 9:10pm Talla and Gary are playing with the balls in the backyard. Andrew and Emmett are working out with the weights and Jillian is doing her exercises by the pool. Talla heads out to the hot tub room and starts talking to Henry the moose. She says it's Tuesday .. almost the end of one of our dreams. I should be in the hot tub.. oh so you want me to be in a two piece? Are you going to be heart broken if I leave ..are you going to follow me out the door? Awe you're sweet! Don't get it!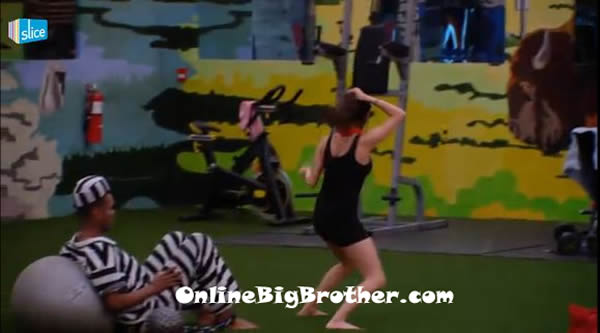 10pm The house guests have random conversations in the backyard:

10pm Big Brother gave them wine. Emmett and Talla are out in the hot tub talking. Talla brings up the awkward situation between Gary and Andrew. Emmett doesn't really say anything. Jillian & Gary come out to join them. Talla starts talking about her past relationships. Emmett doesn't want to listen to her …so he whispers into his mic and asks them to call him to the diary room.
10:30pm Talla is in the hot tub talking about wanting to BAM BAM! She tells Jillian to get up and BAM BAM with her. Jillian gets up to BAM BAM and Talla says oh you have a fat a$$! Jillian sits back down. Andrew joins them and thanks Gary for getting them the liquor. Gary says it was for something he did in the diary room. Talla says that she is going to get SLOPPY TONIGHT! Jillian talks about not feeling good about herself .. she says she feels pasty white and self conscious about the marks on her face. Talla tells her its a burn, you ripped the skin off. Talla and Jillian put their feet up against each other. Gary says whoa you have big feet Jillian! Andrew says its because Talla is a shrimp. Talla leaves. Gary starts talking about being in the ball and chain and says that he is starting to feel degraded .. I don't even want to start to think about it. Jillian says I know what you are think about but don't go there… you took the punishment .. anyone could have gotten it.
Gary says Master can I please eat… NO eat the sh!t in the green can!
Talla comes back with another bottle of wine. She gets Andrew to open it and them pours the glasses. Andrew is getting annoyed with all the comments about Emmett. Jillian tells Andrew that he is the sexiest 38 year old… Andrew says on the show. He laughs. Jillian says no that I have ever seen. Talla says the hot tub is making be more romantic, I want to make out! Talla wants to kiss billy (Gary's ball & chain). Gary says he's gay. Talla says I could turn him straight in a second. Talla and Gary start rapping.
Videos are uploading:


10:50pm – 11:15pm They all head back inside. Talla and Jillian get into the pool. Talla starts bouncing her butt in the pool. Gary starts rapping "make a wave pool, make-a wave pool, make-a make-a make-a wave pool .. you-a you-a damn fool! After the a$$ bouncing and rapping is done they head inside. Up in the HOH room Emmett tells Gary not to rub it in that he is staying and someone else (Andrew) is going home on Thursday. Gary says that he felt really bad after he said it and apologized for it.
** The house guests were told by big brother if they sing one more time they will all be punished! **
Video is uploading:

11:30pm Gary and Talla are in the kitchen talking about winning. Gary tells Talla that she could win $100,000! Talla says that he could win it too. Gary says no, I am playing for second place. I know how the jury is voting!
Video is uploading:

11:40pm – 12am Up in the HOH room Gary is licking and biting Andrews arm. Andrew tells him to stop biting me. Andrew says stop my mother is watching. Gary start tickling Andrew. Andrew tells him to stop. Gary keep cuddling up to him. Andrew says stop grabbing my crotch! Talla climbs on top of Gary and starts humping him. Jillian asks what is Talla doing BAM BAM BAMMING him? Andrew says Gary you have got to stop it! Jillian asks what is he doing? Andrew says he is all over me. Jillian mocks Andrew and says my mother is watching! Talla and Gary start dancing like fools. Talla gets on the ground and starts booty popping. Talla then cranks up the music on the ipod and big brother cuts the feeds. When the feeds come back Talla is still dancing. Jillian and Gary are talking. Jillian talks about the friends she has that are honest with her. One told her that she was getting fat. Andrew and Emmett continue to play their chess game.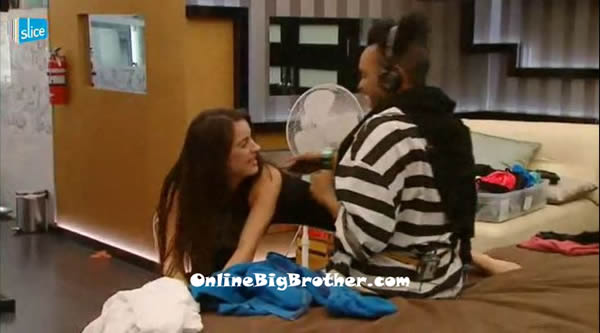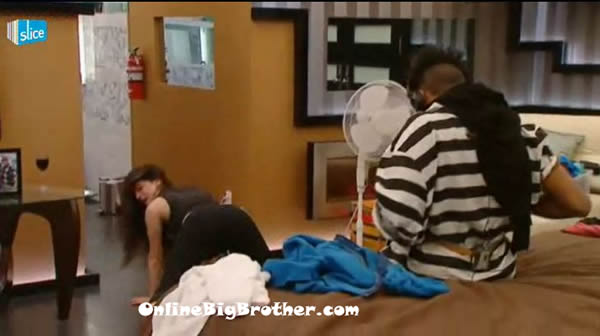 Video is uploading: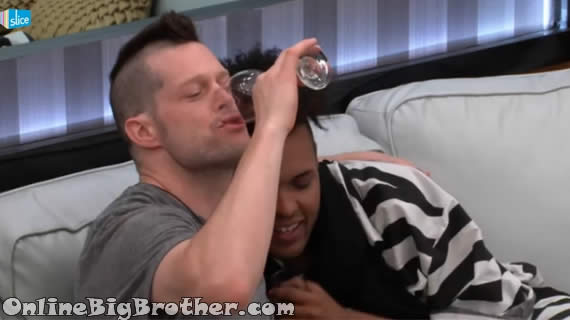 1:24AM Feeds have been cut for about a hour.. Right before they did get cut Talla and Jillian were pretty drunk..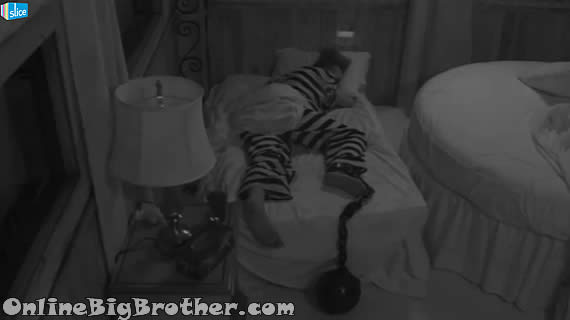 1:40pm Feeds back everyone sleeping
Please consider donating. Simon and I work 24/7 all season long to bring you all the live feed updates and spoilers. ANY amount is greatly appreciated, your donations go directly to paying the server and bandwidth fees needed to run this site. Donation Link
[polldaddy poll=7054334]
Stay connected and interact with other Big Brother Fans on our Facebook page.
And Follow: @BigBspoilers and @Dawgsbigbrother on twitter