POV Holder:
?
Next POV
?
POV Used
?
POV Ceremony
?
HOH Winner:
Sabrina
Next HOH:
Next HOH is final HOH
Original Nominations:
Jon and Heather
Current Nominations:
Jon and Heather
Have Nots
None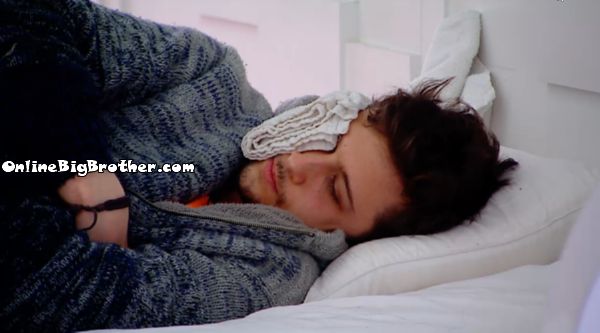 8:45AM everyone up and about
Jon was dry heaving in the bathroom he says It was the pizza. Neda goes into the bedroom to offer Jon a ginger ale and water. Jon says it's not a hangover his stomach feel sick. Neda say Sabrina is also feeling sick. Jon starts to shake. Jon and Neda try to figure out if it was something he and Sabrina ate or if it's nerves. Jon says he thought it was the pizza but Sabrian never ate any.
9:06AM
Heather eating breakfast.
Heather – "Maybe my stomach does hurt.. from what though"
9:18am Bathroom Heather and Neda
Heather – "I'm so f***g scared today"
NEda feels the same way hopes that everyone starts to feel better.
NEda doesn't want to get back into the onesie she puked on it yesterday.
Heather – "I'm so nervous Neda"
Neda tells her it's going to be OK, the contest will probably be something they can all do well in.
Heather – "my only saving grace is I feel better and if Sabrina wins she'll take the us because she can't win against Jon"
They agree Jon will go home if he doesn't win the Power of Veto.
Neda – "3 against 1 really"
Heather – "I just feel so bad because I know he's counting on us both to win.. I know he is he thinks i'm bringing him to the next round"
Neda – "I know"
They agree they cannot beat Sabrian in the final 2.
Heather brings up Sabrina telling her she only has 2 jury votes (Allison and Racehlle) on lock but if Canada loves Sabrina and they get a jury vote. Heather adds 3 votes in the jury all Sabrian needs to do is convince one person with a speech and she wins.
Heather – "If I win I'm taking you nobody else but you"
Heather goes to see Jon he tells her he's not doing well and has the shivers.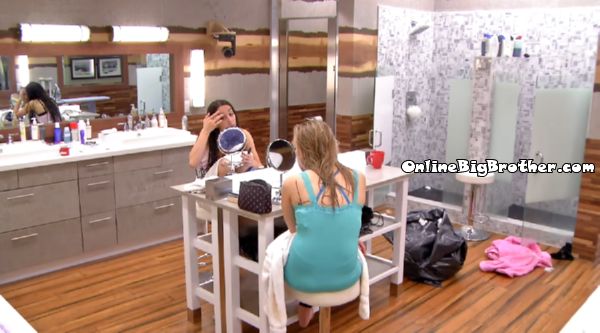 9:40 Bathroom shower
Heather goes back into the bathroom and starts to shower. Says she feels so bloated today. Neda – "Didn't you say you've been bloated since you been here"
Heather – "Ya but not to this extent"
Heather says she keeps catching Sabrina on some of her crap.
Neda – "She had so many lies she can't keep them straight"
They agree they're sick of Sabrian telling them they only way they can win is her in final 2.
Heather- "I'll be so pissed if Sabrina won two competitions now"
Neda – "It's our fault keeping her this longs"
Heather I'll be pissed if it's on dates and we got rid of Deli… PIssed… poor little meat balls"
Neda is embarrassed about last night.
Heather says production turned the live feeds off for her.
Heather wonders if Gary saw how fake Sabrina was., ==
Neda – "I really don't think people think she's fake"
Heather – "They love her Canada loves her"
Neda says some of the things Sabrina retells about her Diary room is really funny so who knows.
Neda – "I don't the audience cares so much about the actual game play.. it's more about the personalities.. "
Heather They must hate my personality in there.. I never say anything fun"
Neda – "BAsed off the cheers I think you are doing OK"
Heather says if they go to final 3 with Sabrain do they tell her they are not going to take her to final 2 or do they say they are so she's not going to try as hard.
Neda – "She's still going to try hard"
Heather – "I don't like the game she played"
Neda agrees
Heather – "She hurt people she's legitimately mean"
Neda – "no one sees that anymore"
Neda – "In the end she does make it top final 2 it's all our fault because we took out Deli"
Neda – "I don't know how POV is going to work with 3 out of 4 people cannot move"
NEda explains that it's only when she moves around that she feels ill.

(Video Coming)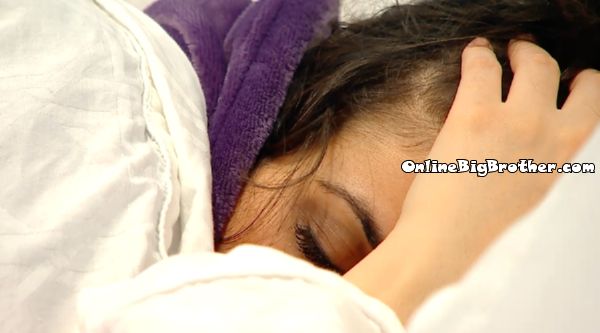 10:00am Sick
(Doesn't seem as sick as jon )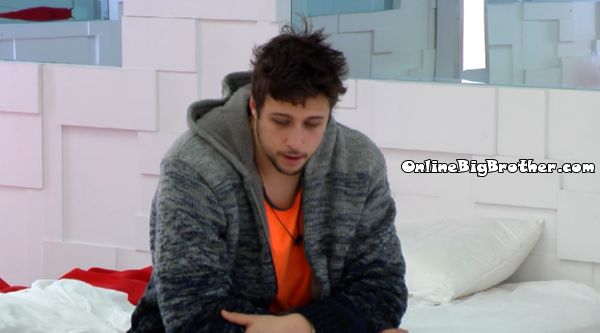 11:02am
Jon asks Neda how she's feeling.
Neda – "Tired and weak"
Jon "My whole abdominal region is sore"
Neda – "You are so pale"
Jon – "Oh ya I'm sick"
Jon thinks it might be the food last night because all three of them feel sick.
Neda says Heather has been excited all morning that Jon is sick, "She said it's her saving grace"
Neda tells Jon to go to the Diary room and Ask to see a Doctor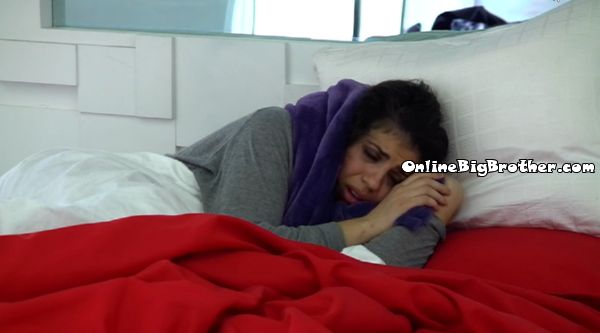 11:22am Neda and JOn Bedroom
Neda tells him Sabrina doesn't want Jon in the final 3.
Neda thinks the POV competition will be a cardio based physical.
Jon says Heather is out of shape.
Neda says she's hoping it is endurance.
Neda – "I swear to god if I win POV I'm taking you to final 3"
Neda says if she wins this Veto she's taking out Heather. SHe thinks in a final 3 Heather and Sab's will take each other over her. Neda knows Sabs will take her if she wins final HOH and she knows Jon knows. Neda starts bringing up how the audience was reacting during the HOH and screaming like Crazy when she got stuff wrong.
Jon bring sup how loud the cheering was when Andrew left.
Jon – "Not one person clapped when Adel got evicted"
Nead against brings up how the crowd didn't like that heather got the last HOH question wrong.
Jon asks what number Heather wrote down as her answer. Neda's reply 300.
Jon -"She had 300 what a idiot"
Sabrina joins them looking very sick. Heather comes by says her stomach is sore but not as bad as everyone else.
Heather "I'm going to make some rice and some cajun chicken"
Jon – "My stomach just burns and it feels like my abb region is sore"
Jon hopes that the Veto is tomorrow but they all know it isn't.

(Video coming)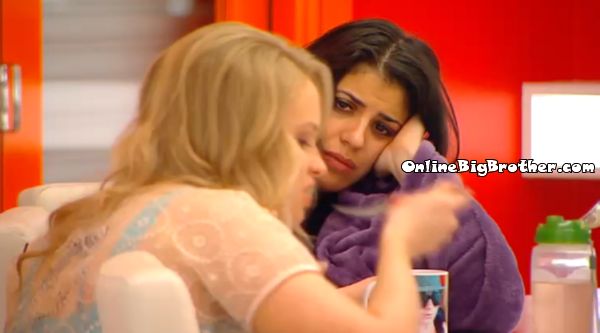 12:05pm Kitchen Sabrina Heather and Jon
Jon says he's feeling much better will be 100% when Veto rolls around.
Sabs now says she's starting to feel better she thinks things will be good once she showers and moves around.
Sabrina – "Sucks that we I can't even have a cracker or ginger ale"
Sabrina starts staring at heather eating (Image above)
Sabrina tells them the POV has something to do with raising and lowering the roof.
Nead – "Could have been a crane"
Sabrina – "No they've lowered it already.. remember at the prom"
Sabrina thinks that the Ceremony is probably tonight or early tomorrow orning.
12:37pm dining room Heather, Sabrin and Neda
Girls are talking about their leg shaving.
Heather about her legs "You can pet me I'm a cat right now I have so much Hair"
Neda talking about them having to get a second Twitter account that is special for BIg BRother but only if they plan to tweet Big Brother Stuff.
Jon comes back from the Diary room tells them he's feeling great. Sabrina gets called into the Diary room.
Production tells them to go into the main bedrooms.
House guests think this means POV is starting. We get a short clip of Heather talking to Jon in the bedroom alone telling him she's so nervous.
Everyone gets called
2:25pm The live feeds are still blocked..
3:15pm Still blocked..
6:39pm Blocked
8:25pm The live feeds are still blocked..
9pm Still Hush Hush..
[polldaddy poll=8014722]
If you've enjoyed the Big Brother Canada Spoilers this season, show your support by making a donation. ANY amount is greatly appreciated! Your donations go directly to paying the fees required to run this site.