POV Holder:
HEATHER
Next POV
April 26th
POV Used
?
POV Ceremony
April 28th
HOH Winner:
Jon
Next HOH:
May 1st
Original Nominations:
Heather and Sabrina
Current Nominations:
?
Have Nots
?
HEATHER WON THE VETO!! And Neda & Sabrina won $3000! The competition was the type where they were individually timed where the person with the best time won!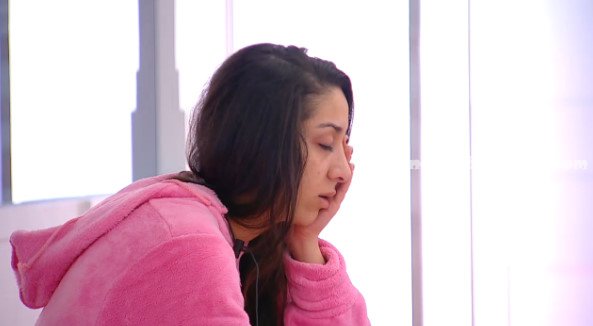 9:55am – 10:15am Big Brother is let the house guests sleep in this morning.. the lights being to turn on now.. Sabrina is called to the diary room. Adel says did you guys hear all the banging and smashing all night?! Jon says yeah! Adel says f**king F**kt@rd! Jon says and I've got to wear this f**King diaper again! I'm f**King tired and my neck is crooked! Heather leaves the bedroom and comes back and says well it doesn't say ceremony on the screen. Jon is called to the diary room. Neda says I really feel like I've died! I have literally heard them banging all night! We literally only got 1 extra hour of sleep! It's not okay! Adel says I wanted to screen stop working F**KT@RDS! Neda says I am literally going to throw up! Big Brother says good morning house guests its time to get up for the day! Neda says I don't know how I am going to do this.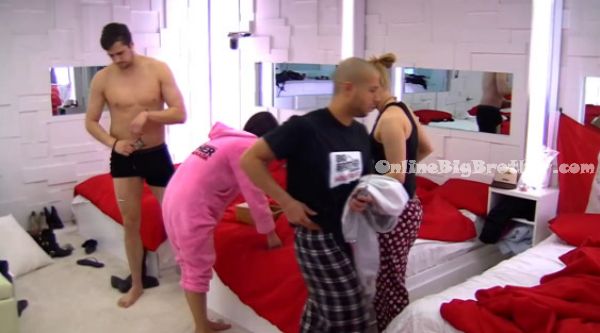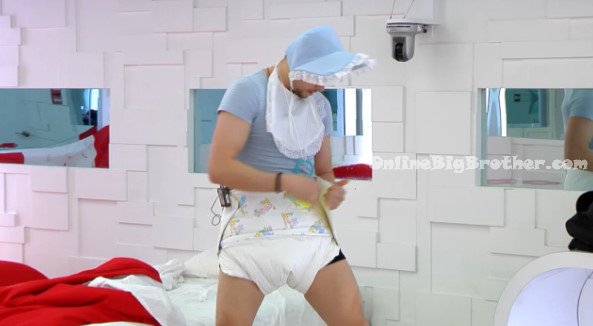 10:20am – 10:45amIn the bathroom – Sabrina says I really feel awful I am literally going to puke! Heather wonders if they are taking it down still? Neda says they are either still taking it down now or putting something else up. Sabrina says no it doesn't take that long to take that down.. Big Brother calls Neda to the diary room. Neda says nope! That is not happening! In the bedroom – Jon says what's up f**Kt@rd! They slap their hands together a few times. Adel says man you've been playing a flawless game so far this season. If you put me up I would understand it. Its the odds she finally has the odds with her. Jon says even if I did put you up I wouldn't vote you out. Sabrina joins them and wonders if they're building a luxury comp in the backyard. Adel leaves the room. Jon says if they pull some sh*t like that, like yesterday and Canada really has the veto I am going to freak! Jon heads downstairs. Adel says to Jon.. the stupidest thing is that they kept us in the HOH room for another hour after! Jon says yeah I know. Jon says I'm going to throw up for sure.. Jon asks so tonight is an instant and someone is evicted? Adel says he thinks so ..this is the home stretch. Jon says so this Thursday we have 4 people. Adel brings up how she went for the money and won $3000 .. I haven't go for any money all season. Adel says you've played a flawless game… you deserve it. If you want I will start ripping them all apart! Just tell me..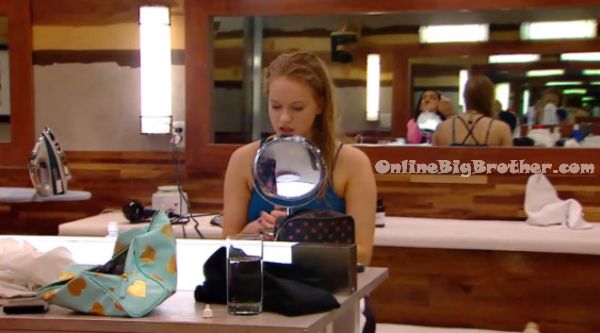 In the bathroom – Heather comments on how she feels happy. Neda says yeah well you should be! Heather says that she really didn't think she was going to win with her time. Heather comments on how Neda won money during the competition.
10:50am – 10:55am Adel says all it takes is gonads (Neda) to mention to her (Heather) that we promised final three and they team up and we're out.. Deny Deny Deny! JOn heads to the bedroom and he and Neda talk. Neda says I feel like we should have just went for this veto! JOn says YUP HUNDO!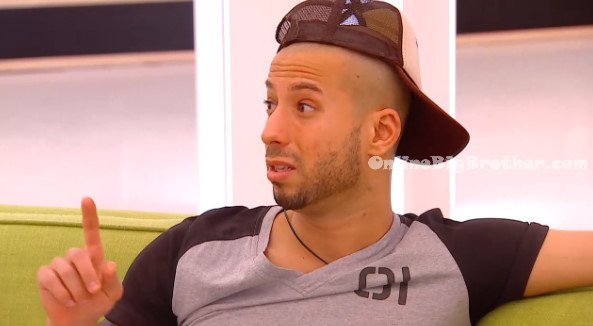 11:10am – 11:25am Adel is in the bedroom alone and talks to himself about how he knows he's going up as the replacement. F**K! I can't get paranoid though because as soon as you do your game is done! In the bathroom – Heather says I am the happiest girl in the world today! Neda says yeah especially after yesterday.. that must have been awful. Neda says but you won veto! That's your first one right!? Heather says yeah! Heather says on top of the you, me and Jon are for sure going to final 3, or 4 YAY! Neda says unless some crazy twist happens and I go on the block. Heather says at least Sabrina would still be on the block though.
HELP keep the spoilers coming.. Show your support by making a donation. ANY amount is greatly appreciated! Simon and I work 24/7 all season long to keep you updated on everything that happens inside the Big Brother house. Your donations go directly to paying the fees required to run this site.
Stay connected and interact with other Big Brother Fans on our Facebook page.
And Follow: @BigBspoilers and @Dawgsbigbrother on Twitter for the most up to date spoilers.