Feeds start tonight
The ranking is back up for BB23 now with a new value.. ZERO! – RANK THE HOUSEGUESTS –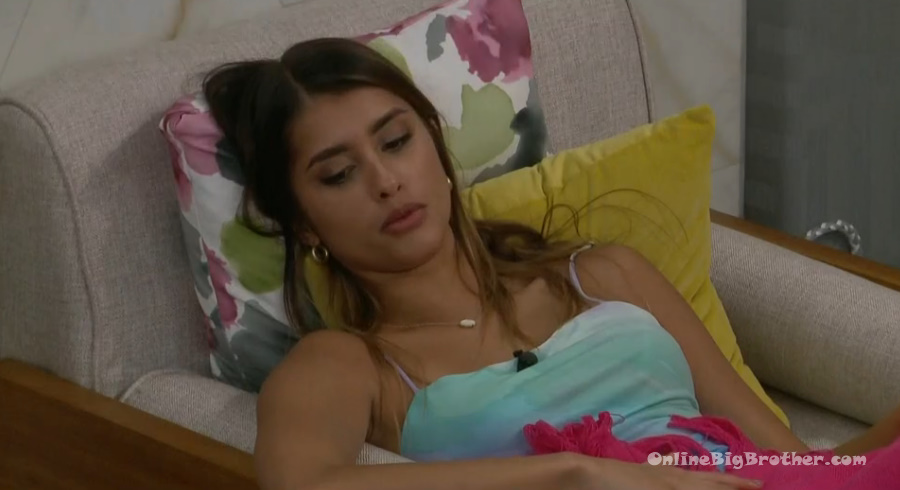 9:34pm The live feeds turn on for the season!
Bathroom – Tiffany, Alyssa, Xavier, Travis
Alyssa – Don't feel like you guys have to stay in here. The best thing is for me to not move. Tiffany – I don't want you to move. I just want to keep your legs elevated. Alyssa – I'm okay, I'm okay. My legs are just spasming. It literally just needs to pass. Tiffany – will they (production/medics) be able to give you something? This is your decision. If you want to go, then go. Xavier – I would say this if going to the medic is going to give you more peace of mind to where your anxiety lowers .. then I would say go. If you don't think it will change anything .. like psychologically then.. Big Brother changes the feeds. Kyland joins them talking about how he's freaking out about being here. Tiffany tells Alyssa to take Advil. Alyssa – I just feel so weak. Tiffany – you don't need to go anywhere. Alyssa – but we're on the live feeds. Tiffany – don't worry about it. Girl f**k them Live Feeds! Xavier – f**k them people. Tiffany – you're so used to being worried about other people. Alyssa – I don't want people to feel bad for me. Travis – ride it for a week or two if it helps you. Alyssa – yeah. Sorry you guys heard me puking.
9:50pm Kitchen by the memory wall – Brandon, Derek and Britini.
Brandon talking to Derek – I trust her (he points to Britini's memory photo) 1000%! Britini is standing right behind him and says – thanks!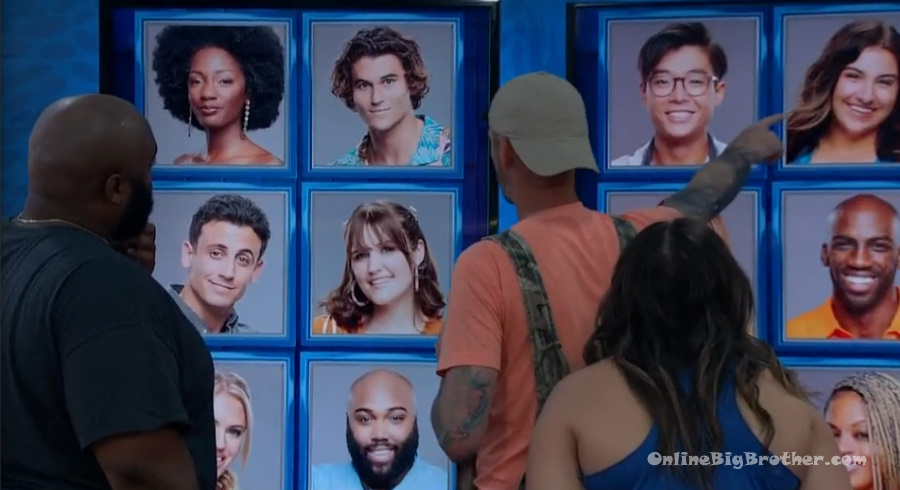 10pm Bathroom – Xavier and Alyssa.
Xavier – for me tonight I am waiting to see who gets power. Frenchie get power. If I am going to get close to anybody, it should probably be him. I want to get in his ear now and give him some space. He is going to have a lot of people talking to him. Alyssa – I got a good vibe. Xavier – yeah he is a good dude. Xavier – I think it is important to get in his ear quick .. because I think he is the type to be loyal to people he gives his word to. If you don't get his word first .. you're in trouble. Alyssa – well its more so his team too. Xavier – yeah. His team is all safe. So there are 12 other people he can go for. Only two people can get nominated and if either of them don't win the veto .. then one of those people goes home. So there are potentially 3 people he hast to be considering. Alyssa – making an alliance too fast always blows up. Xavier – 100%, I didn't want a big alliance. Alyssa – I think its smart to make a solid four. And then add more after that… but have a core four.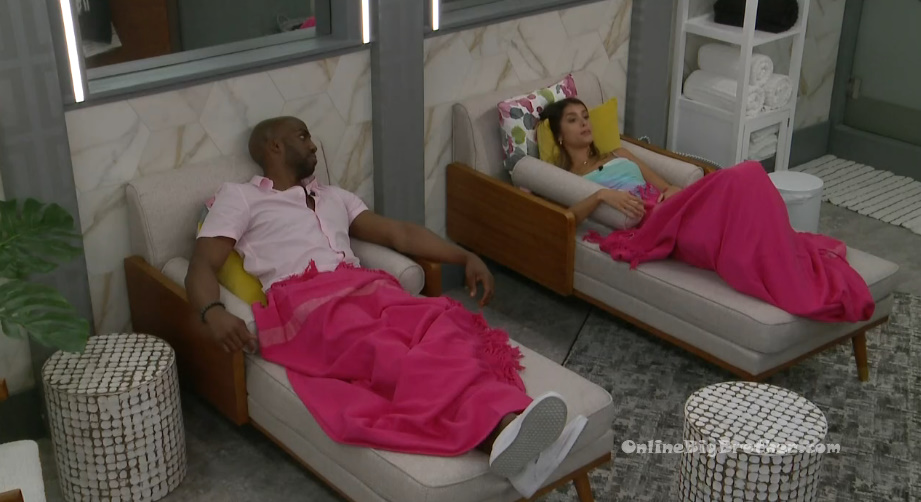 10:15pm Bedroom – Claire, Derek and Frenchie.
Derek – You can see a bullsh!tter a mile away. My thing is that I am playing an honest game. Frenchie – if I tell you something, I mean it. Derek – Correct, if I tell you.. I tell you.. that's how I feel. If you got me, I've got you the next time. That's how I look at it. I am here to help everyone else out in this game. If I can make it to top five .. then I am happy because there is some money! Frenchie – is there something that comes along with that now? Derek – yes!