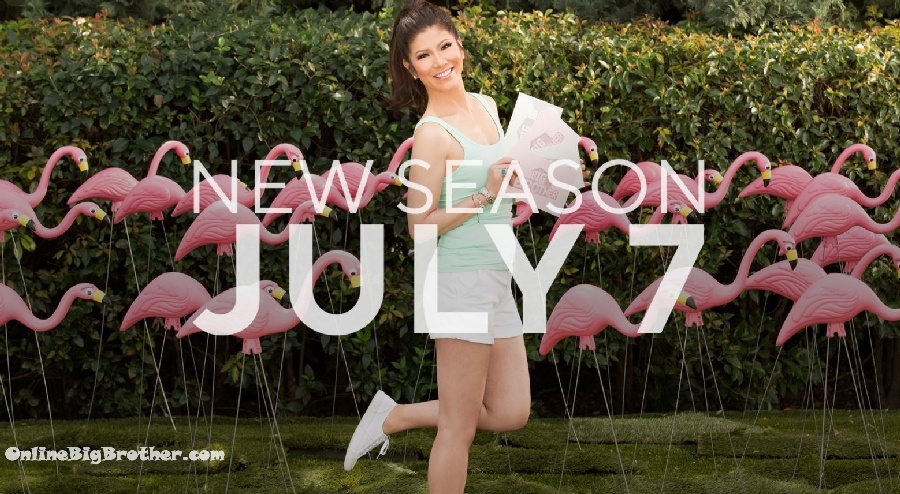 As Big Brother 23's July 7th premiere fast approaches, you're probably wondering.. What crazy twists will the producers throw at this seasons house guests? What will the theme of the house be? With only a week before the premiere we're starting to get an idea of what the house guests will be walking into..
Theme / House Decor: Executive Producers Grodner and Meehan are calling it the BB Beach Club meets casino
Grodner states: "We really felt like after over a year of all of us being locked in our homes, we wanted our house guests to be able to feel like they're on vacation. I think we're all longing for our vacations to get out. It's beach club meets casino; think Monte Carlo meets Vegas. It's going to feel like a boutique hotel with a casino vibe. Big Brother has always been about taking chances in high stakes."
Big Brother 23 season premiere twist:
The house guests will be divided up into 4 teams of 4
Unlike past seasons with team twists (season 11, 14 and 18, duo season 9 & 13), this time the house guests will choose their teams.
The four appointed captains (not sure who chooses the captains – viewers, competition winners) will be shown 90 second videos of their fellow house guests where they will have to determine live who they want on their teams.
Grodner states: "One of the things we are adding to the mix, is the ability in this choosing process for these team captains to get a glimpse through pre-taped interview bites, to see part of the personality and strategy of the people they're picking. This is something that we haven't done before. And it should add to the strategy of drafting. You get a little bit more than just watching them or judging a book by its cover."
The teams twist will last for the first 4 weeks of the season.
They will then go on to compete separately to become the 1st HOH of the season. Julie Chen will then present the winner of the challenge with a brand new twist. Grodner states that it will be a "double or nothing offer from Julie that they won't be able to refuse."
The HOH winner and their team will be safe from eviction for that week.
The losing teams will get another chance at safety through a brand-new competition that will air on the Sunday episodes.
The 3 other teams that are not safe for the week will each nominate a competitor to compete in a "Wildcard Competition". Of the three that compete, the winner will also be safe for the week (just the winner, not the winners team). With this reward there is risk. If the winning HG chooses to accept safety for the week, it will result in a punishment that may affect them, their team, or the entire house.
Rich Meehan states: "For whoever wins, safety is up for grabs, but that safety will always come with a major risk/reward dilemma. So I may win safety, but how I attained that safety might make some people happy and might make some people very upset with me." Grodner adds: "There's no (putting the house on ) slop. Slop would be the easy way out."
Do you have your Paramount+ account yet!? TODAY is your last chance to get ONE MONTH FREE with promo code "MOVIES"
Source: Parade.com