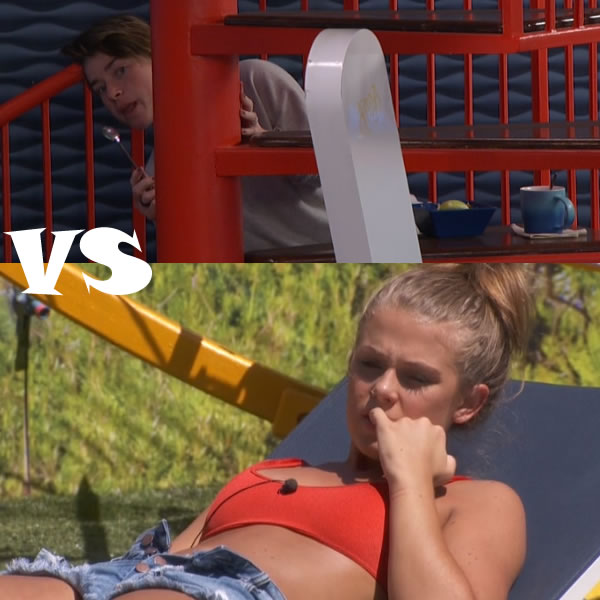 This was the week that Level 6 started to break up there was also a "i love you" for those showmance fans.  One more thing to note is Haleigh thinks she was staying so expect her to be blindsided again.. Once a HIVE always a HIVE.
Posts of the week
Part 1: Catch Up From the previous Week + any new powers
Scottie was evicted. He said some bad words in his speech and twitter got outraged. Kaycee won the Head of Household competition. Julie Chen announced a double eviction for this week. No new powers were introduced hopefully that's it for the season.
Part 2: Nominations
Kaycee stuck with their plan to get out Haleigh. She nominated Haleigh with Sam as the pawn. . Level six works on Halegih to make her feel safe.
Part 3 Power of Veto
Kaycee destroys the Power of Veto competition. There's no talk about using the veto this week. The nominations are essentially locked at this point
Part 4 Power of Veto Ceremony
Kaycee doesn't use the veto.
Part 5 Pre eviction
Brett and JC have conversations about taking out Angela. Brett brings this to Tyler saying that they have a better chance to beat Sam and JC in a final 4 than Kaycee and Angela. Tyler plays along with Brett but as soon as he can runs up to Kaycee to fill her in. Kaycee and Tyler are excited by this news and the two of them get "pumped up" about it. They were waiting for a reason to take out Brett. They tell Angela and decided to go after BRett before Sam and JC. The plan "stay 3 steps agead" is to take him out tonight during the double. Brett starts to pick up on Angela acting different, JC tells him he's just annoying her. For some reason Haleigh thinks she's got the votes to stay or at least that is what she is telling people. Wednesday night she's bringing up conversations she's had with everyone where they told her it'll be unanimous for Sam to be evicted. Angela told Tyler she loved him late Wednesday night.
Where does this leave us?
Haleigh is going to be evicted. The double eviction will hopefully shake things up for the final weeks.
Results from the Live show
Tyler votes to evict = Haleigh
JC votes to evict = Haleigh
Brett votes to evict = Haleigh
Angela votes to evict = Haleigh
Haleigh is evicted.. The HIVE is gone.
Angela and Kaycee blame the eviction on Brett.
Head of household winner:Tyler
Tyler nominates: Sam and JC
Veto winner is: Angela
Angela uses the Veto on JC.
Tyler nominates Brett.
JC votes to evict Brett
Kaycee votes to evict Brett
Angela votes to evict Brett
Brett is evicted..
They will have a HOH competition later tonight this will air on Sunday's show but we should find out on the feeds.
There's an eviction episode on Wednesday. this will be taped earlier which probably means feeds being down for a day or 2 prior.
8:15pm The live feeds are still blocked showing bb re-runs..
9:20pm Still blocked..
A easy way to support the site if you are an amazon shopper is to make your purchases through our link. You pay the exact same thing but we get a small % commission. It doesn't cost you anything and helps us out.
Amazon Canada
Amazon USA
Rank the houseguests!
Easiest way to Rank the house guests use link below