| | | | |
| --- | --- | --- | --- |
| POV: | ? | Next POV: | Sept 15th |
| POV Used | ? | POV Ceremony | Sept 17th |
| HOH: | Angela | Next HOH: | Sept 20th |
| Noms: | ? | Have Nots | Havenots are done! |
Without your support this website wouldn't be possible.
Please consider making a donation. Any amount is greatly appreciated. All donations go directly to paying the considerable costs associated with running this site.
HOH WINNER: Angela
9:50pm – 10:04pm The live feeds return. Sam – that was crazy hard. What are you going to do? Angela – I don't know yet. I have no idea! This is the hardest one I've ever had to imagine. Sam – oh yeah you are pretty well at it now it is your third one! Angela & Sam head to the kitchen. They talk about how Angela won. Tyler – third HOH. You live up there. Sam – the second HOH in one day! Tyler – do you have 3 vetos? Angela – two but one that I asked for. Tyler – you earned it. Angela – three competitions in one day. JC – you did really well at them. Kaycee – maybe we'll get the backyard tonight. Angela – they said we would be in here for a while. Sam – now what? Tyler – wait for her room. And then sleep for 10,000 years..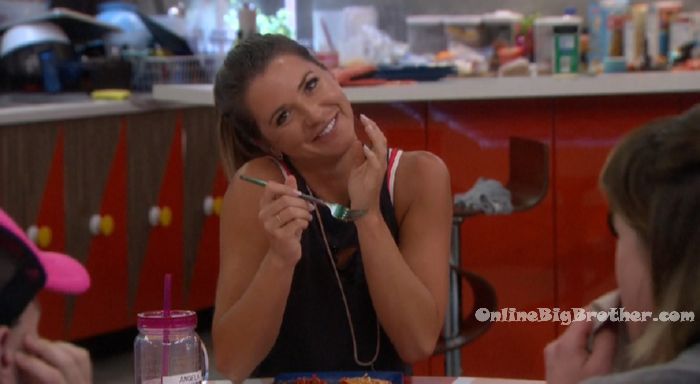 10:12pm Bedroom. Kaycee and JC. Kaycee – I'm just trying to soak all this in.. so much happened today. Long crazy day! JC – it was such a crazy day. I wonder how they're going to do all these days? Kaycee – oh yeah, I know. JC – Do you think it will be a short week? Kaycee – nominations tomorrow, Veto on Saturday.. it depends on if we're doing back to back sh*t. Maybe not this week but the week after. We're almost out of here. JC – I know, this is crazy. I still need to win and sh*t. Kaycee – there still more to be played. Angela joins them to pack.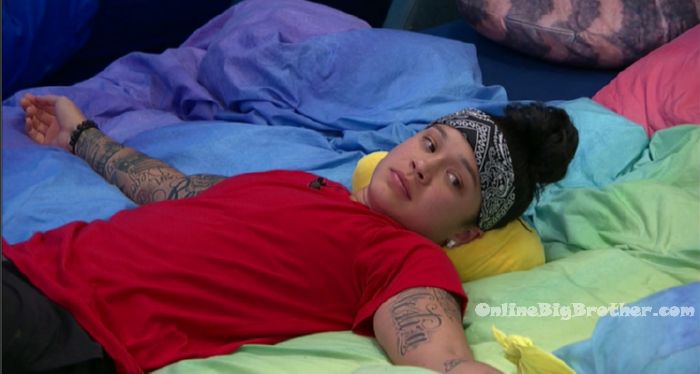 Kaycee to JC – was Brett trying to turn Sam against Angela? JC – I have no idea what he was doing. He wasn't talking game with me. He really wanted to know what I was going to do if I won HOH. He was smart he wouldn't tell me what he wanted to do. He would throw me stuff to like figure it out. Kaycee – right. JC – I didn't even know he was talking to Tyler too. It doesn't matter now though. Kaycee – yeah.
10:20pm Storage room. Sam says the fridge smells like something died in it. She starts going through it and throwing out food.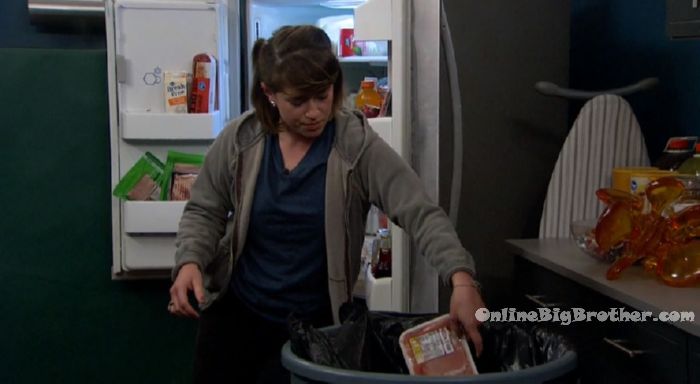 11:10pm Kaycee, JC, Tyler and Angela are hanging out in the bedroom chatting about random things. Sam is in the havenot room.
11:20pm Bedroom. Kaycee, Tyler and Angela.
Tyler – we did it! Every time we say something is going to happen, it happens. Kaycee – for real. If one of them had won, it would have been bad. Tyler – oh I know. Angela – congratulations on making top four… they knock on wood. Kaycee – I was trying to ask JC if Brett was trying to go against us. What a f**king a$$hole. Tyler – he was sitting in the middle playing both sides. He was telling them to come after you and then telling you to go after them. Kaycee – Brett thought he was doing something. He had to leave. Tyler – I just had to do a GBM to him. I said I had to stay two steps ahead of him. Angela – its weird because I knew I was going to win.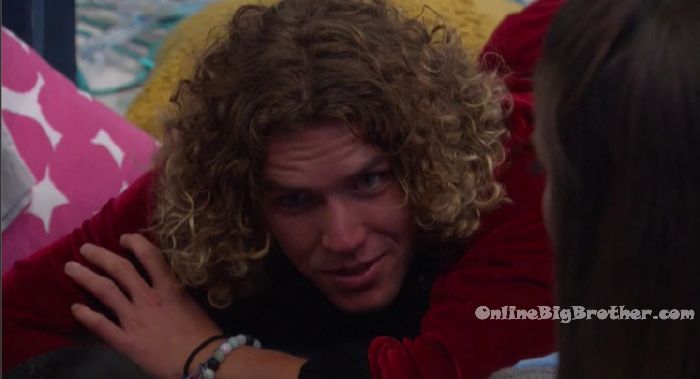 11:50pm -12am Bathroom. JC and Tyler.
JC – I am trying so hard but I am so f**king pissed. Pissed! F**King F**King pissed! I don't care what a great competitor you are or how great you think you are.. if they actually told you that Brett said that, just to get you to do this they are f**King good competitors. Tyler – no it came out of Brett's mouth to me .. to them. It came out of Brett's mouth to me .. to you. JC – its doesn't matter. Tyler – it does matter. JC – this was not the game move. Tyler – calm down! JC – I'm going on the block now. Tyler – you're not going anywhere. I'm not going to let you go. JC – I have no choice, we're going to work together. Tyler – we have been. JC – does this mean you're working with Kaycee. Tyler – you would. JC – if you win the POI, hsuedx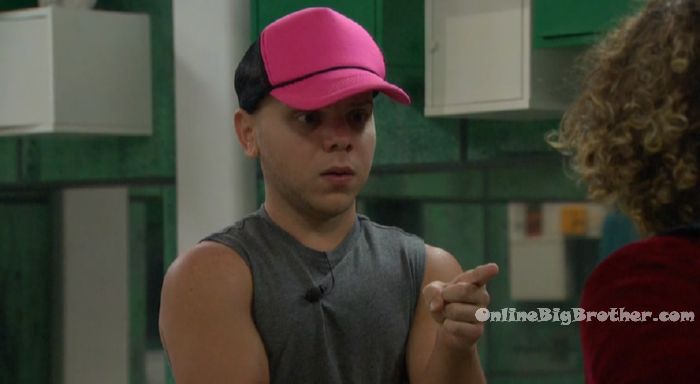 12:30am Bedror. JC, Tyler, Angela are talking.
Kaycee tells JC that she was the hacker. I waned to tell you but people were always around. Tyler – and look at what happened to Haleigh when she told everyone. JC – well congratulations. They talk about about they think the other
12:40am – 12:52am Angela comes out of the diary room. Who wants to see my HOH room!? They all head up to the HOH room. JC – this is like a funeral march. Sam – congratulations on three. Count'em three!
Angela – well guys this is the house. Sam – it feels like we're waiting on people. Angela – well I'm not doing one on ones tonight. I'm too tired but you guys are welcome to hang out.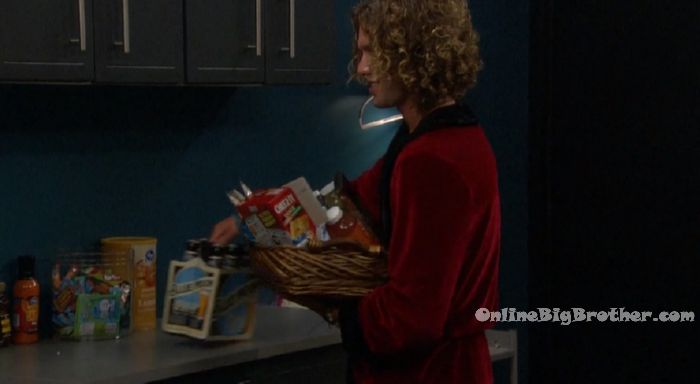 12:53am Tyler got an HOH basket in the HOH room. They gather in the living room. They look his photos and then he reads his HOH letter.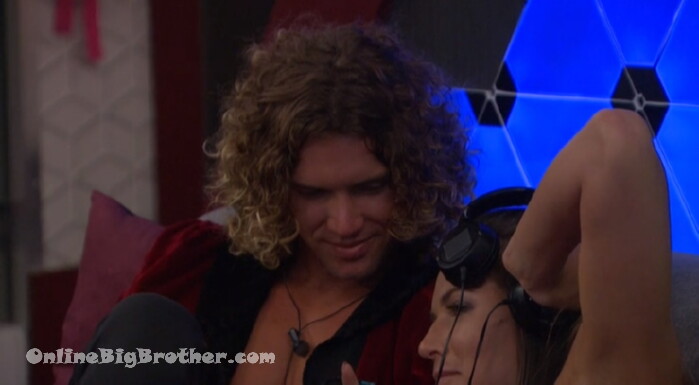 1:04am Tyler and Angela
Angela says she couldn't have written today better
They laugh how Tyler and her have to share the HOH room because he didn't get one due to the double.
T – we did it
A – we did it
T – we're going to keep doing it
Tyler – back to back
Angela – back 2 back
T – the world knows..
A – I know
They laugh
A – I can't wait to see these Tangela updates
t – Tangela updates are on fire
A – don't look at me with those eyes..
T – what eyes
A – you and that robe..
T – you like the robe
A – Yeah I do..
T – I'm not taking it off..
T – we're doing it.. final 4.. unless they'res a twist
Tyler says this is when they threw in there reset twists when "Frankie went home" (Gross that he mentioned that season.. we could have done without that Tyler)
T – we're good.. you're in 4
A – so are you
T – and so is peanut
a – so is peanut
T – the world knows all out secrets
A – I think so
T – you swear
A – yes
A – I'm so glad Brett's out of this damn house
T – I was literally about to tell you today. you gotta be nicer to Brett because he was feeling it. you were just hating on him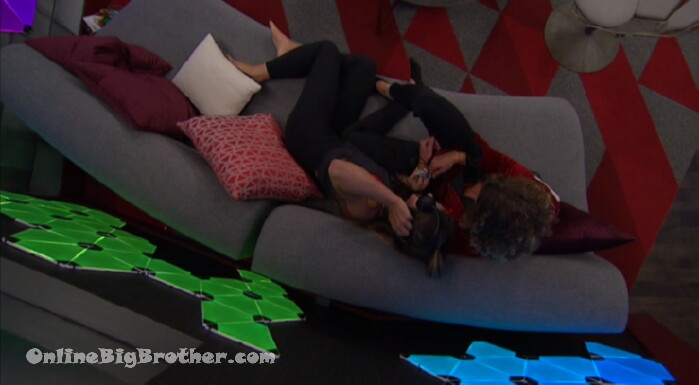 T – he really thought he was going to get me to turn on you guys
A – and if he expected we're in a showmance why would you ever think that it was going to work
T – YEAH .. what in the world
T – he was like.. I hope you are dude.. seriously that's awesome (in a showmance with Angela )
A – that's awesome..
she laughs
T – JC is so f*ing mad at me.. because I didn't tell him
A – still? why is he mad at you
T – because I didn't tell him
A – whatever, I still don't understand how JC was in on the Whole Brett thing? I'm confused was JC not .. wasn't it you JC and Brett all in on the same Idea
T – umm…
A – didn't JC want to get me out this week
T – yeah so….. it was more like Brett going to JC and saying that and u mm.. JC coming to me and saying that Brett was saying it and that JC was down for it to
T – I was suspicious about Brett JC was telling me that Brett was saying it first So I just waited on it to see if Brett would say anything to me and I kept giving him like little sudtle hints
T – eventually he came to me… 2 days ago .. he pitched me the whole final 2 thing
A – i'm sorry I zoned out there for a second.. (good F*)
T – so.. from the top
A – sorry you are really distracting at times..
T – do you really care
A – I really do care.
Tyler repeats…
Tyler says Brett was saying that Angel was trying a "whole Kaitlyn tactic" on him
A – ohh …. interesting
t- stuff like that.. and I was like ok..
A – just you wait Brett
A – I honestly could not have written it.. to the T
T – I was literally picturing it.. 1 step a head thing 2 steps ahead thing
A – oh my god.. that's going to be amazing such good TV… (not really.. )
T – Sam is ripping you to shreds..
A – what was she saying about me
T – I can't even remember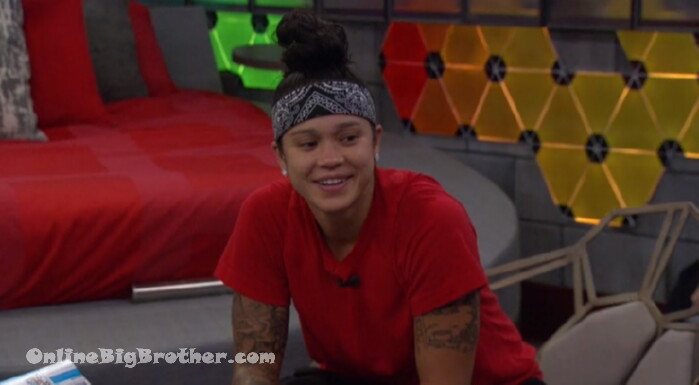 Kaycee comes in
Angela – PEANUT..
K – I'ts 1:15… What a day"
A – what a day
Angela wants to know what else Sam said about Angela..
Angela mentions that Sam talked to her and said that she called Angela a bitch.
Kaycee – why would she say that
A – because she knew I would find out
Tyler says after he won the HOH Sam came in "gunz blazing man"
T – like the door didn't even shut
T – they had to bleep it I'm sure
K – what was she saying
A – what did she say
Tyler – she's like Angela is a b1tch she walks around here with this attitude.. she thinks she's .. BAD BAD.. I was just like STOP .. trust me .. do you trust me ?
T – she was like don't f*iong put me up
T – I was like you gotta trust me
Kaycee – it's easy for her to go home
T – Brett was in her ear..
A – I walk around here with a attitude.. I'm just going to wear a paper bag over my head..
Tyler blames it on Brett says he was getting Sam and JC to come after them. "He made them target you guys"
A – I'm glad she was cursing that means they bleeped it all out
T – JC is so mad at me so f*ing mad…
T – do we want Sam gone?
kaycee – yeah ..
A – Sam preformed well in both the HOH and the other HOH.. even if we don't win the veto, still one of them goes home.
T – we have the votes
Kaycee – we got this
a – we're so close
T – dude it would have been WAY harder with him..
A – today went down so perfect – K – so f*ing perfect
T – it went down exactly how we said
K – Went down exactly how we said
Angela says they Backdoored Brett and they now have power again. (technically he wasn't "backdoored because he played in the veto)
They talk about JC freaking out when Tyler put Brett on the block.
Tyler and Angela make not about knowing the vote ever single week.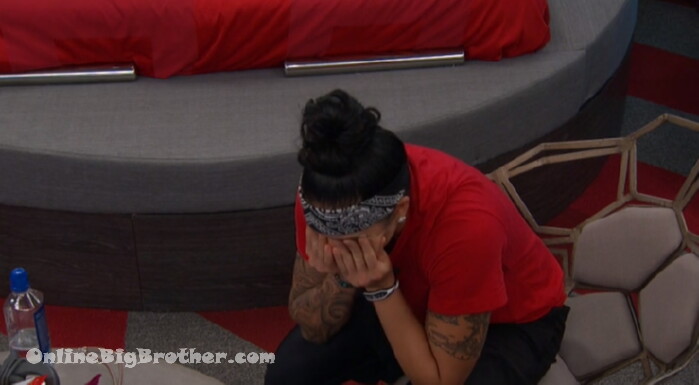 K – this is ridiculous
t – crazy
k – That's crazy dude.. racking in those competitions .. racking in all of the competitions man
T – crazy
k – its crazy dude.. I just think it's so awesome we all made it this far.. cut off the fat
T – Brett pulled a Rachel.. he straight pulled a Rachel with like… the disloyalty.. he pulled a Rachel .. he did.. .. it's crazy
K – it's f* up.. he's f* up…
A – he could have been final 4
t – final 4 could have been final 4.. Brett could have talked himself into a win..
K – he f*ed himself..
T – damn
K – damn guys,. .
K – we're almost outta here guys.. look at all this sh1t we've accomplished
k – what a roller coaster
K – we make a great team
T – I could not believe it worked out like that my heart was racing when you won that veto.. racing..
K – dude..
A – it's better that way because Brett wanted to Backdoor me instead of kaycee (Someone has to explain BB – Backdoor to Angela)
T – he wanted you out but he also thought it be… he also thought that sam and JC also wanted you (Angela) out it be good if she (Kaycee) went out for him and I … but he did't really care…
T – he was going to vote out whoever JC and Sam would vote out
Kaycee is annoyed how Brett was acting towards them being so comfortable
T – because he was working both sides..
T – I had his a$$ feeling good as f*…. (please tell us more … continue this story) I feel kinda bad but f* he was pulling some sketchy sh1t dude (go back to the a$$ good as F** part)
Angela says she couldn't handle Brett anymore.. "he was getting so annoying"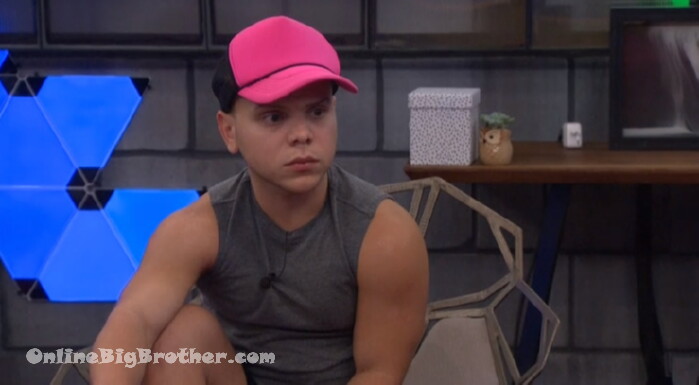 1:54am we're all shocked that Brett was turning on Angela..
(there's more to this.. but seriously do we care?)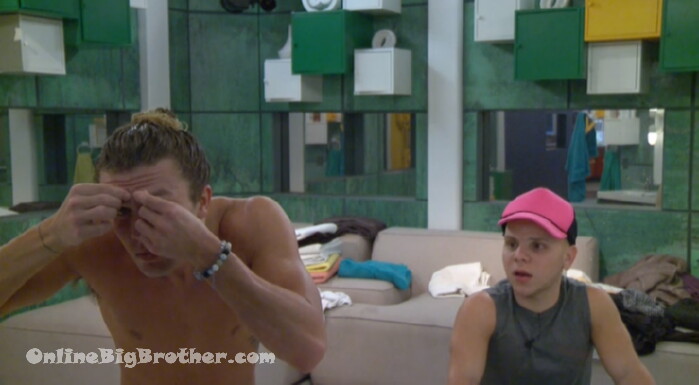 2:13am JC and Tyler
JC – i'm not even mad about him going.. you know I'm on the block tomorrow to
T – I know you're not going anywhere
JC – yeah of course but i thought we were working together we were protecting each other.. not on the block not even as pawns
T – I don't know why you can't see this protected us
JC – I don't know why you can't see that you don't have any chance with those girls .. like truly
T – ok I take that.. I thought that this was best.. it's over lets move past it..
Jc – the only single little move we can do now I don;'t even think you will be down to do it .. it'll save me basically
JC brings up that they've been here for three months and all he's done is talk with Tyler. he's pissed that Tyler was telling him he wasn't talking to him anymore.
T – you were.. you had the plan to get them out
Tyler says Brett was targeting JC
JC – whatever scenario is it beneficial for him to target me
t – because he can't beat you.. can't beat you in the end. those were his exact words
JC doesn't think he could win anything at this point
Tyler asks him why does he talk like that
JC says he was on the block by Tyler and now tomorrow he's going on the block again, "What do you mean don't talk like that"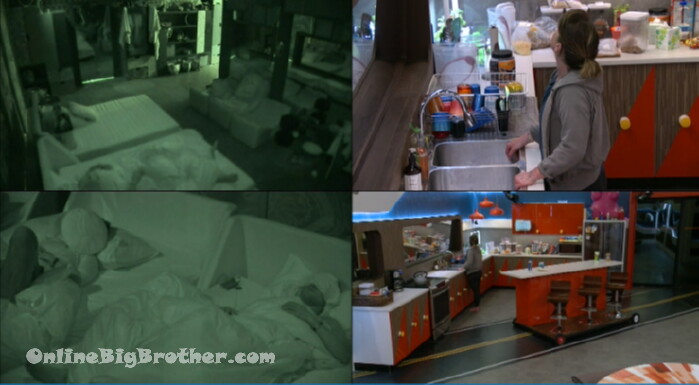 2:30am go to bed..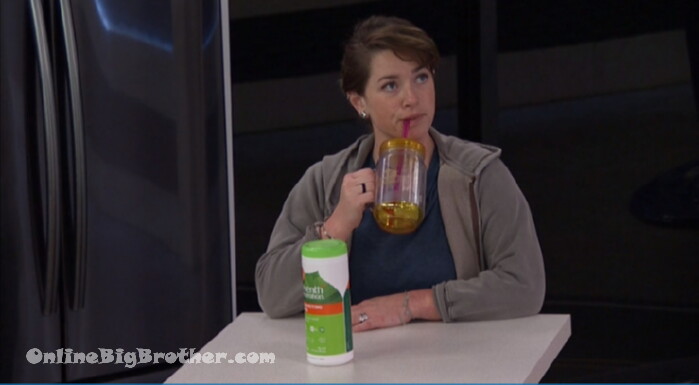 2:33am I like sam she crazy
8:40am they're still sleeping.
An easy way to support the site if you are an amazon shopper is to make your purchases through our link. You pay the exact same thing but we get a small % commission. It doesn't cost you anything and helps us out.
Amazon Canada
Amazon USA
Rank the houseguests!
Easiest way to Rank the house guests use link below