| | | | |
| --- | --- | --- | --- |
| POV: | Kaycee | HOH | KAycee |
| POV Used | No | Noms: | Sam & Haleigh |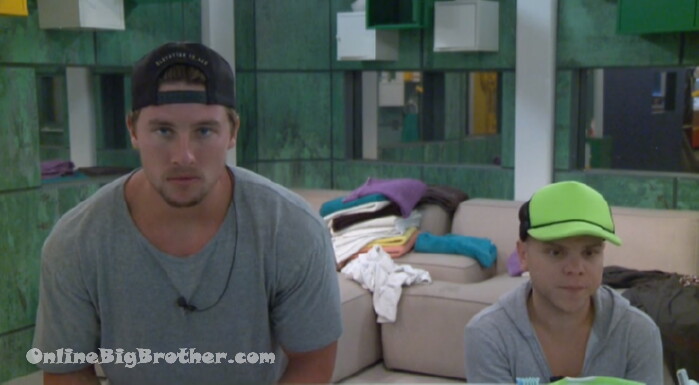 9:10pm JC and Brett
B – have you talked to Tyler yet
JC – no .. tomorrow..
B – have you talked to Sam
JC says no brings up how Anegla is acting strange.
Brett – Angela is acting weird
JC – you think she's acting weird
B – can't tell.. but she can not win tomorrow..
JC – she is completely use to having everything her way the way she wants..
JC – she is a spoiled girl.. she really is a spoiled girl
JC says they are good with Sam but he's unsure about Tyler. says the only one out of those three that he can talk to is Kaycee but she's not playing for HOH.
B – what do you think Sam would f*ing do
JC – Angela for sure
B – you think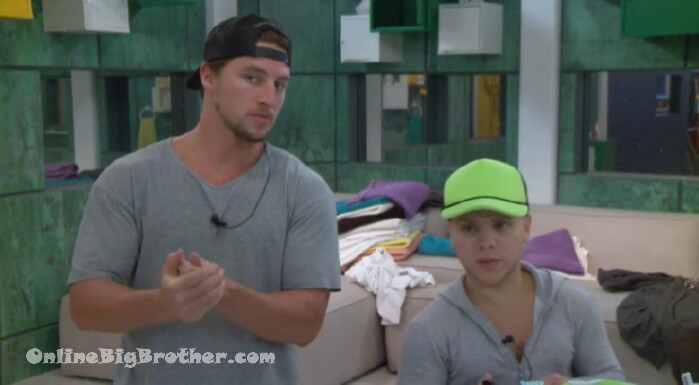 JC – whatever she do if it's not you and me and she puts Angela up we're fine
B – I agree.. I'm just saying I don't know what she would do she's f*ing …
JC says Sam listens to Brett.
Brett – have you noticed Angela acting weird
JC – 2 weeks.. after she won HOH ..
B – no today.. she's been acting weird towards me
JC – people are in a low mood.. you are being extra loud she's probably annoyed by you
B – alright .. people are being as boring as f* dude.. I'm just trying to liven the place up because everyone is so tense
Brett says if they lose each other "this place will suck" because of the boredom
Brett says it comes down to is it Game or is he annoying Angela
B – what I really want to know is if she's acting like that because of game
JC – it doesn't really matter I think she already knows what she is doing (in the game)
B – yeah
JC – there's no way you are going to change her mind .. what is she telling KAycee
B – what is she telling Kaycee.. I don't know
B – I could be going crazy but what if Sam low key was working with Kaycee and Angela
JC doesn't think so "Kaycee put up f*ing [Sam]… no bro"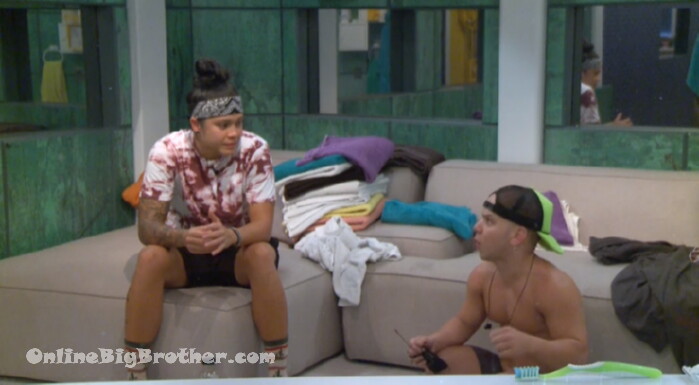 9:34pm JC and Kaycee
JC thinks it's going to be a double tomorrow
JC – I'm going to go with the flow
JC says he's got no deals with anyone
JC says he's got idea what is going on in Brett's head. JC says BRett never talks game with him he. if Brett wins HOH he might be on the block with Kaycee. He asks her if he's on the block tomorrow he hopes he has Kaycee's vote. Kaycee says he does.
JC says that he's been good with Angela and he knows Angela is close to kaycee. He 's always been okay with Angela and hopes she doesn't do something F*ed to him. Adds the worst thing he she can do is think he's with BRett and put the two of them up.
Kaycee – Haleigh said she spoke to you..
JC – to me.. no .. in the kitchen she said I need to talk to you and I said I need to shower .. I walked in here
kaycee – she f*ing lied oh she said that you pretty much were like everything is going to be fine
JC – me..
Kaycee – you said it's supposed to be a unanimous vote like to keep her here..
JC – WHAT
Kaycee – Haleigh lies.
JC – I'm surprised she's still here
JC back to saying he has no idea who Brett will put up
kaycee – he's not winning HOH
JC – I need to win HOH..
JC says if Brett wins they can push him to stick to the plan Haleigh first than Sam
Kaycee brings up how I want it to go smoothly
JC – I really don't think Brett is coming for you
kaycee – I don't know maybe
JC – Sam really annoys him..
JC says if she goes up as a pawn she has his vote no matter who she is up against.
Kaycee says she's got his back also.
Kaycee – tomorrow is going to be a good day I don't want you to stress
JC says Kaycee ran a good HOH everyone was happy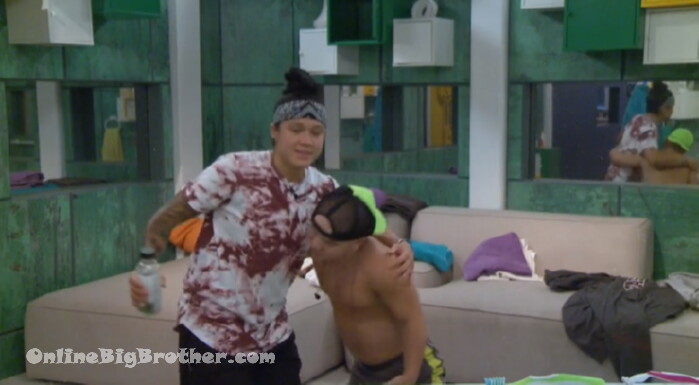 JC brings up Angela being moody he doesn't know what is in her mind he's worried she'll snap at him so he hasn't gotten close to her
JC asks about the Tyler/Angela showmance.
kaycee doesn't think so they just hang out a lot.. "there's only a few people left in the house"
JC complains about Brett following him around it's a good thing him and Kaycee don't talk too much because now him and Brett are going to end up on the block together.
Kaycee says it's like Brett has attached himself to JC.
JC points out how Brett does that a lot brings up Brett attaching to Winston, Scottie.. "he always needs someone"
Kaycee – totally understandable he just needs a close friend..
JC brings if Brett wins HOH he doesn't know he might do something crazy.
Kaycee says she doesn't see Brett putting JC up he'll put her up before JC.
JC – he's good at lying ..
10:08pm
Jc taking a shower
Haleigh hands
Sam ironing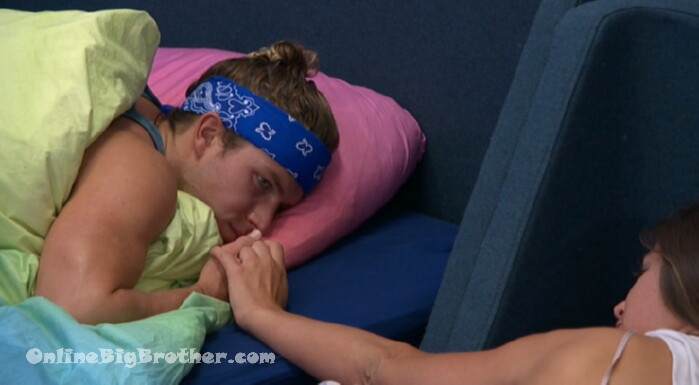 Showmancing… kinda..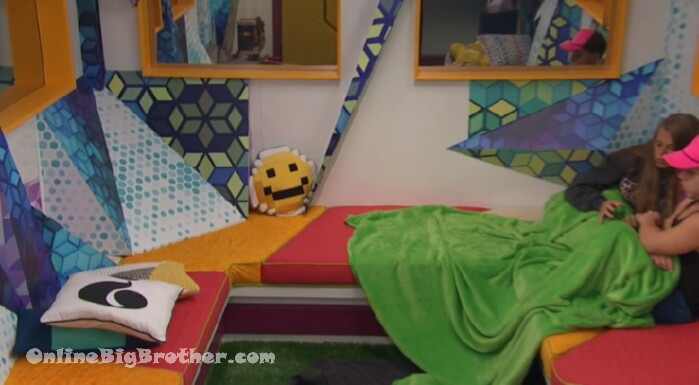 10:25pm JC and Haleigh
H – where's your head at for tomorrow.. where your thoughts are
JC – I haven't talked to anyone today
Halegih – I talked to Angela and she thinks that everyone is going to vote out Sam. Brett told me similar he wants me to stay here..
H – Tyler told me he wanted me here and he thinks everyone is going to vote to keep me.. this is what they are telling me so I don't know
JC – I haven't talked game today
Haleigh says she talked to Kaycee and she said if it's a tie she's keeping Haleigh.
JC – ok
H – so maybe just talk to Brett if you want for that confirmation
Jc – yeah of course..
Haleigh – if you hear anything different can you please tell me I don't want to be blindsided..
JC – yeah for sure.. people make up their minds Thursday morning that's for sure if I hear anything I will come tell you that's for sure
H – what do you want to do
JC – I want to keep you here ..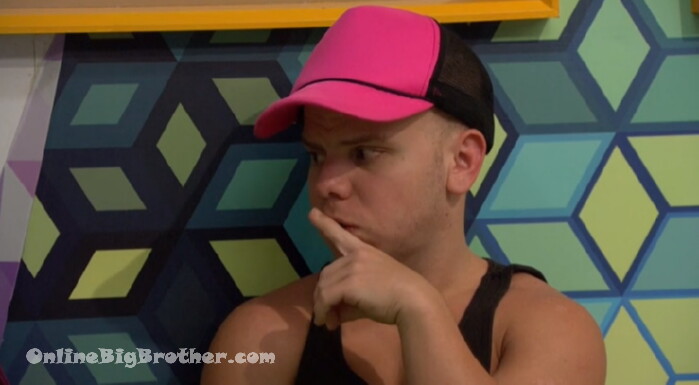 H – hopefully everything goes ok just sleep it off and be quiet.
H – I don't think Tyler will lie to me like that not to my face. He's the type that would just avoid me.. (poor wounded bird)
H – he came to me and told me that.. I didn't ask him
JC – what did he tell you
H – that I can calm down everyone is voting for me I'm going to be fine.
H – so I have your vote as of right now
JC – I just wanted to see if you've heard anything
JC says he hasn't talk to "them" at all
H – the way they are talking to me is similar as the last 2 weeks
H – she said that she was waiting on Kaycee to tell her to vote..
Haleigh adds that Kaycee told Angela that it's Sam's time to go
JC – when you put them up as HOH whose Idea was it to put them up
H – it was a combination ..
Jc says he's worried the whole house is voting against her in that case his vote won't matter.
Haleigh – I feel really confident I have Brett's and I feel really good after Angela and I spoke.. (A FOUTTE to the end)
JC says if Fes had listened to him a little bit Fes would still be here.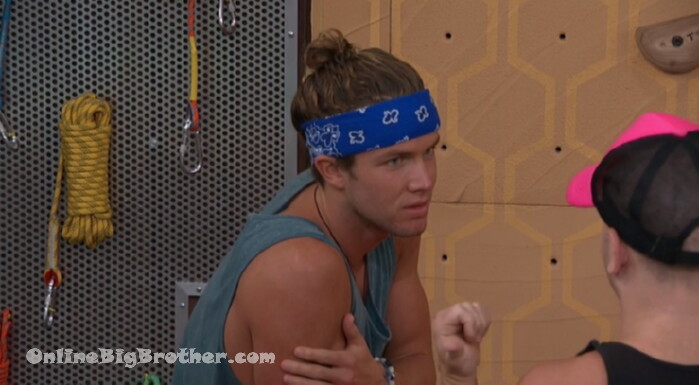 10:45pm JC tells Tyler
JC – she thinks it's unanimous..
Tyler – to keep her
JC brings up Haleigh going around telling everyone she's staying ..
JC – I don't know what game she is playing
t – I have her feeling safe..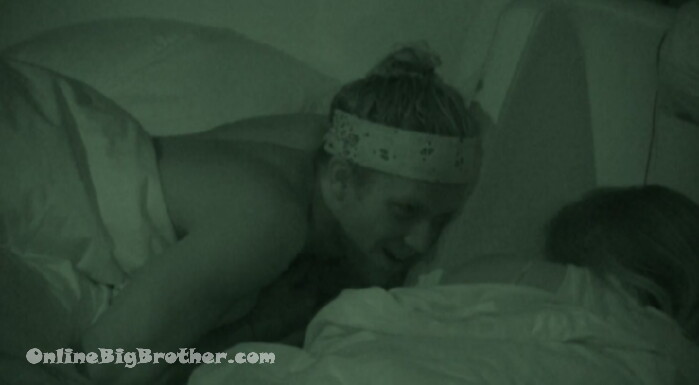 11:38pm Angela and Tyler
A – I'm in love with you
They kiss
T – wait we have the same secret
A – what
T – I can't believe we have the same secret
A – I can't believe that just came out of my mouth
T – I can't believe that just came out of your mouth
T – how did I get so lucky
A – how did I get so lucky
A – what is happening to me..
Angela says she's going to hate having to talk about this in the Diary room. Tyler says they don't have to anymore.
11:50pm
T – I can see you can you see me
A – I can see you
T – this is real life.. I love it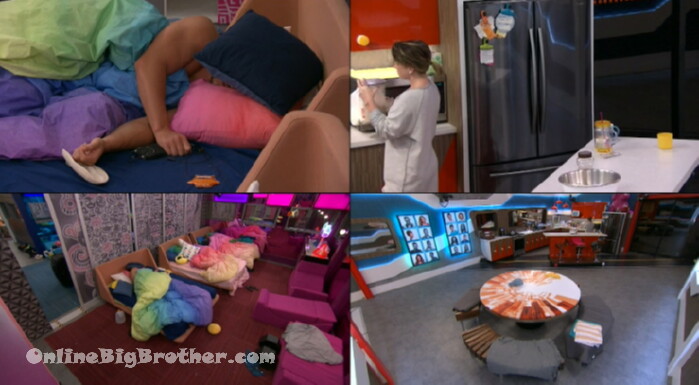 7:43am lights on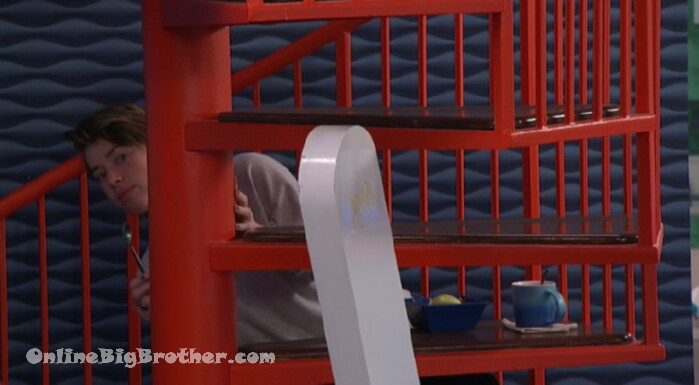 8:24am Kaycee, Sam and Tyler are up. Feeds get cut for the HOH lockdown.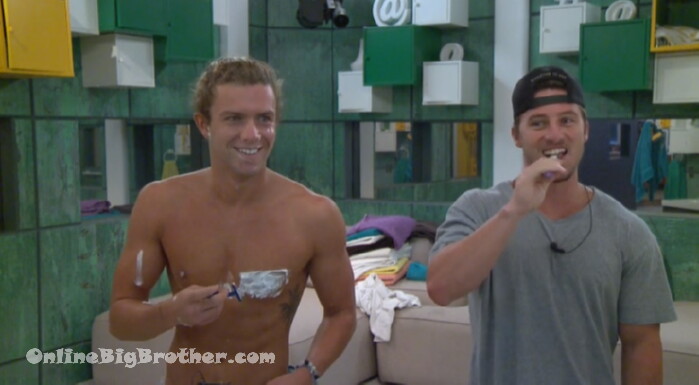 9:08am Feeds come back it wasn't the HOH lockdown. They were shown a video which I assume will be used in a competition tonight.
Brett says he doesn't want to win it "I'm trying to prep everyone up"
T – yeah
Tyler says Sam and JC might know.
Brett- Sam didn't even come close on the gif that keeps on giving
T – Angela is not going to get it
B – she won the gif that keeps on giving
t – she's not going to win this one..
T – we might have to go out the first question .. watch the first question just decides it
T – do you know the order and sh1t
Brett – yeah kinda.. the one upstairs is messed up a bit
Brett – I don't know 100%
Brett – I guarantee this is Sam's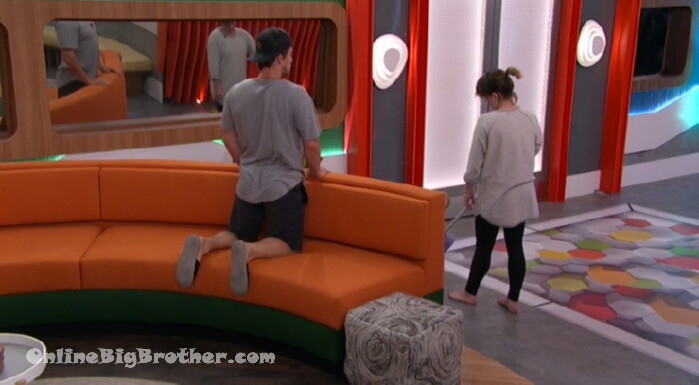 9:29am Sam tells Brett she's not going to get too carried away with getting ready until she finds out if they will be wearing their own clothes or "dressing up like a bug"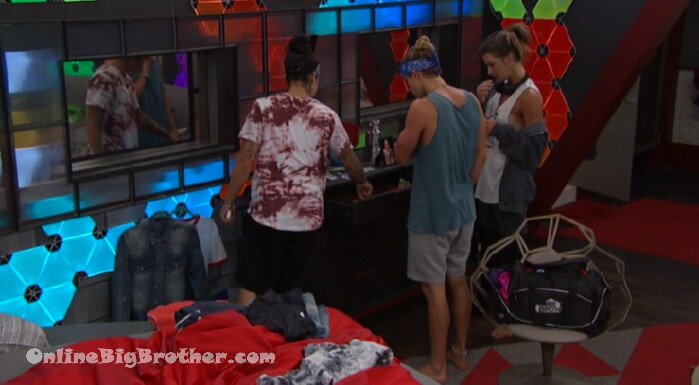 9:32am Studying together..  (they were shown video clips of competitions. studying what was shown and the order)
The girls laugh at Brett that he doesn't know the order of the videos.
Kaycee – his order is so f*ed I knew he wasn't paying attention
Tyler – he knows he says I feel like I'm the only one that remember sh1t right now but I don't want to win
Kaycee – this is his (order) right here.. and it's f*ing wrong
Tyler – he's f*ing with you
Angela mentions how Brett came up here and told him he didn't pay attention to any of it he was just laughing.
Kaycee doesn't believe it says Brett wasn't even paying attention during the video he was too busy laughing.
T – he told me.. he told me I feel like I'm the only one that knows..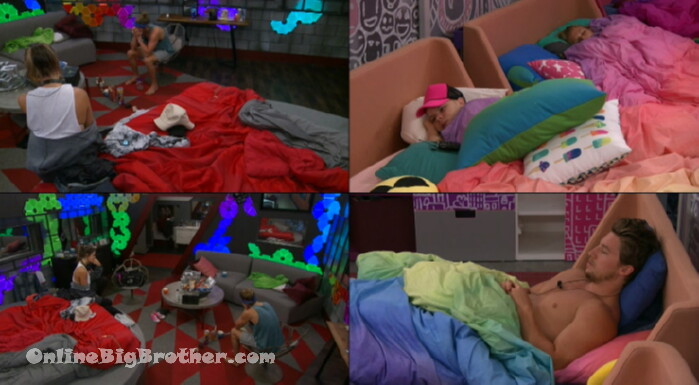 10:00am Brett studying with JC. Doesn't look like JC is even going to try. Tyler, Anegla and Kaycee in HOH studying.
#BB20 pic.twitter.com/R1t1MYrOlZ

— OnlineBigBrother.com (@bigbspoilers) September 13, 2018
If you enjoyed the content this season please consider a donation.