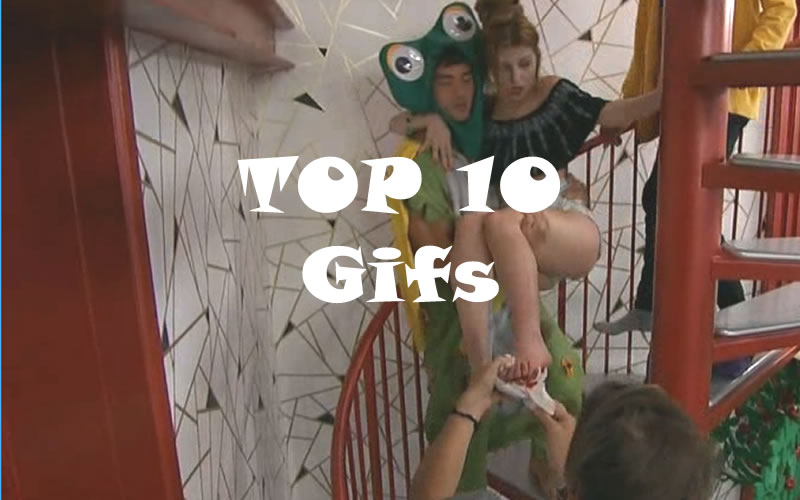 Every week we go through our list of Gifs and pick the juiciest 10 for your viewing pleasure. Let us know which one is your favorite in the comments below.
Typically Gifs always go to our Twitter accounts (@BigBspoilers) and most times they make their way to our facebook.
If you like this type of content please help us out and share or leave a comment and let us know.
Thanks!
Feed subscription lets you go back and re-watch everything we post here CBS All Access Live Feeds with a FREE 7 DAY trial.

Christmas and Paul #BB19 @DawgsBigBrother pic.twitter.com/gI5t9QZejO

— OnlineBigBrother.com (@bigbspoilers) July 8, 2017
Raven getting carried after falling down the stairs.. #BB19 @DawgsBigBrother pic.twitter.com/f9Qayp6BLo

— OnlineBigBrother.com (@bigbspoilers) July 12, 2017
Josh – You're going to break my leg.. #BB19 @DawgsBigBrother pic.twitter.com/6uXiDdgmBU

— OnlineBigBrother.com (@bigbspoilers) July 12, 2017
"I'm 23 I'm going to look theirs beautiful girls around, I'm not over here like…." Josh #BB19 @DawgsBigBrother pic.twitter.com/wbrleN7FLj

— OnlineBigBrother.com (@bigbspoilers) July 10, 2017
Jessica getting comfortable in the pool @bigbspoilers #BB19https://t.co/sLQeY1KjzC pic.twitter.com/0v1Icc1WS3

— Dawg (@DawgsBigBrother) July 9, 2017
After 40 minutes talking to Jessica #BB19 @DawgsBigBrother pic.twitter.com/90psyN3n4p

— OnlineBigBrother.com (@bigbspoilers) July 9, 2017
Havenot Temptation – Jason gets 2 weeks as a havenot@bigbspoilers #bb19 pic.twitter.com/H5EaqarNOf

— Dawg (@DawgsBigBrother) July 8, 2017
"Way too close.. the Heat was on me for 1/2 a second" #BB19 @DawgsBigBrother pic.twitter.com/jHgE1gwKdq

— OnlineBigBrother.com (@bigbspoilers) July 8, 2017
Jason V-Toad #BB19 @bigbspoilers pic.twitter.com/CAJJkBNaIE

— Dawg (@DawgsBigBrother) July 8, 2017
Elena brings out the big guns #bb19 @bigbspoilers pic.twitter.com/3KsfDag3Fx

— Dawg (@DawgsBigBrother) July 8, 2017
MESS #BB19 @DawgsBigBrother pic.twitter.com/kSHhnvmbhQ

— OnlineBigBrother.com (@bigbspoilers) July 7, 2017
BONUS
The old man against the LA kid https://t.co/iS7BSBNzgP#bb19 @bigbspoilers pic.twitter.com/pMQsGH466m

— Dawg (@DawgsBigBrother) July 7, 2017