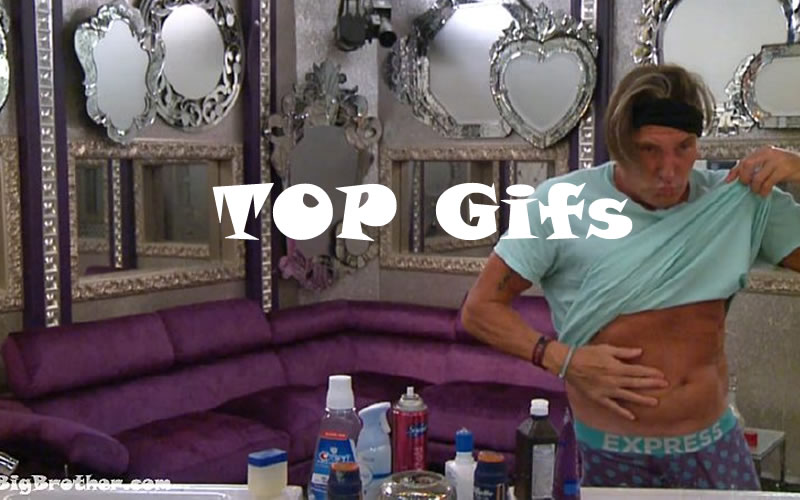 Check out our BB19 Ranking Grid. . rank your houseguests here
Typically Gifs always go to our Twitter accounts (@BigBspoilers) and most times they make their way to our facebook.
The season is almost over but we still are able to scrap up some gifs of the last few remaining houseguests.
Kevin's famous Duck face
Raven doing some "Olympic" gymnastics
Paul claims to be 2 fights away from a pro MMA career
First time this season houseguests some coors light
When Gnomes Attacked
Xmas communicating..
If Jase Wirey was on #BB19 @bigbspoilers #bb19 pic.twitter.com/YEpeQLuRO1

— Dawg (@DawgsBigBrother) September 6, 2017
Inverted spine must help with this #BB19 @DawgsBigBrother pic.twitter.com/zE1tGlwh1Z

— OnlineBigBrother.com (@bigbspoilers) September 5, 2017
Is Paul fighting Raven? @bigbspoilers #BB19 pic.twitter.com/mcIEZncGcX

— Dawg (@DawgsBigBrother) September 5, 2017
@PopTV #BB19 CHEERS @bigbspoilers pic.twitter.com/E9iNauKZQN

— Dawg (@DawgsBigBrother) September 5, 2017
When gnomes attack @bigbspoilers #BB19 pic.twitter.com/GpjR5GC4GR

— Dawg (@DawgsBigBrother) September 4, 2017
Turn the feeds on.. Xmas talking.. #BB19 pic.twitter.com/aoSeMu371w

— OnlineBigBrother.com (@bigbspoilers) September 3, 2017
xmas morning #BB19 @DawgsBigBrother pic.twitter.com/P1yZ263HMU

— OnlineBigBrother.com (@bigbspoilers) September 2, 2017
"None of us are gettin' out of this life alive" – Raven's mom pic.twitter.com/Rwzc6UzEt2

— OnlineBigBrother.com (@bigbspoilers) September 1, 2017
Xmas wins HOH, the nom plan is Alex/Jason and Matts gone! #BB19 @DawgsBigBrother pic.twitter.com/0ePc9GioXj

— OnlineBigBrother.com (@bigbspoilers) September 1, 2017
for the archives… #BB19 @DawgsBigBrother pic.twitter.com/ij7tEUea4S

— OnlineBigBrother.com (@bigbspoilers) September 1, 2017
Special highlights from Matt's exit interview. For the archives #BB19 @DawgsBigBrother pic.twitter.com/JreyxosAvO

— OnlineBigBrother.com (@bigbspoilers) September 1, 2017