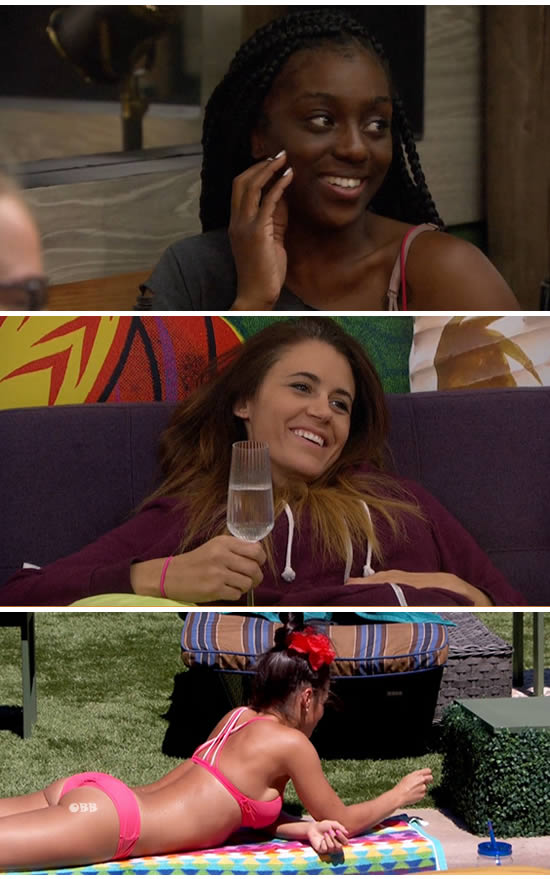 Bronte was evicted sending a clear message to Frank he wasn't in control of the house like he thought. Frank finds out he's a primary target with only really Bridgette on his side. The rest of the house more or less fell into couples.. With Paul integrating well with everyone.
Paulie wins the HOH and nominates Tiffany and Natalie. His plan is to take out Tiffany. Other parts of the house mainly Da is banking on winning roadkill to take out Frank. Frank talks to TIffany and fills her in on everything that has been going on and they compare notes. She learns she's been heavily lied to and shit talked by the girls. Frank learns from Tiffany some of the shit talking coming from the other side directed towards him.
Roadkill is played and Tiffany wins. Tiffany nominates Corey in an attempt to break up the showmance.
POV is played and Corey wins he uses it to take himself down. Tiffany nominates Da'Vonne as the replacement. Tiffany, Frank and Bridgette form a group and try to flip the house to evict Da'Vonne.
Corey knows Da'Vonne is coming after him and Nicole knows Da'Vonne has been spreading a lot of lies in the house. It's easy for Frank to get these two on board but they are unwilling unless they get a majority. Over the course of Monday – Wednesday the votes fluctuate from 2-6, 4-4, 7-1, and all the permutations in between. It started to become apparent that Da'Vonne's game was in jeopardy. Everyone with the exception of Michelle was starting to distance themselves from her. This includes Zakiyah and James two people that use to be very close to her. The flip looked like it could happen and times but ultimately it didn't work.
Thursday morning Paulie had several conversations where he said he want's Tiffany out. Nicole and Corey will not force a tie, it's 6-2 to evict. Looks like Tiffany is going to "Battle Back". Feeds went down at 11:30am and won't be back until Friday at 9:pm PST. Lots of time to for sh1t to happen, it's sad we're going to miss it.
Either way hopefully the showmances get taken to task when the feeds come back.
Team no mance
Predictions
Tiffany goes home 6-2
Results from the show
Cody says Paulie is doing great and forming good relationships. Cody and his dad told Paulie not to get into a showmance because they're usually targeted. Cody says that Paulie is hands down going to the end and winning.
Vanessa says Tiffany's biggest challenge is sharing the same DNA with me. There is a real double standard here, Paulie is able to play his own game but Tiffany is not. She just needs to get others incentives to line up with hers.
Big Meech votes to evict: Tiffany
Bridgette votes to evict: Tiffany
Frank votes to evict: Tiffany
Zakiyah votes to evict: Tiffany
Paul votes to evict: Tiffany
James votes to evict: Tiffany
Corey votes to evict: Tiffany
Nicole votes to evict: Tiffany
Evicted House Guest: Tiffany
By a vote of 8-0-0
Julie Chen tells Tiffany about the Battle Back competition. Tiffany says that's awesome! That's amazing.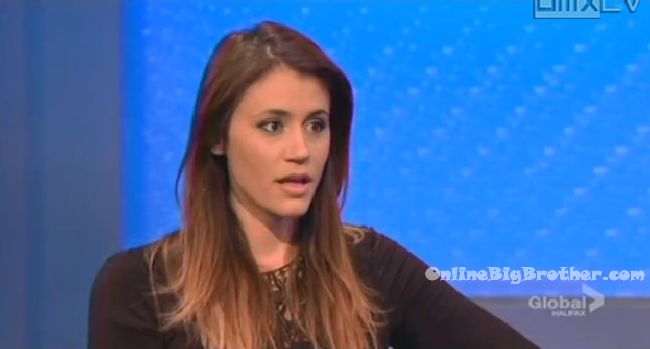 Julie "Since the beginning of the game the house guests have been playing in teams and battling in the roadkill competition.. well that's all about to change. We'll shake up the game when we return.. "
Glenn says if he gets back into the house he is going to be gunning for the vets
Jozea says he isnt going to be as cocky as he was before he got evicted. He needs to win the 500K to buy a new pair of prada's.
Victor says if he gets back into the house his number 1 target is Paulie.
Bronte says she is going to figure out who changed the target from Tiffany to her .. and that person is going to be her target.
Julie announces to the house guests that the team twist is officially over. AND with it goes the roadkill competition. Everyone is now alone and there will also only be 2 nominees. She tells them that there are more twists to come.
Tune in tomorrow for the Battle Back competition – 4 head to head battle will lead to one house guest returning to the game. No Big Brother After Dark tonight.
Before the show ends – Corey asks why did they pick that box … someone's coming out of there…
HOH WINNER: ?
No Feeds for you!
They're blocking the feeds until after the special Friday show 9pm PST. This is because the battle back competitions will be played tonight and they want to make sure people "Tune in" on Friday to find out who won. There may be a leak but I doubt it..