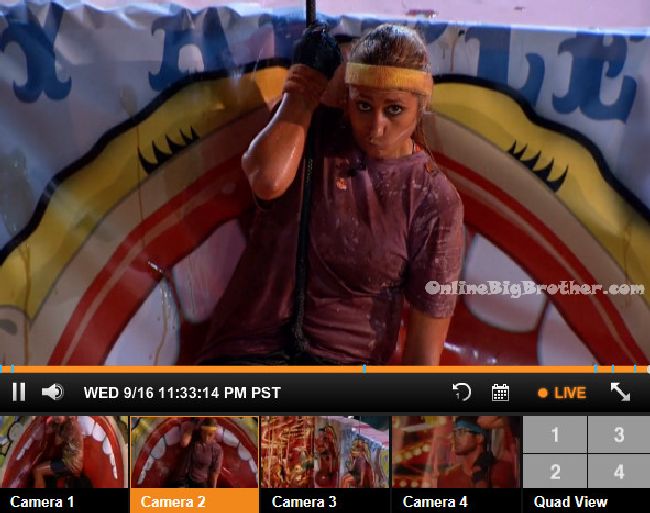 11:30pm Vanessa says she thinks she could do anther 6 hours. Steve says I think we're going to see the sun rise. Liz says this is the rotten a$$ carnival ride from hell. Liz complains she can't feel her legs. I am going to be paralyzed after this. I think we all realized we needed to win this one because after this none of us are going to be able to perform. Vanessa says just so you guys know, there's hot showers, food, beds inside. Steve asks bribery? Are you really playing that game? Liz says Hello! Welcome to the county fair! We are apples, want to eat us!?
11:43pm They've all made it 3 hours..
11:50pm Steve says someone needs to drop. Vanessa asks why don't you. Steve asks what are you offering? Vanessa starts telling stories again. Vanessa says her thighs are ruined.
12am – 12:10am Big Brother blocks the feeds and when they return the final 3 have to now sit on the "apple" buoys instead of the wooden disc. Liz says I thought it was too easy. I didn't think they wanted it to get like this but..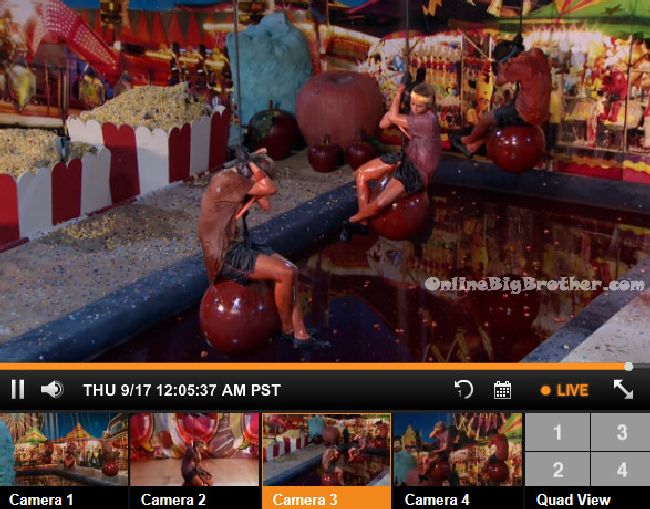 12:18am Vanessa complains that Steve's wooden seat turns and her's doesn't. Its not fair. Mine is going to stab me in the neck. Steve loses one of his shoes.
12:22am – 12:30am Steve falls off after just over 3.5 hours. Vanessa says she could go another 10 hours. I need this! I am not falling off. Liz asks if Vanessa's muscles are sore? Vanessa says no, I'm good. Liz says that she sucks at memorizing stuff.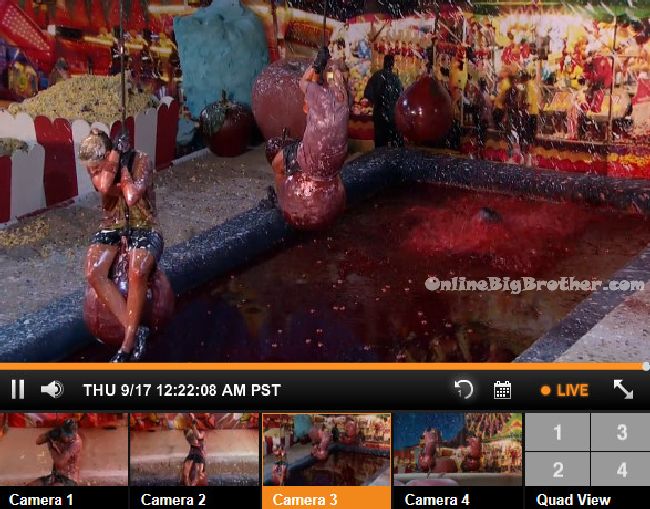 Steve FELL OFF after just over 3.5 hours! Vanessa and Liz are still HANGING ON! @bigbspoilers #bb17 pic.twitter.com/ONl3zTk5Wo

— Dawg (@DawgsBigBrother) September 17, 2015
12:35am Vanessa tells Liz that she has a way better shot in the next round. Vanessa tells Liz I have another 10 hours in me. You're going to ruin your self for round 2. This is my only shot at the finals dude! Liz says okay. Vanessa asks are you going to drop?! Liz drops the next time they're over the pool.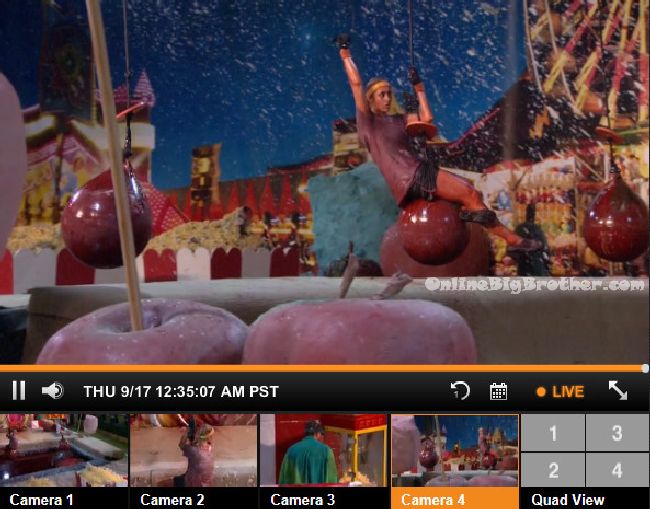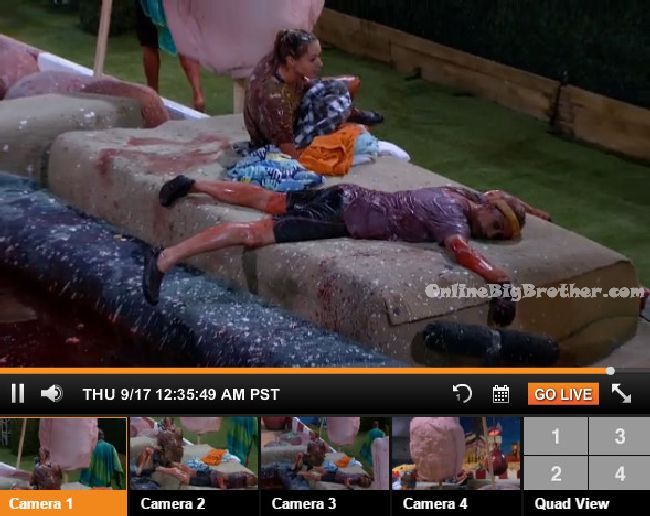 VANESSA WINS PART 1 Of THE 3 PART HOH
Part 2 of 3 – Liz and Steve will compete against each other
Part 3 of 3 – The winner of part 2 competes against Vanessa
Vanessa WINS Part 1 of the 3 Part HOH @bigbspoilers #bb17 pic.twitter.com/ZIqoIvWhqu

— Dawg (@DawgsBigBrother) September 17, 2015

If you've enjoyed the spoilers please consider a donation using the drop down box below.
[polldaddy poll=9063299]
Share it YO!!
Tweet