POV Holder:
?
POV Competition
Sept 5th
POV Used
?
POV Ceremony
Sept 7th
HOH
?
Next HOH
Sept 10th
Original Nominations:
? and ?
After POV Nominations:
? and ?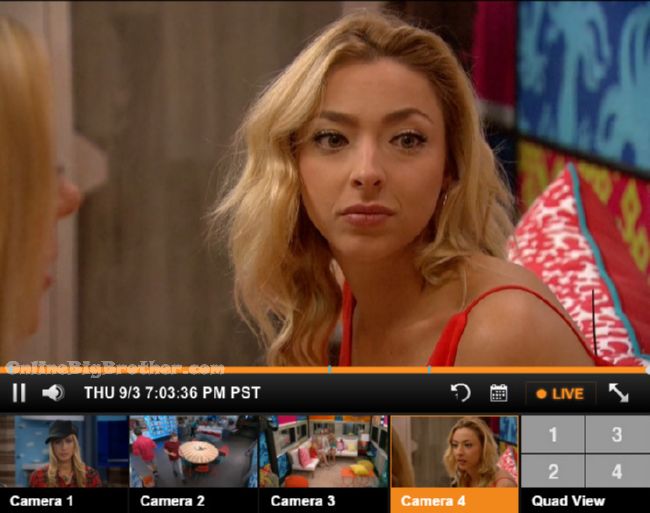 7:01pm Twins in the Hammock room
Liz tells Julia she needs to win this next HOH, "It's going to be days you have to win this"
They don't want Vanessa to win the HOH.
They agree Vanessa will be the next pawn and Steve will be the target.
Liz – Steve is going to win this thing he's got to go
Liz – Go practice your days, don't b1tch and complain about eating
They go over the HOH competition both of them guessed on the final question.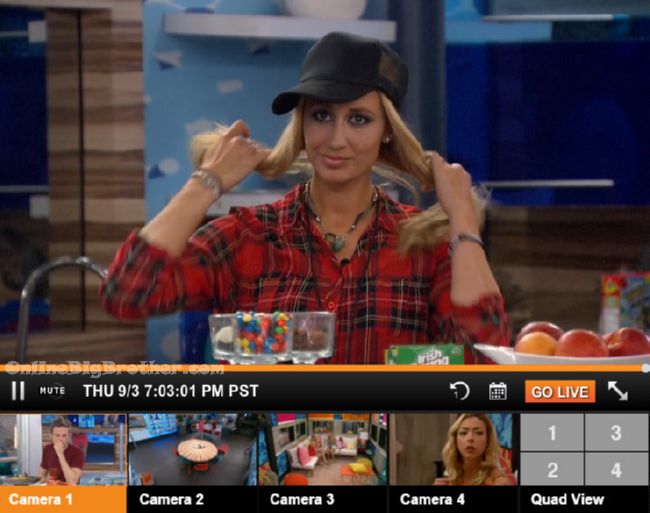 7:05pm Vanessa saying the scariest thing is a double eviction and they can't play HOH.
Steve points out that Vanessa hasn't been able to play in either Double eviction HOH's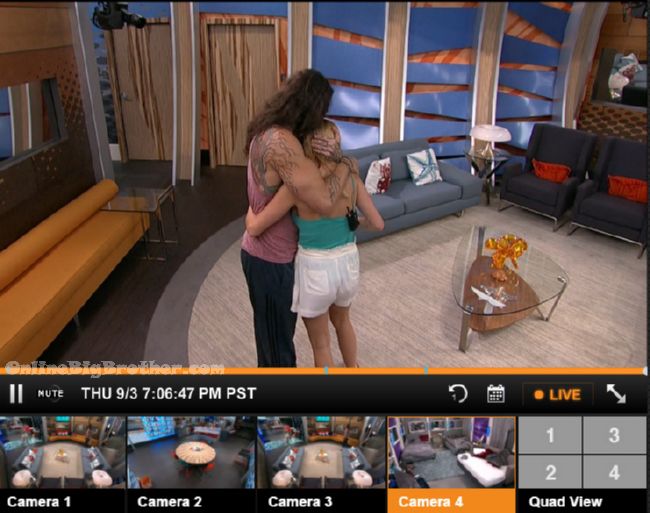 7:10pm James' suitcases arrive Liz says she's going to pack James' remaining stuff.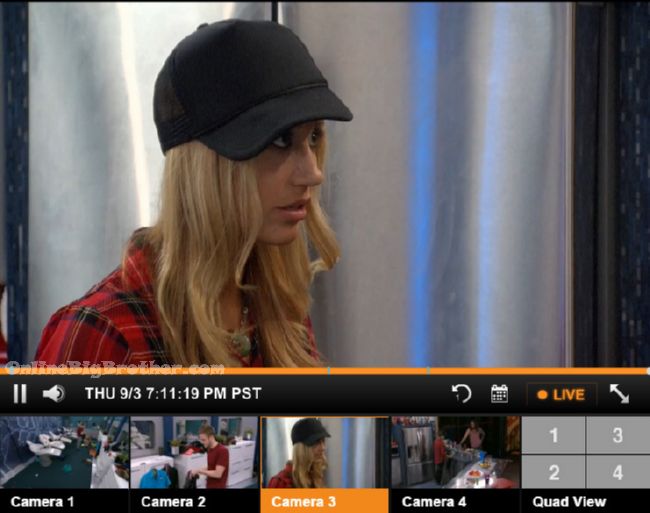 7:10pm Vanessa and Austin
What will Steve and Johnnymac do if they win HOH
Vanessa says 100% they will go after the twins
Vanessa – does that scare you
Austin – I'll survive
Vanessa says strategically he has to throw the HOH.
Vanessa says she can make it happen campaigning is her thing she can get Johnnymac to vote to keep him.
Austin – Sh1t ok
Vanessa- strategically from my perspective it's what you gotta do otherwise you will wind up in a really f*** up situation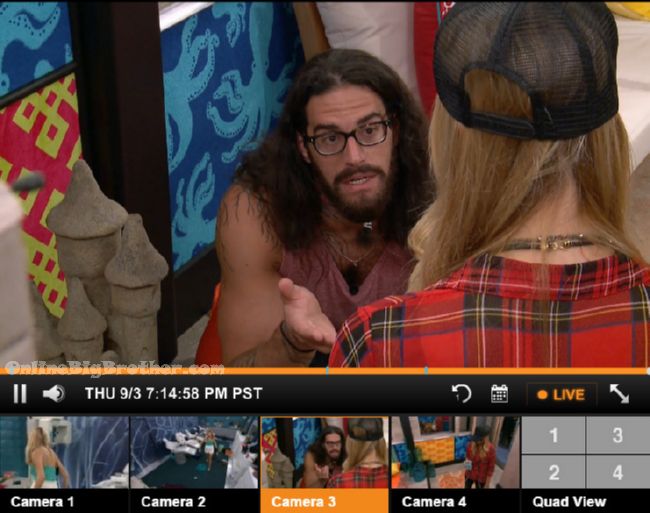 7:14pm Hammock Room Vanessa and Austin
Vanessa pushing for him to not win the HOH tonight
Vanessa – I've been very loyal to you.
Vanessa – logically you're going to be F** if you win I'm going to be f*** if I win
Austin thinking he'll put Steve and JOhnnymac, Steve as the pawn
Austin – I'm still going to try (To win HOH)
Vanessa – at this points we're down to 6 people I'm too scared.. I don't know man maybe both of us throw it
Austin – that's a risk what if something goes wrong
Vanessa – and Liz can't play now
Austin says if it's down to Julia they will throw it to her but he's not feeling they should throw the HOH to Jmac.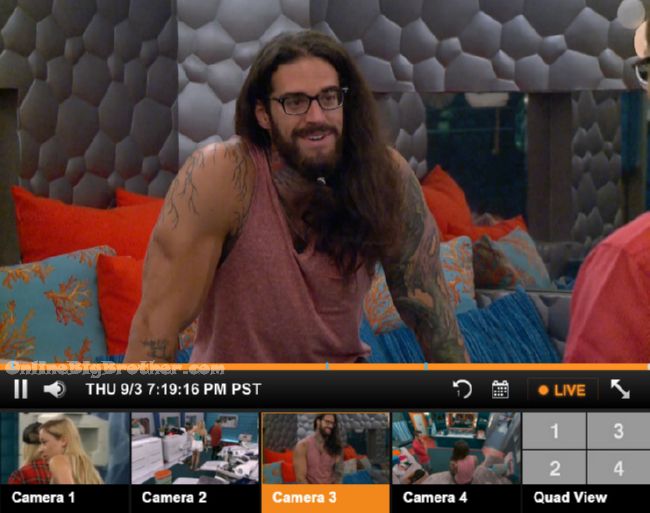 7:19pm Austin and Steve in the bathroom Austin the next HOH what do I do if I win.. If Johnnymac comes down what does he do "I don't want to put you up it's too risky"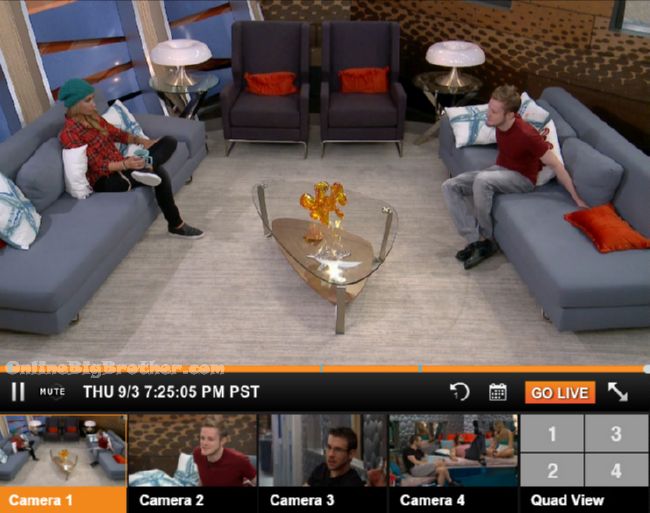 7:25pm Vanessa tells Jmac to go reassure Austin he's going after the twins that way Austin will throw the HOH.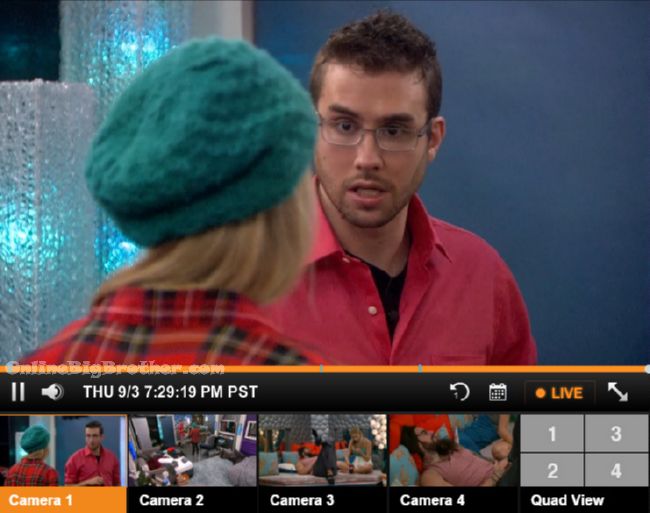 7:29pm Vanessa tells Steve Austin will throw as long as they all tell him they are pautting up the twins.
Steve asks if John told Austin he's targeting the twins.
Vanessa swear Austin is going to if they all tell him they won't put him up
Steve – Oh my God Austin is a idiot.. he shouldn't throw this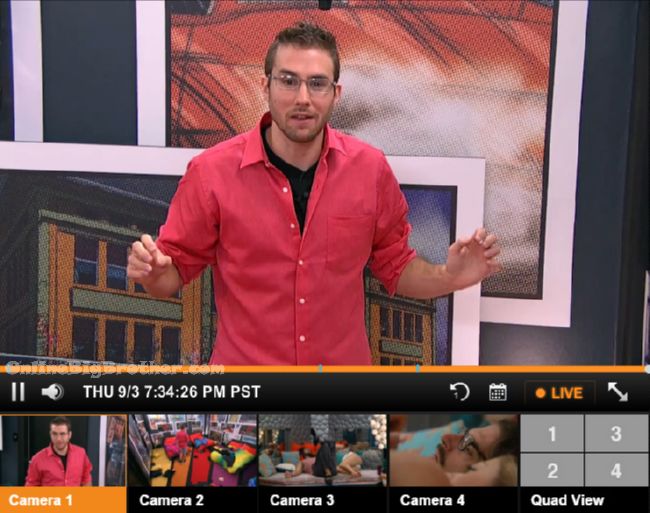 7:33pm Steve says the twins are idiots for working with John
Steve – You are idiots.. you are idiots.. there's a 3 in 4 chance you are going up.. .you should have evicted Johnn.. I'll benefit from your mistake.. thank you"
Steve – You're idiots.. Idiots… Nolans… Idiots..
(LOL OK steve calm down)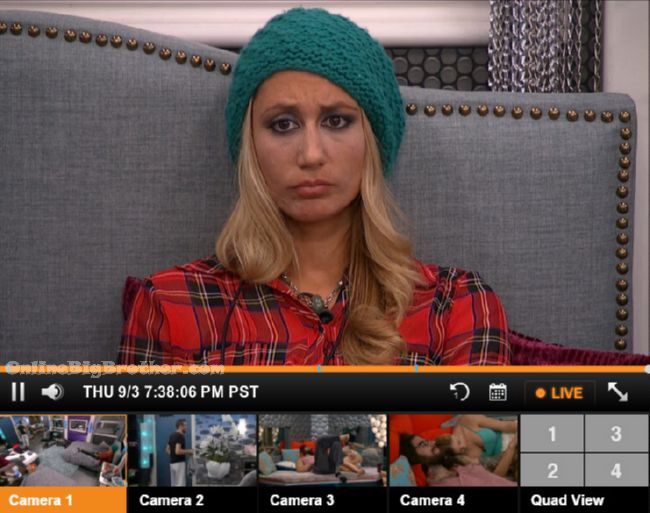 7:37pm Vanessa, Jmac and Steve
They tell Jmac to not throw the HOH until Austin and Julia are out.
Jamce agrees.
Vanessa tells him to run off and Study.
Steve tells him to stick around Austin so that they don't get suspicious.
Steve decide to rest to prepare his mind.
(WOW Vanessa doesn't waste any time)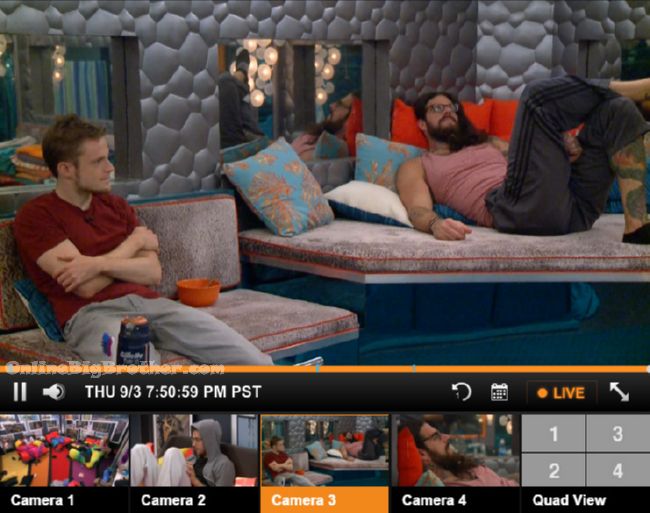 7:47pm Bathroom Jmac and Austin
Jmac telling him he's not putting him up if he wins HOH.
Austin says this is a tough HOH for him to win "I'm in a tough spot"
8:35pm Kitchen twins and Vanessa.
There's a worry if the Jury is filled with too many girls they will be biter.
Vanessa tells the twins as a Feminist she would happy to have two girls in the final 2.
Vanessa says if one of them are taken out this week she's 100% down with taking the other to tine end with her.
Vanessa tells them Steve had to go up against Johnny
Vanessa tells them Deal don't mean sh1t now they have to win and stick with the people they are riding with.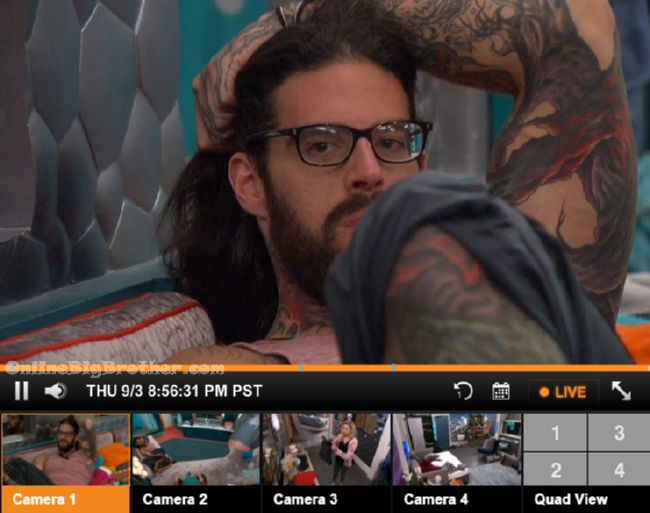 8:53pm Vanessa and Austin
Austin – Both Steve and JOhnnymac say I'm good with them.. But I have a gut feeling I can't (Throw the HOH)
Austin – What if there is a Pandora's f*** box, It's too risky..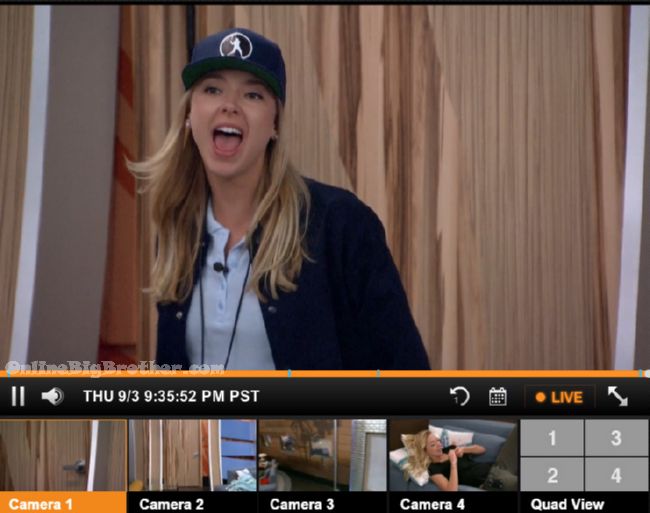 9:35pm HOH Competition is starting
If you've enjoyed the spoilers please consider a donation using the drop down box below. Simon and I work 24/7 all season long to keep you updated on everything that happens inside the Big Brother house.
[polldaddy poll=9059938]