POV Holder:
AMANDA
Next POV
Aug 24th
POV Used
POV Ceremony
Aug 26th
HOH Winner:
Elissa
Next HOH:
Aug 29th
Original Nominations:
Aaryn and McCrae
Current Nominations:
Last Evicted Houseguest
David, Nick, Jeremy, Kaitlin, Howard, Candice, Jessie. Helen
Have Nots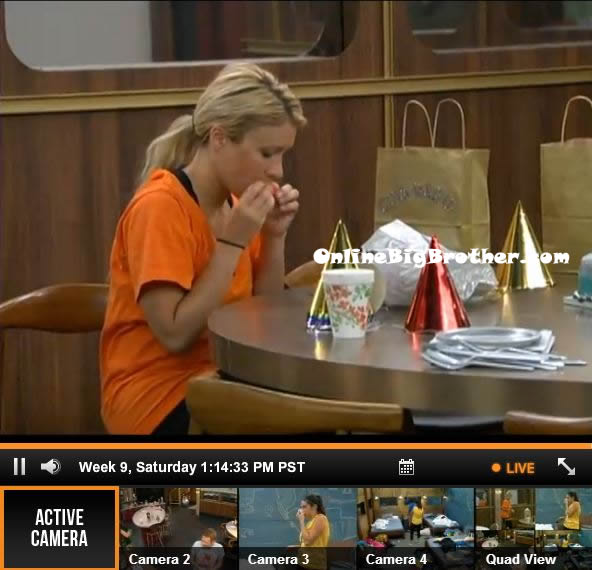 10am – 1:pm The Big Brother Live Feeds switched to TRIVIA for the Power of Veto Competition. When the feeds return – we learn that AMANDA has won the VETO!
ZINGBOT CAME INTO THE HOUSE TO ZING THE HOUSE GUESTS!
THIS IS GOING TO BE A CRAZY WEEK OF DRAMA ON THE FEEDS!
Big Brother 15 Live Feeds: FREE 2 DAY TRIAL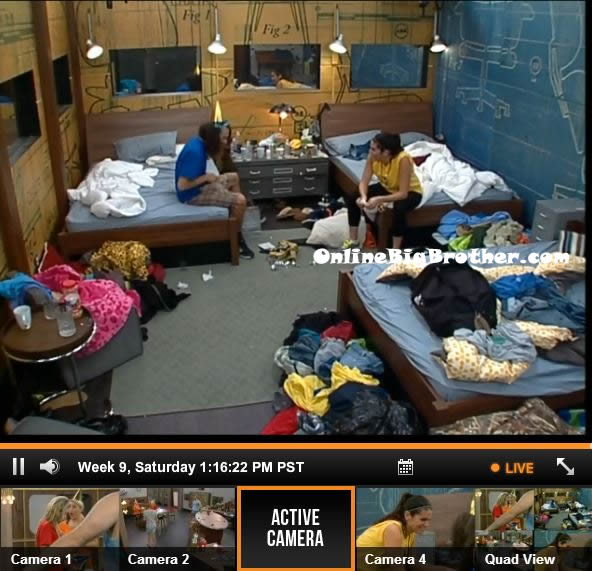 1:15pm Amanda WON THE VETO! McCrae and Amanda are in the bedroom talking. Amanda says I was going to say no one comes between me and my man! I won something and it was a hard one to win. I am going to start winning things now. Amanda comments that Ginamarie was close to winning it. Was I the only one that never dropped? Could you tell that I was going to win. Spencer says Gina was at 242 when you won. McCrae says that he was doing piss poor in that one. Spencer says the best thing is that neither of you are going anywhere! Judd joins them and says that he thinks Elissa might put me up now thinking I didn't try hard enough! Amanada tells him to push for Elissa to put up Gina. Amanda, Aaryn, Spencer and McCrae head into the rainbow room and talk about pushing for Gina to go up. McCrae says don't push too hard. Whatever you push for she will do that opposite. Amanda says I hope she puts up Judd. Amanda says I jsut really hope Andy doesn't go up as the replacement. Aaryn says I will be loyal to whoever is loyal to me. Who ever keeps me safe this week I will be loyal to. Amanda says I know. Aaryn says I am so f**king scared!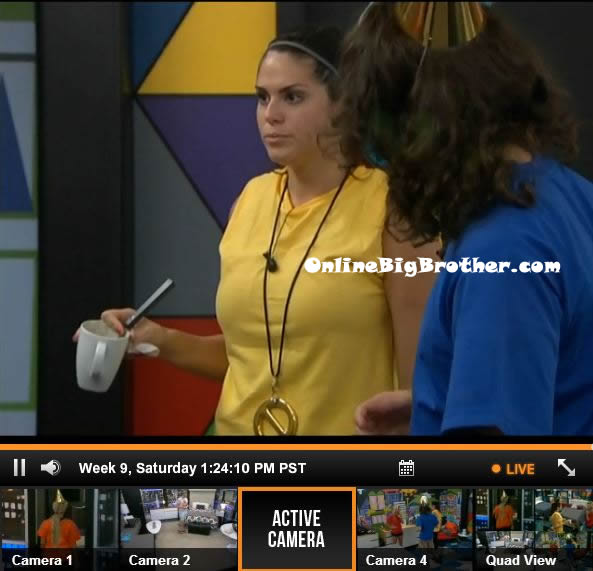 1:30pm Elissa talks to Ginamarie in the HOH bathroom. Elissa says that Andy is being so annoying. She says that she is going to put him up. Elissa says that Andy follows her everywhere and he is annoying.
1:35pm In the bedroom – McCrae says that he wants to win HOH next week so bad. I am going to put her (Elissa) up every week. McCrae says that he thinks Elissa's going to put up Andy that would be her smartest move. In the bathroom – Amanda, Aaryn and Andy talk about who they think Elissa will put up. Aaryn says she thinks she will put up Spencer. Aaryn tells Amanda that she thinks Elissa will want to work with her now. Amanda says she can eat my a$$ hole with a silver spoon. I will murder her and eat her in her sleep! Andy says we just have to make sure she doesn't put me up. Aaryn says she won't put you up. Andy says that he isn't so sure – When I went up there and Ginamarie was up there she told me to leave.
1:35pm – 1:50pm Up in the HOH room – Judd and Elissa are talking. Elissa says this is the worst possible situation ever! I hate her she is the grossest person ever! Now I am going to go home next week. Elissa starts crying. Judd says I am going to win HOH next week to keep you safe. Aaryn joins them. Aaryn asks are you going to put up Ginamarie? Elissa says I want to trust you so bad, I want to work with you so bad but if you stay I am afraid you will target me next week. Aaryn says if you put me up with someone that I will stay over them then I will not put you up. I can't say who I will target because I don't want it to get back to them. Elissa says you are being nice to Amanda now. Aayrn says I have to be nice to them, they are both now voting. Aaryn asks are you going to put up someone that ensure that I will stay? Elissa says I am not sure what I am doing yet. Aaryn says if you target me I can't keep you safe but if you keep me safe I will work with you. Aaryn asks Judd what he will do? Judd says I am not sure who they would vote out. Aaryn says so you are going to vote me out? Judd says no, I just don't know who they would vote out over you except for me. Aaryn leaves and tells Amanda that Judd is even going to vote me out. Amanda says that she will make sure that doesn't happen. Amanda says just don't do weird sh*t. Aaryn asks like what. Amanda doesn't answer. Big Brother cuts the feeds. Andy joins them. Amanda says that's why I want her gone. Andy asks who? Amanda says Ginamarie. Amanda says I will make sure she goes or Judd goes over you. We just have to make sure Ginamarie goes up on the block.
Andy asks Amanda if he will go home. Amanda says you will not go home I will make sure of that but make her think that you will go home if she puts you up. Aaryn says if people are lying to me and telling me I am safe when I am not and I go – I WILL BE A BITTER JURY MEMBER! I will not vote for those people. Andy says same I do not want people to lie to me! Andy says that it pissed him off that Zingbot called me a floater because I am not a floater I have been loyal to people since the beginning. Amanda tells Andy here is the plan make a fake alliance and tell Elissa that you, Gina, Spencer and Judd with her will work together to flip the house on me and McCrae. Tell Judd and Spencer that its a fake alliance. Andy says I don't think it will work she will still do what ever she wants to do. Amanda then goes and tells Judd, Spencer and McCrae about her plan. She says make sure Gina doesn't know that is fake. That way you get Ginamarie up on the block because she is a vote for Aaryn. Then you have 1, 2, 3 to get ride of Aaryn. You have to make her think that whoever goes up beside Aaryn they will go home. Spencer isn't so sure about the plan and says we only have one shot at it. Spencer says that there is a plan out there in the universe I am just not sure that is it.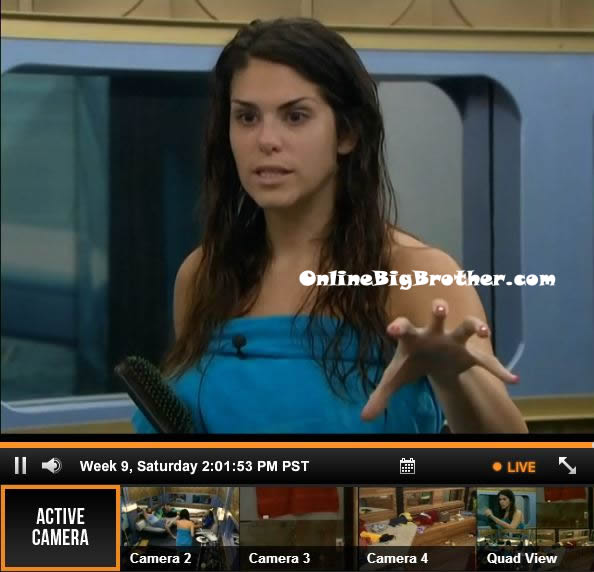 2:10pm In the rainbow room – Andy and McCrae talk about wanting to keep Spencer over Aaryn if he was to go up on the block. McCrae says I have been working with him since the beginning. Andy says he has been building a relationship with him too. Andy says that he shook hands with Elissa and made a deal with her that she wouldn't put me up as a nominee or as a replacement. Andy says even though I would put that b***h up in a second. I will go up there and ask her if she is still loyal to that deal. McCrae says Elissa will say she never made that deal. Andy says he will have a nervous break down if he goes out at the hands of Elissa. McCrae says there is no f**king way you will go home.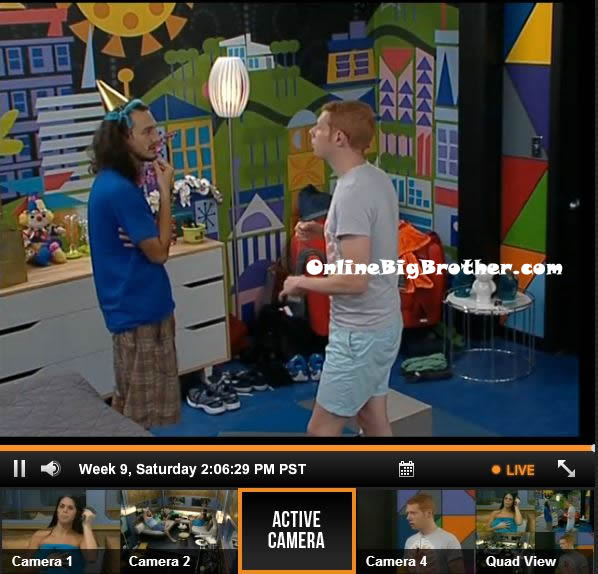 2:15pm – 2:25pm Up in the HOH – Ginamaire and Elissa are talking. Elissa tells Gina that people are already trying to get you to go up. Gina says she notices people stop talking when I come near them. Elissa says Aaryn was already up here throwing you under the bus wanting you to go up. Gina says no way really?! Elissa says this is so bad! I can't believe this happened. Elissa tells Gina she has to win HOH next week. Elissa says that Aaryn thinks she is safe. Elissa says if I put you up they get rid of you, if I put up Spencer they get rid of Spencer. Elissa tells Gina 100% you are not going up as the replacement. Elissa says Amanda is so disgusting I want her gone. Gina says I will help get her out next week. Gina tells Elissa if you have my back I will have your back as long as I can carry you. Just like I had Aaryn's back but since she no longer has my back I don't have hers. I see what she is doing. Elissa says so I have your vote to evict Aaryn? Gina says yes. Gina says she doesn't want Andy to go up. Elissa questions why? Are you working with them too?! Gina says no, just because he votes with the house. Elissa says didn't you see how he followed you up here so we couldn't talk. Gina says she saw that too she just thinks they can get him to vote how we want. Elissa says he is working with them. Gina says they are all hiding like cock roaches. Gina says that Aaryn want to talk to me. Elissa says don't tell her anything. Gina says she won't. Gina and Elissa head downstairs..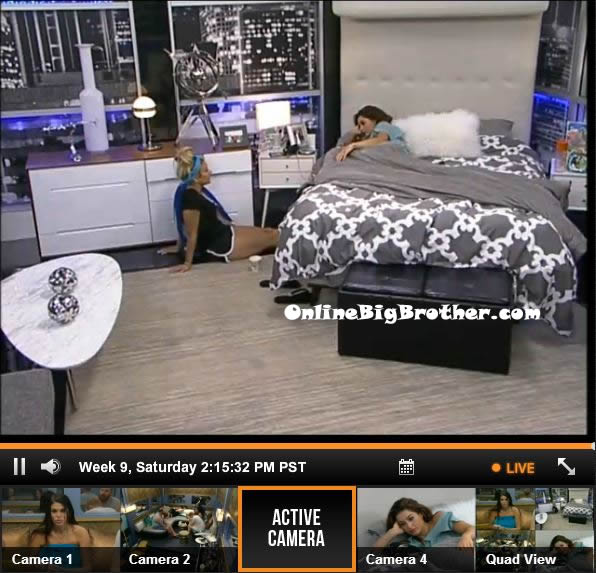 2:30pm – 2:35pm In the lounge – Spencer brings up how Elissa said that she wasn't going to waste an HOH on me. Spencer says that Elissa already has her mind made up and no one is going to change her mind. Judd says I am in no position to threaten her. Spencer laughs about waking up and seeing Zingbot at the foot of his bed. Gina comes in and says who wants to see me explode? Gina has pop rocks and soda. They tell her to get a 2lt of soda. Gina says like a musician (magician lol) Gina comes back and tries it but nothing happens. Gina leaves. Andy comments the he will go up and pick Elissa's brain to see who she will put up. Judd says that he is really worried she will put me up. They talk about the competition and how Amanda had the best strategy and was so steady. McCrae tells Judd about how last week Elissa said she would walk and not go to jury. McCrae says thats a big f**k you to everyone that loves this game, that kind of sh*t drives me nuts!
2:37pm – 3pm Up in the HOH room – Spencer talks to Elissa. He asks her if she has a big family. She says yeah. Spencer says so do I. Andy joins them and uses the bathroom. Spencer whispers to Elissa that she will talk to her when he (Andy) leaves. Andy leaves. Elissa asks what do you think of Amanda and McCrae. Spencer says they would cut my head off in a second. Elissa says so whoever I put up, do I have your vote 100% for evicting Aaryn? Spencer says yeah. Elissa says I have someone (Andy) in mind that I think they would keep over Aayrn. Spencer says no one wants to work with me because I have been so toxic the last few weeks. Elissa says if we don't work together we will be picked off one by one. Spencer says they have never needed me, they have pooped on me. Elissa says they are trying to get me to put you up. You want to tell me who you will be putting up? Elissa says I'm not going to tell anyone. Who do you think I should put up? Spencer says I cant say anything because I am so expendable.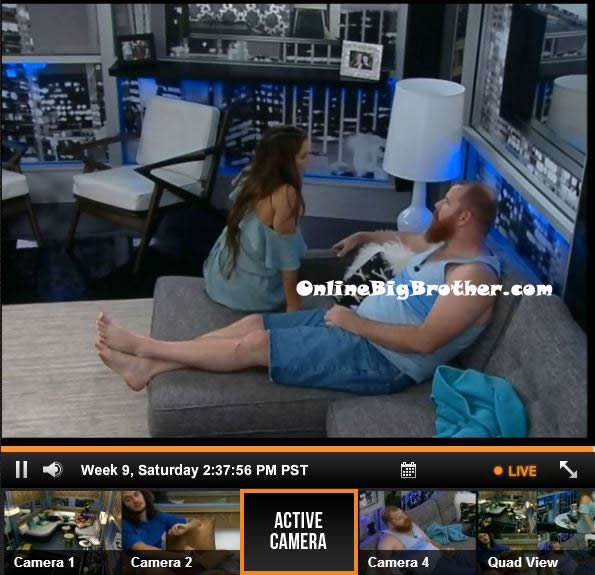 2:40pm Meanwhile in the havenot room – Amanda talks to Aayrn. Amanda tells Aaryn that you need to make sure Elissa thinks that Gina will vote to keep you. Aayrn says she knows Gina will vote to keep me. Amanda says reiterate it to her. Then tell Elissa that you have the numbers to stay. Go to Gina and get all the information from her about Elissa. Then go back to Elissa and say all the information you got from Gina to prove she is with you. Aayrn says okay. Amanda says this won't work unless she puts Gina up next to you. Tell her that Gina hates her. Then let her try and get Spencer and Andy to vote against you which she won't be able to get. Tell her that you have the votes and will stay over Andy, Spencer and Gina. Look at the past who has Gina been working with? Not you, me. Make her believe Gina is with you and not her. Let her work on Judd and Andy. Tell Gina how Elissa wont have power next week and everyone will go after her if she doesn't separate from Elissa. You have to separate Gina from Elissa. Amanda says I think it will work. Aaryn says okay. They leave the havenot room.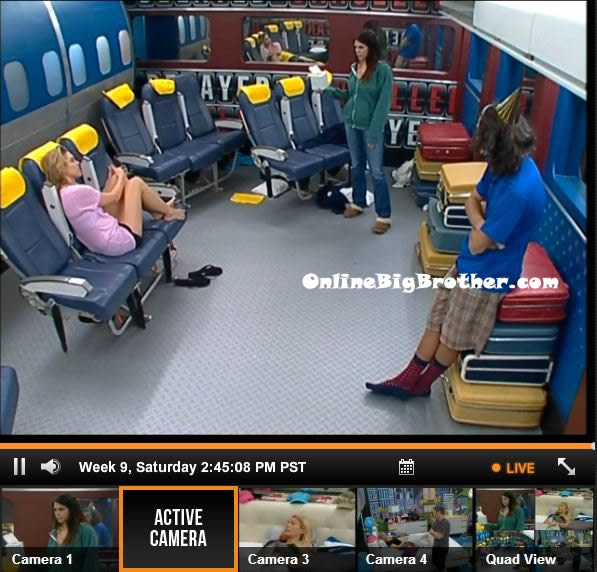 3pm Amanda, Andy and McCrae head into the lounge and talk about the Zingbot zings. McCrae says that they had to memorize them last year for the HOH competition. Amanda says I dont trust Judd at all. McCrae says if Judd goes up that would be perfect. We have to make him think we trust him. McCrae says he doesn't think there is anyway Spencer would work with Judd. Andy says if she puts me up I will have the biggest fire lit under me. She made a deal with me. McCrae says you have to throw that in her face if she puts you up. Andy says I don't think I want to pull a Helen and call her a traitor. McCrae says you are probably going to go up if that is the way she is acting with you. Amanda says Gina needs to go this week. Andy asks why is Spencer still up there, she told me she was taking a nap. I wish I was a bigger a$$hole I would go up there and ask her why he is still up there I thought you were taking a nap. Aaryn joins them. Andy says she is going to put me up .. she asked me to leave twice now.
Big Brother 15 Live Feeds FREE TRIAL: FLASHBACK FEATURE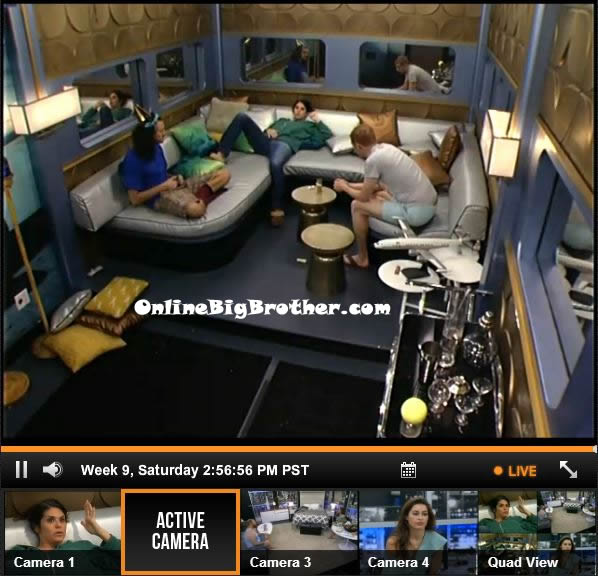 Use the Big Brother Live Feeds to FLASHBACK to SEE what they can't show you on TV: