POV Holder:
AMANDA
Next POV
Aug 31st
POV Used
YES
POV Ceremony
Aug 26th
HOH Winner:
Elissa
Next HOH:
Aug 29th
Original Nominations:
Aaryn and McCrae
Current Nominations:
Aaryn and Andy
Last Evicted Houseguest
David, Nick, Jeremy, Kaitlin, Howard, Candice, Jessie. Helen
Have Nots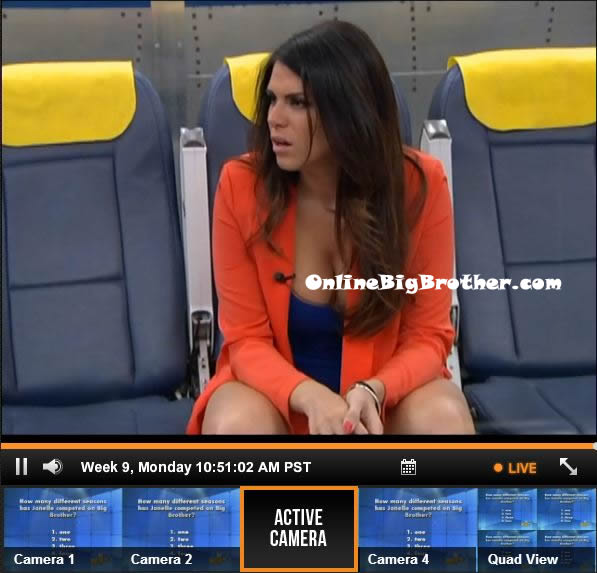 10:12am – 10:50am The Big Brother live feeds switch to TRIVIA for the Veto Ceremony. When the live feeds return we learn that Amanda used the Power of Veto to remove McCrae from the block. As Head of HouseHold Elissa then nominated Andy as the replacement.
Big Brother 15 Live Feeds: FREE 2 DAY TRIAL
10:50am – 11am In the havenot room – Amanda and McCrae just finished talking to Judd about coming clean with him. Andy joins them and they tell him they just finished telling Judd everything. Andy says oh my god this is the most stressful week. They reassure Andy that he is safe. Judd asks Amanda and McCrae if they are interested in make a 1 week deal with him. McCrae and Amanda says yes, we are going after Elissa so there's no problem making that deal. Amanda says if you get HOH don't put me up and if we get HOH we won't put you up. Andy says Ah this will be a long three days. I trust you guys but.. They tell him he is fine, don't worry. McCrae and Amanda leave the havenot room. Andy tells Judd that he cannot be more serious I am all about "The exterminators" alliance (Spencer, Andy, Judd, Gina). Andy says we just have to keep up the lie with Amanda and McCrae just in case they get HOH. Judd agrees and they leave the room.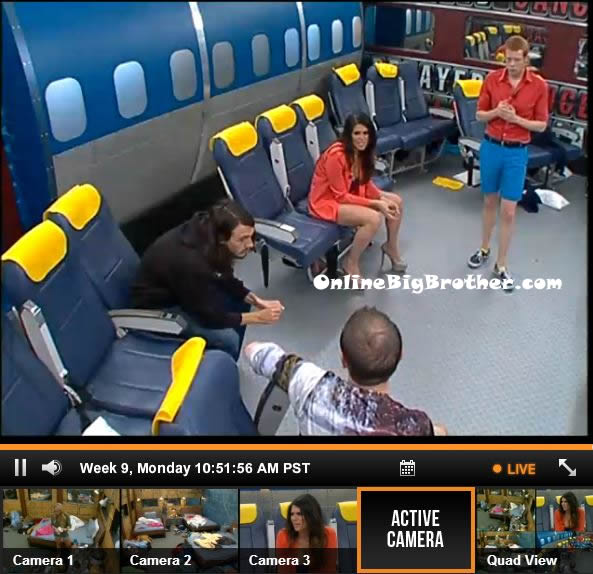 11am In the rainbow room – Aaryn is talking with Gina and is worried that Amanda and McCrae will keep Andy because they have been loyal to Andy longer. Gina says yeah that's partially true. Gina tells Aaryn she has her vote. Aaryn asks Gina to tell her if she is going home so that she knows. Gina says I got you. In the other bedroom Amanda is heard blowing the noise maker saying I'm back!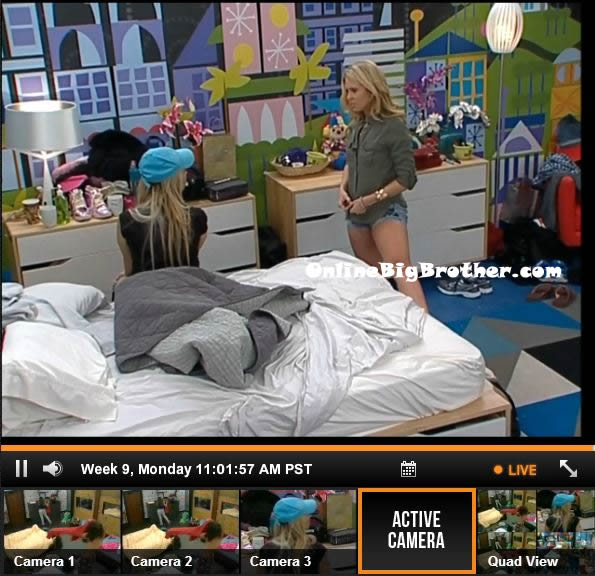 11:03am – 11:10am In the kitchen. Amanda goes up to Elissa and start harassing her again. "Do you want to play chess" Elissa says sure. Amanda asks am I being threatening and scary. Why don't you look like any of your photos? How much surgery did you get? Your face is scary! How many more days do you have in the HOH room? I guess you can hid in the diary room. Where are you going to hide then? The diary room? Elissa walk away and up to the HOH room. Amanda says goodbye joker! Now you put up another ally of yours and you have no one! Amanda heads to the bedroom and brags about bullying Elissa.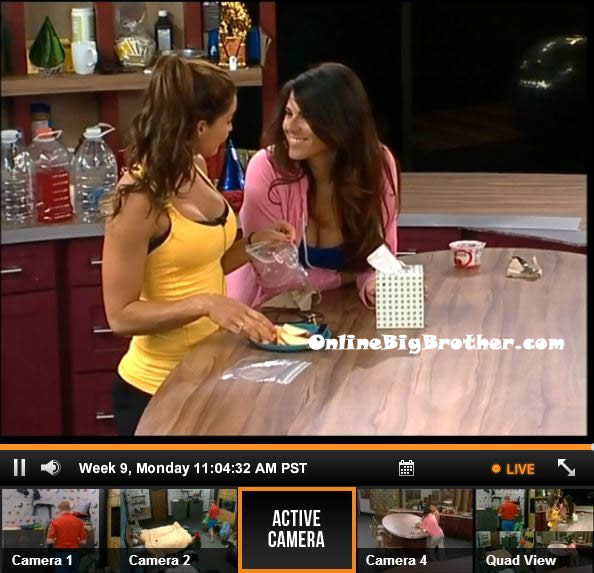 11:10am In the HOH room – Elissa is alone reading the bible.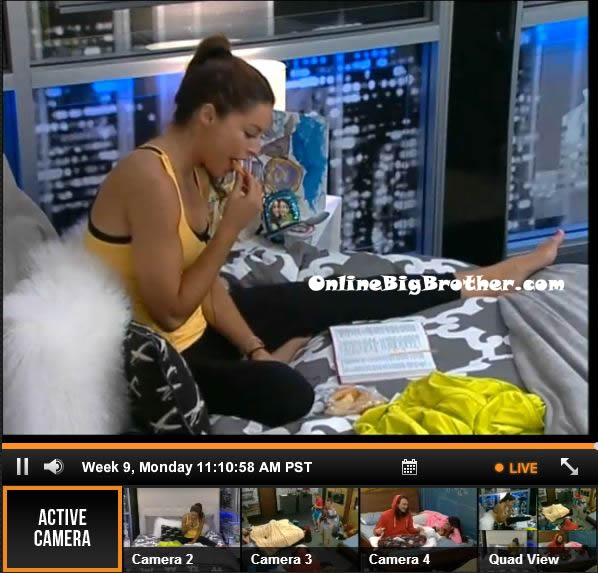 11:15am – 11:25am In the bedroom – Amanda says I can't believe she nominated Andy! If she doesn't leave next week I am going to kill myself. Andy says I know if I leave under her HOH reign I will slit my wrists. Andy asks I wonder if Elissa will stay in her HOH room all day again. Amanda says well I was just harassing her again did you see that. Andy says yeah. The backyard opens up and Andy, McCrae, Spencer and Judd head outside. They laugh about how bad Jessie was at terrorizing. Andy says well Elissa just mad a new enemy. It makes sense that she would put me up though because its not like I've been her friend or protected her since the beginning. Spencer, Judd and McCrae talk about how the word bully is over used. Spencer says that it to the point where the person saying they are being bullied is being the bully. Elissa comes outside to do yoga. Amanda says oh here she comes, making an enemy out of a friend ..her specialty. Spencer notices the grill is gone.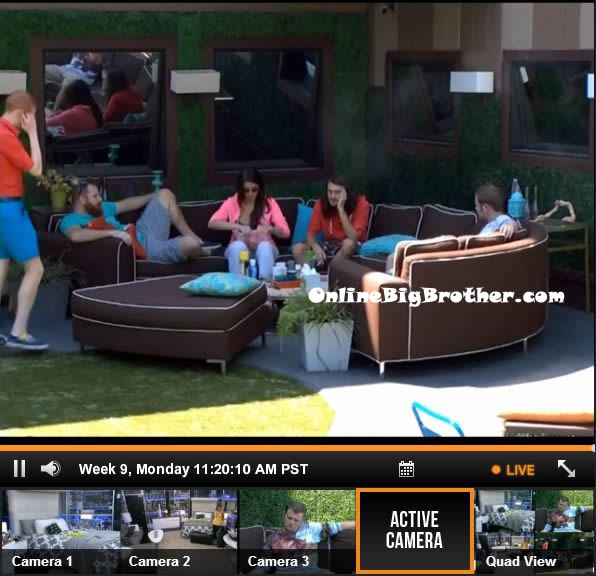 11:25am – 11:40am Elissa doing yoga in the backyard. Over on the backyard couch – Amanda tells McCrae that she saved him! They kiss. McCrae says if you didn't it would be grounds for divorce. Amanda says don't ever use that d word with me. McCrae says big brother divorce. Amanda asks I wonder if Elissa was the secretary, the mistress? He was married before. Amanda heads inside.

11:40am – 12pm Amanda tells Aaryn that we had to tell him. Aaryn asks what? Amanda says we had to tell Judd what we were trying to do. Aaryn asks why do you all want Andy to stay. Amanda says I feel like I am the only person that wants you to stay. I did every thing in my power to get Elissa to put up Gina. Amanda says the fact is that Andy was with us before you were. I honestly think you would take us further than Andy would. Aaryn says it is going to be awkward few days. Amanda says it will be whatever you make it. Aaryn starts to cry. Amanda hugs her. Amanda says it doesn't even matter what I say it won't change anything. If I campaign for you to stay he will know and then if she stays.. Big Brother tells Elissa to put on her mic. Amanda says I hate her so much! Aaryn says that Judd says that he would never go against me and Spencer tried to make a final two deal with me yesterday. Amanda says everyone is just being selfish. Aaryn says that Andy is going to win and he won't have had to do anything. Aaryn says nothing I do matters. Amanda says everything you did got you to where you are now. Aaryn says but the people I helped aren't helping me. Amanda starts crying and saying she tried so hard! Aayrn says this is going to look great on Elissa's resume for her game. This is a huge move for her. Amanda says this will be her only move. Aaryn says Gina will work with her. Amanda says no she wont she will have no power. Aaryn says don't use this unless you have to but Spencer and Judd are going to put you and McCrae up. Andy is probably your only hope because Gina will probably put you up too. Amanda asks when did they tell you that? Aaryn says they didn't say it outright they insinuated. You or McCrae have to win HOH. Aayrn says that Elissa probably has Gina, Spencer and Judd. Just wait till I am gone to tell them. Amanda says well I need to tell McCrae. Aaryn says but then he will go and tell them and they definitely will vote me out. Amanda says besides this one – I ran this game. I had everything happen the way I wanted it to happen. I am a good player not like Andy and others who fly under the radar and make it to the end. Andy joins them and then discuss how stupid it was to keep Elissa. Andy says I love you both and I am not going to campaign against you. Aaryn says it's fine I already know what's happening. Amanda says we just have to make sure Judd or Spencer do work with Elissa. Andy says I know and walks away.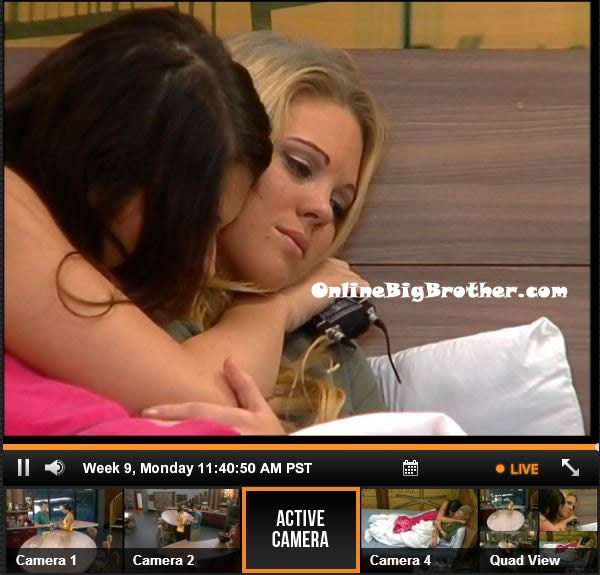 Use the Big Brother Live Feeds to FLASHBACK to SEE what they can't show you on TV: BB15 N!p Sl!ps / N*des