POV Holder:
AMANDA
Next POV
Aug 31st
POV Used
YES
POV Ceremony
Aug 26th
HOH Winner:
Elissa
Next HOH:
Aug 29th
Original Nominations:
Aaryn and McCrae
Current Nominations:
Aaryn and Andy
Last Evicted Houseguest
David, Nick, Jeremy, Kaitlin, Howard, Candice, Jessie. Helen
Have Nots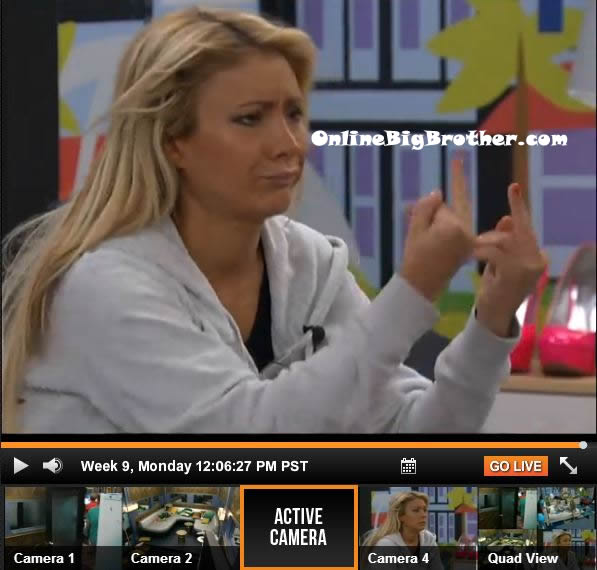 12:05pm Amanda tells Aayrn there are still a few days, see what you can do. Aayrn says I think I would rather just accept it. Aaryn heads into the rainbow room to talk to Gina. Aaryn tells Gina that Amanda told her that McCrae won't vote for me to stay even though Amanda wants me to stay. Gina says oh no, I though they voted together. Aaryn says that Gina needs to be careful and stay in the middle of things. Aaryn is crying. Aaryn says just be careful of Amanda and McCrae. Gina says f**k them throws up her middle fingers. Aaryn tells Gina that Andy will work with you. Spencer is going to go against them (Amanda & McCrae). So stick with them and Elissa even though she wont have the power next week. Gina doesn't understand why they would keep Andy over her. Aaryn says because they have been with him since the beginning. Gina says we still have a few days to figure it out. Aaryn says I just want to let it go. I know there's no hope this week. Gina says what should I say if they ask me? Aaryn tells Ginamarie to vote with the majority. Aaryn tells Ginamarie that next week she predicts Gina and Elissa will be up on the block.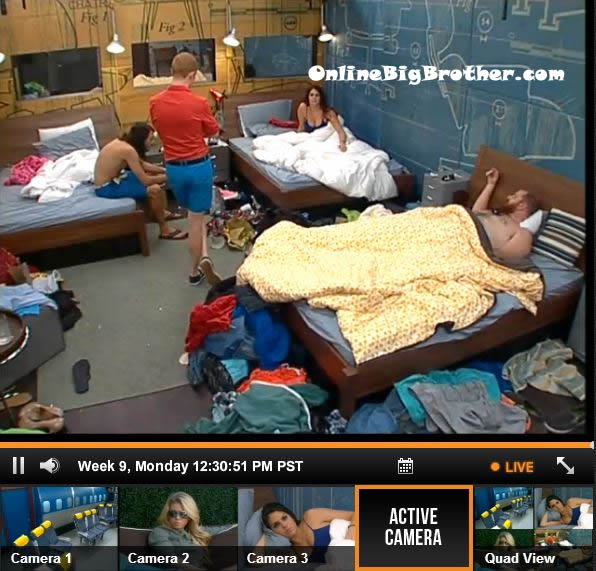 12:30pm Amanda tells Andy, McCrae and Spencer what Aaryn told her about how Judd and Spencer insinuated they are coming after us (Amanda and McCrae). Spencer says she is such a f**king liar. She is going to try and say anything just to stay. Amanda says that she wants to know why Andy is being so nice to Eliess. Amanda says that she doesn't have power next week and can't understand why he is being so nice to her. Amanda says I feel like I am the one being the b***h and no one else is. Amanda keeps talking about how much she f**king hates Elissa. Amanda says that she wants to f**king punch Elissa in the face. She then says that's not a threat it's just what I want to do. Amanda says I can't stand one more day of Elissa walking her c**t rag around this house. Everyone better put her up! I am just annoyed that my plan didn't work. Amanda says if I even see anyone talking alone with her, they are my next target.
Big Brother 15 Live Feeds: FREE 2 DAY TRIAL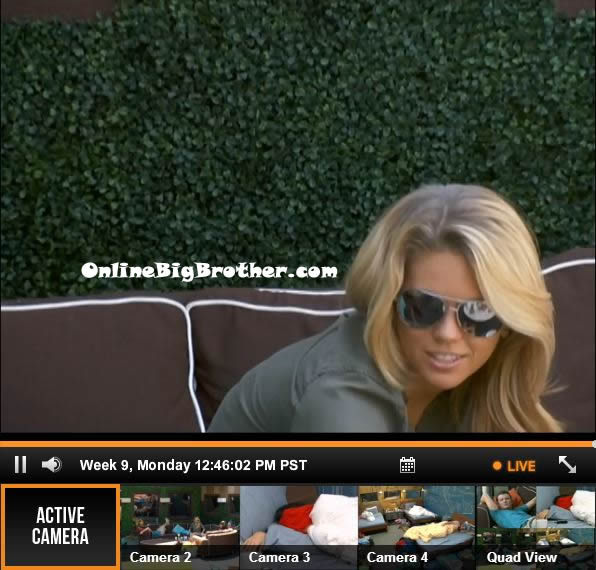 12:40pm – 1pm Aayrn, Judd and McCrae talk about never wanting to quit the game and thinking about what they could have done differently. Aayrn says that she can't and wont think about what she could have done differently because that is what has gotten me to this point. Aaryn says I don't even like who I have been in this game and I am happy that the next three days I can just be myself. Aaryn heads inside and asks did Amanda talk to you. McCrae says yeah. Aaryn goes inside. Judd comments that he thinks Amanda saying she wants to keep Aaryn but McCrae doesn't want to is just her working jury votes. Andy joins them. McCrae says that she said that you and Spencer want to get me and Amanda out. Judd says oh. Andy says it feels so good that all the people I have put my faith in and helped is finally paying off. Andy says I just don't want to be portrayed as a cry baby or a pu$$y because that's not how I really am in life. McCrae says that he is worried abut being portrayed as a pu$$y too. Judd starts talking about fights he's gotten into in the past. Aaryn joins them again.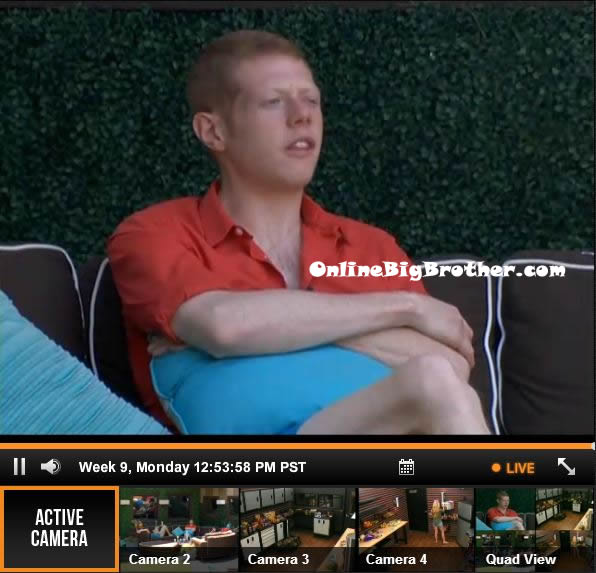 1pm – 1:20pm Aaryn tells McCrae, Judd and Andy about how she was "f**king hammered" from drinking on a plane and when she landed she drove her car. She talks about how drunk and hammered she was and drove an hour out of her way and when she finally figured out the GPS she made it where she was going and was still so drunk. She says what else are you supposed to do but drive you know when you're at the airport. McCrae says I dunno sit in your car, take a taxi, take a bus. I am super sketchy about things like that. Aaryn says yeah I didn't think about that. Andy says he won't even drive if he's had 2 beers. Judd asks what, really 2 beer doesn't even get you buzzed. The conversation turns to talking about various accidents they've been in. Aaryn talks about another story of being drunk with her friend in a car and hitting an SUV. She figured they were f**ked because they were drunk but the person was illegal and didn't have papers to be in the country so they told us to just go even though their SUV was smashed up.
Big Brother 15 Live Feeds FREE TRIAL: FLASHBACK FEATURE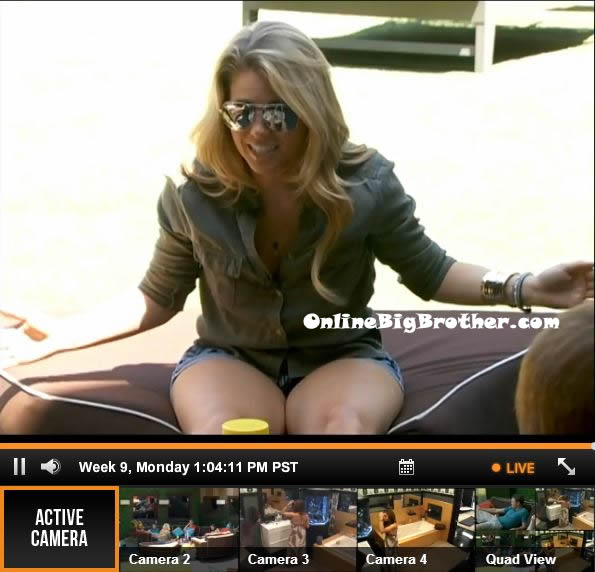 1:37pm – 1:50pm McCrae heads inside and Andy tells Judd you are right Amanda and McCrae need to be broken up. Judd says yeah. Amanda is already working Aaryn for her jury vote. Andy says we just need to make sure one of the four of us wins HOH. They will feel the wrath of Amanda but that's okay. Judd asks if Andy talk to Gina about the exterminators alliance (Spencer, Judd, Andy, Gina) again. Andy says yeah she is good. They both talk about how much better they feel about things now that they are in in a 4 person alliance. McCrae joins them again. Andy heads inside. Judd and McCrae talk about Amanda working Aaryn for her jury vote. McCrae says it scares me a bit that Aaryn is saying you and Specner were coming after me and Amanda. Judd says as long as we've got that week deal. McCrae says yeah we're good. I've always know too that Amanda would be a bigger target than me. Judd says I hope I get HOH so that I could do something .. but I won't come after you and Amanda. Andy joins them again and they talk about the returning house guest twist. Andy talks about how much it annoyed him being threatened by Helen and Elissa. Talking about the good guys / bad guys. McCrae agrees and says he hated that. Andy says it was very nerd heard-esque.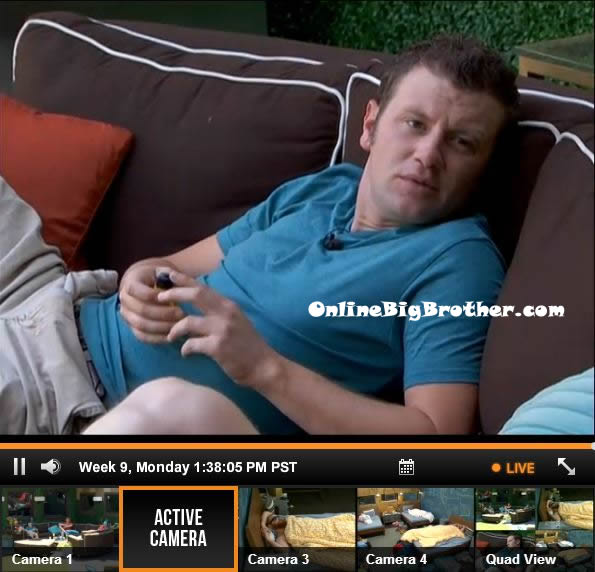 2:20pm Judd gets called to the diary room. Andy tells McCrae I really think that Judd is good with us. McCrae says that he is just worried about what Aaryn said but I get that she will say anything to stay and turn us against each other. Andy says so I am good this week right. McCrae says f**k yeah you are good, don't worry. McCrae says I know Amanda is going to have to go sooner or later. You and I are so good, I want to go to the end with you. I would fall on my sword.. well go down with what we have. Andy says he can't see Judd working with Elissa and Gina. Andy says Gina worries him but that she is a loyal person. Judd joins them again and McCrae gets called to the diary room.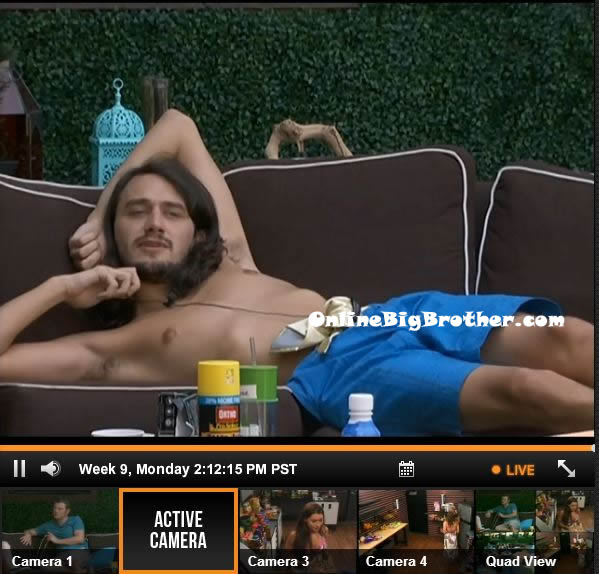 2:20pm – 2:30pm Andy tells Judd I talked to Gina and she basically said she is voting Aaryn out. Judd asks if Aayrn know. Andy says yeah she knows she is going. Judd tells Andy I still need to give you my bear shirt for the week. Andy says you don't have to do that. Judd says no I need to in front of Gina just to show her our trust. They talk about good they feel about their new alliance they made and how it all worked out perfectly. Gina joins them and they all talk about how great their new alliance is. Aaryn made them all quesadillas. Andy jokes and says there is nothing better than eating a hot a$$ quesadillas on a hot a$$ say. Judd laughs. They talk about how good it is.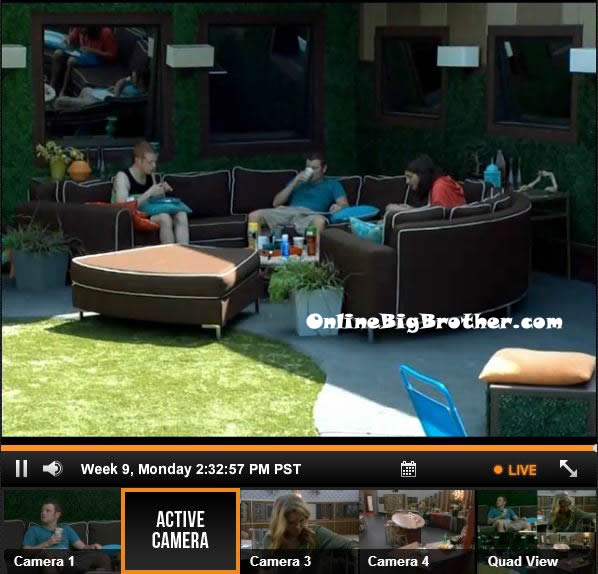 Aaryn talks to Andy and McCrae out in the backyard. Aaryn says that she knew not getting Elissa out week one was going to bite me in the a$$! Andy says part of me wants to win HOH next week so that I can put her up. I would revel it that sh*t. Aaryn asks so is she still being nice to you? Andy say yeah. Aaryn says so she basically put you up so that it would ensure that I go home. Aaryn says Elissa is so smart. Aaryn brings up how two days ago Spencer wanted to make a huge deal with me and now he is sh*tting all over me. Andy asks really. Aaryn say that Elissa, Spencer, Judd, Gina ..none of them can win HOH. Andy says well Elissa can't so its 3 on 3! Aaryn says basically this week anything I have wanted to say but couldn't I am going to say it. Aaryn says this is how Helen felt going home before Spencer, he is such a f**king liar! Aaryn gets called to the diary room. Andy and McCrae talk about how they want to trust Spencer but aren't sure they can. Andy says that he is just going to stay out of everything this week. Andy heads inside and Gina joins McCrae on the couch.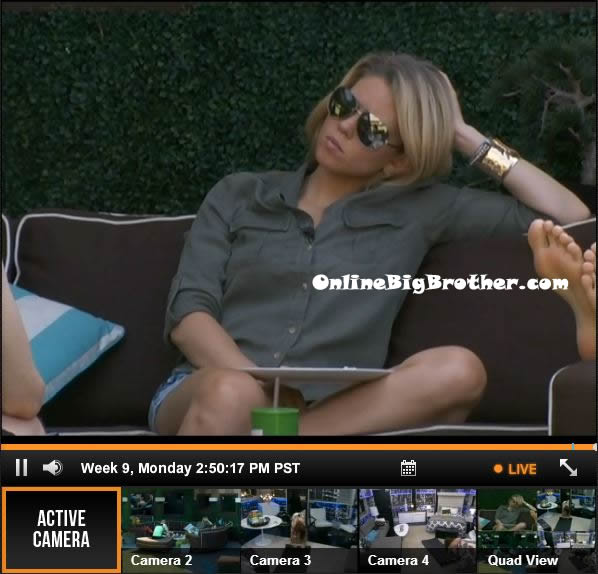 3pm – 3:10pm Gina tells McCrae that she feels bad for Aaryn but she is pretty sure she is going home. Gina says she feels bad that even if she gave Aaryn her vote it wouldn't even matter because she probably doesn't have the votes. McCrae says between me and you …poopy (Aaryn) is saying that you are coming after me and Amanda now and that you are working with Elissa. Gina laughs and says she isn't aligned with Elissa. I was just being nice to her so that I wasn't put up on the block. Gina says pretty much sending her (Elissa) home would be one for Aaryn. She is pretty much alone next week. If people want to make deal I will make deals week by week. McCrae says don't tell Aaryn I told you that. Gina tells them how she figures out who is telling things she tells them. She gives them an example and says if I tell Andy this bowl is ceramic and I tell you its wood .. then I hear someone say it is a wood bowl, then I know who said it when if it comes back to me. Andy says that's pretty smart.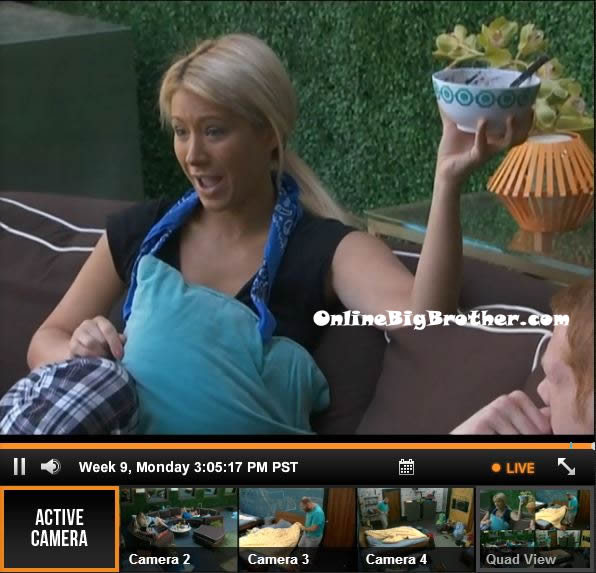 3:15pm Aaryn talks to Judd and tries to campaign for him to keep her. Aaryn says I can get Ginamarie's vote. If I can get yours.. Aaryn says if I stay I will go after the three of them Amanda and McCrae or Spencer. Judd says that could work. Aayrn says well think about it. In the kitchen – Aaryn tells Spencer if you keep me I will go after Amanda and McCrae I swear to god. Amanda and McCrae already told me they will not vote to keep me. She tells him to think about it. Spcencer doesn't say a word and Aaryn walks away.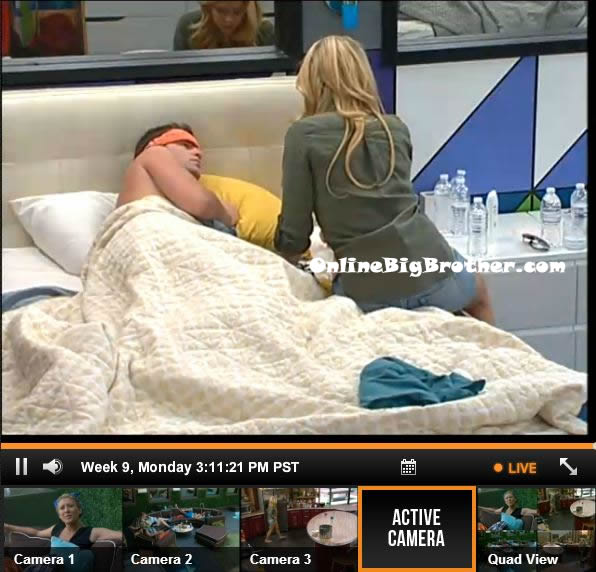 3:30pm Out in the backyard – McCrae tells Spencer that's Aaryn's sh*t has already begun. She said that you are a scum bag liar. Spencer says she just talked to me in the kitchen and said she had a deal for me. McCrae says oh yeah and she said that last week you approached her for a deal. Amanda joins them and asks what happened. Elissa comes out so the conversations stops. Elissa heads back inside and McCrae tells Amanda how Aaryn told us that Gina is coming after us now. McCrae says that he already questioned Gina about it but that she danced around it. I will talk to her again later. Spencer says I don't know where Gina is at but you pretty much have 4 people to try and win HOH and protect you. Amanda says I am not going to live in fear. If she is coming after me, then come after me. Amanda says I wanted to stay loyal to her but there is nothing else we can do. McCrae says he is just tired of trying to decipher what she is trying to say. McCrae asks what is the point of being in an alliance with someone who won't do what you tell them to do? Amanda says now we will just see who goes upstairs because no one has to go up there now. She is going to have a very nasty fall from grace because she is the reason she is in the position she is in. Amanda heads inside. Spencer says that Aaryn is a liar and is doing whatever she can to stay. McCrae says he doesn't get it, she is just saying everything and anything with no rhyme or reason that doesn't even help her. Spencer says with Aaryn who wins competitions it will be better when she is gone for everyone so that we can win some.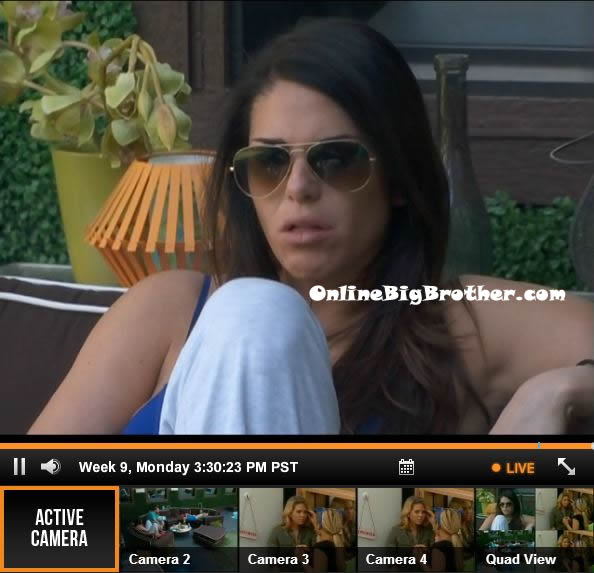 3:40pm Up in the HOH room – Gina talks to Elissa. Elissa tells Gina that Aaryn made her bed and now she has to lie in it. Elissa talks about how all the names Amanda has called me I have never been talked to like that in my entire life. Elissa tells Gina we need to stick together. Gina tells Elissa how Aaryn told Amanda/McCrae that I was coming after them and they just confronted me about it. Elissa says again we need to stick together and you need to win HOH because if we don't I will self..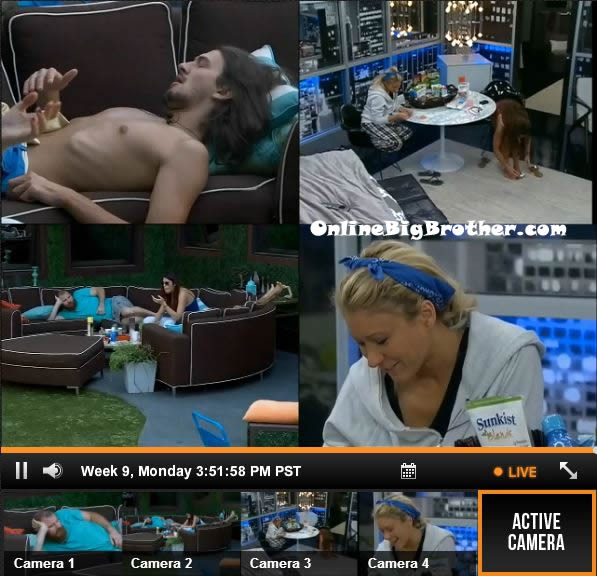 3:55pm McCrae and Spencer talk about not trusting Judd. McCrae says I don't think he will keep that deal with us. Spencer says it's hard to make a deal with a liar. McCrae says he probably feels the same way about us. Spencer says the one thing you have going for you is that Amanda being in the house will always be a bigger target than you. McCrae agrees and says that he will keep her in front of him like a meat shield. Spencer asks if I ever go up, I need to know I have your vote. McCrae says absolutely. I really do think our final two deal could work.
4pm – 4:15pm Up in the HOH room – Aaryn is talking to Elissa about how she is willing to go after Amanda and Elissa. Elissa says I don't like you as a person. Aaryn says this is just game. Elissa says for the past two weeks I have tried to work with you. And why were you joining in on the tormenting yesterday. Aaryn says because I am on the block and I am doing stupid things. Elissa says I don't even want to look or talk to you. Aaryn says if you keep me we don't need to look at each other or talk to each other. Elissa says then how would we work together. Just a few days ago you were trying to get Gina up on the block. Aaryn says that is not true. Elissa says just admit it. Aaryn says I didn't say that. Can we not just move forward. Elissa says if you can't admit that you are lying to me then why would I want to work with you. You can leave my room. Aaryn says I am just looking at this from a game stand point. The only way I can stay is if Gina, Judd and Spencer vote for me. Elissa says I will think about. Aaryn leaves. Elissa tells Gina that Aaryn was lying she was pushing for you to go on the block. Please don't campaign for her. Gina says I haven't, just tell me if things change. Elissa says there are more lies than just that too that I will tell you about. Gina says thank you for talking to her. Gina heads down stairs …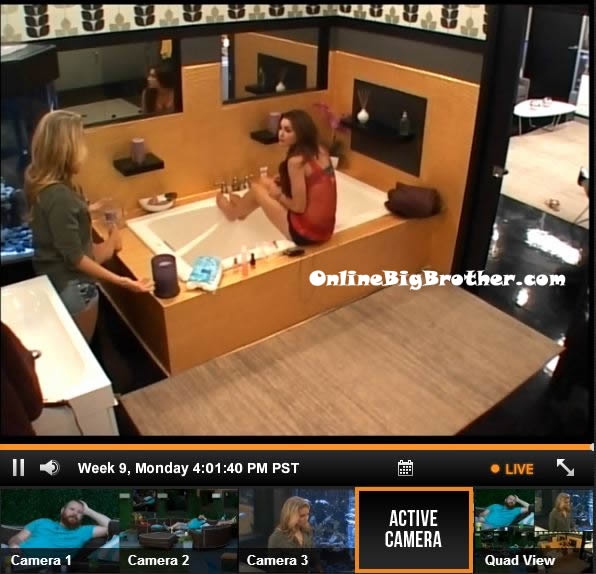 Use the Big Brother Live Feeds to FLASHBACK to SEE what they can't show you on TV: