9:15pm HOH comp
Spencer is out..
GM – "This is really hard with a broken toe"
GM – "Cmon DJ that is all you got"
They spray smoke on all over the competitors.
GM mentions that McCrae would have destroyed this competition. Spencer and Andy Agree.
Andy stumble at one point "Oh F*** my KNee… OH my god"
Andy out..
Glitter explodes all over the HOH competition. GM dives into the mess of soap and Glitter, "I made a glitter angel"
Ginamarie wins Part 1 of the final HOH
Andy and Spencer will now compete for part two. The winner of part 2 faces off against GM.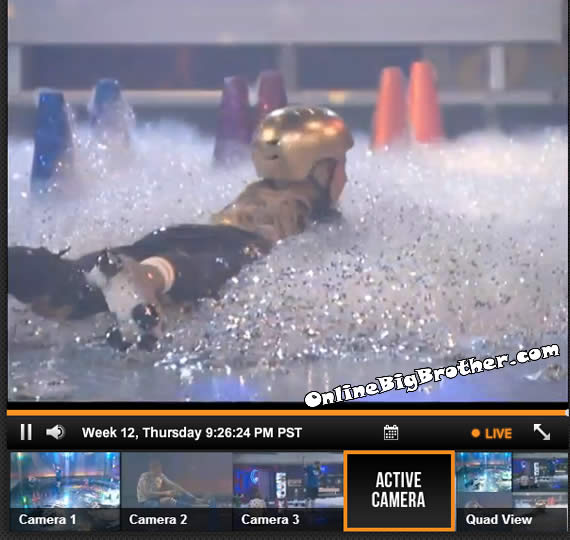 9:58pm Exterminators
GM says Amanda deserved what she said to her because of all the yelling and harassment she did to everybody. They agree the smoke wasn't bad. Andy says when they started spraying them with water it got really hard to hold on.
Andy – "I wish I didn't have the wrist pads on.. I could grab it the way I wanted"
Spencer says he couldn't keep his feet under him so it really made no difference what type of grip he had.
GM asks about the final 2 HOH competitions. Spencer thinks the 2nd one is a puzzle and the third one it a quiz. Andy – "It's in the house"
Andy says MC lefts some cheese near his bed. GM comments how dirty McCrae was suggests he was the dirtiest of the cast.
Spencer- "He was a dirty boy.. I don't think he made food once"
Andy – "that was Amanda's job dirty all the dishes and make food for McCrae"
Spencer- "I'm shocked but not shocked they f**** that first week"
Andy – "I'm shocked"
GM – 'She liked Nick that first week.. he doesn't like big girls"
GM tells Spencer that she was not going to let go no matter what. her mind was set she was going to win the competition.
Specner – "You were right Andy McCrae really thought he was going to make it to final 2"
Andy adds that McCrae would have dominated the final HOH.
Spencer – "Because of Amanda he never built the personal relationships like we have"
10:20pm
Andy says McCrae played his hardest game week one and from then on he was lackluster.
GM – "There's glitter everywhere and I f*** love it"
Specne r- "We'll be picking glitter off of us for weeks"
10:26pm
Spencer – "Man the exterminators kicked a$$"
They talk about how long they were trying to get enough people together with the balls to get Amanda out.
Spencer – "I've been trying to get that b1tch out since day 10" He adds that Nick and him were in the storage room before David left saying they have to get Amanda out or she will be the end of the moving company.
GM – "Nick was jumping up and down dude"
Spencer says he thought about Nick when Amanda left.
Spencer goes to the memory wall shows her all the votes Andy has. (Most of the jury) GM says she knows all the votes he has and it worries her.
10:35pm GM and Spencer
Spencer says he had never been rollerskating before so he was a bit at a disadvantage. He's cool with it though
Spencer- "I'm so f*** glad Elissa is gone she was miserable to live with.. She hated guys"
GM – "Hey Spencer you think it's a puzzle next time"
Spencer – "Ya"
GM – "Hey Spencer.. you keeping me if you win HOH right"
Spencer- "Oh damn girl you don't need to check with me.. neither of us can beat him.. I love the kid but if he makes it he's won.. you take him to the end you've made a half million dollar mistake"
Spencer – "I wish all final 3 won money"
Spencer says Marilyn told him if it helped his game he could flirt around with a women.
Spencer – 'There is no was in hell i would have.. I'm a loyal man'
Spencer and GM agree that Amanda screwed McCrae's game. GM says all they did was sleep, smoke and F***. Spencer adds that he really liked McCrae and is mad at Amanda for messing up his game. McCrae was a likable person everyone liked him but feared/hated Amanda.
Spencer- she said he had a huge f*** d!ck.. If I had a huge F*** d!ck I would be sticking it in everyone I could starting as early as I possible could have.. I be f** stabbing women with that motherf***" (He means stabbing with a huge d1ck)
GM gets called into the DR says she needs to get a bra on first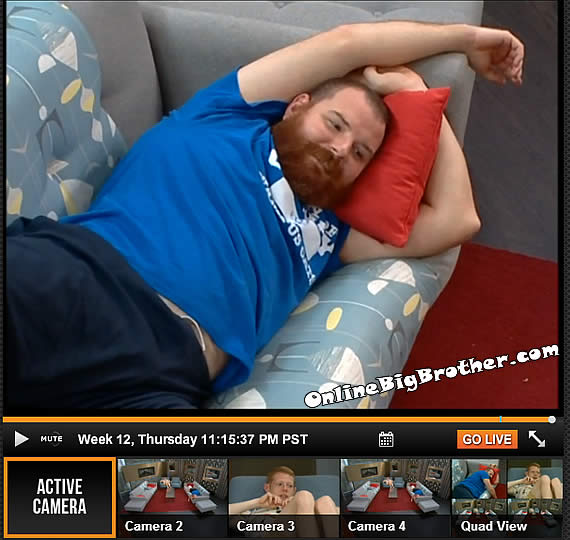 Andy says he's sorry he couldn't win this competition but he feels like they both knew she was going to win it. Spencer says one of them is going to win the next one, "You have a really good chance to beat her in questions.. you have a lot of personal relationships"
Andy – "If I get third I'm going to die"
Spencer says McCrae told him his biggest mistake in the game was not getting rid of Amanda earlier. Andy agrees. Spencer adds if Amanda had left 2 or 3 weeks ago McCrae would have had the time to build relationships and alliances with other people.
Spencer – "He was so dependent on her.. once she was gone he had the fire again"
Spencer apologizes for sucking at the competition, "I wrote in my blog my biggest game move was allying with you.. I whole heartily believe it dude"
Andy says that the jury is going to be vengeful he's certain he's playing for second, "You and Gm both played games where you did what you had to do to stay here and you didn't f** people over.. and I did"
Spencer – "Dude you deserve to win this game you played the most amazing game.. Ginamarie is the one that scares me she has the best blood on her hands'
Andy says Spencer played a great game and shouldn't discredit it because he was the pawn so many times.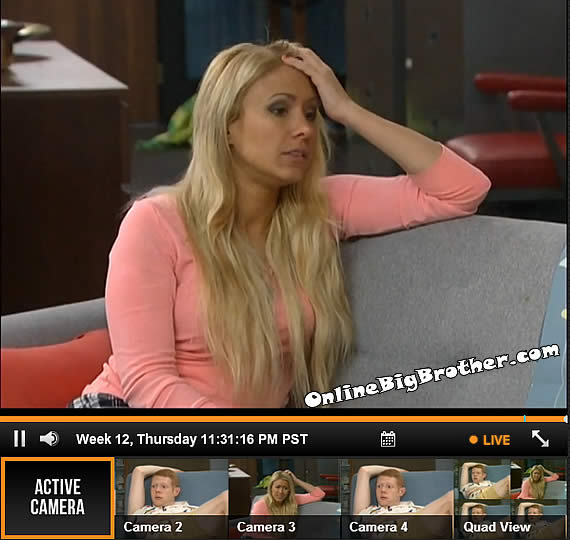 11:32pm Andy and GM
Andy – "I'm going to bed early if they are waking us up at 8"
Andy tells her they have a 33% chance to win
Andy – "I really think I am playing for second place"
GM – "I was thinking the same thing"
Andy – "I've pissed off a lot of people in the jury"
Andy says Spencer has a really good case to win it he was on the block for so long. GM was thinking the same thing.
Gm wonders what type of questions they ask in the final HOH competition. Andy explains they will asks a question like what did Candice say was her biggest mistake in the game, Allying with Howard or fighting with Ginamarie.
Gm says McCrae didn't shower for 4 days it took Amanda to get him to shower.
Andy – "I can't believe they had sex the first week"
GM "wow bro that's a wh*re"
Andy adds Amanda came into the game with a boyfriend. They bet Amanda and McCrae are having s$x tonight.
Gm talking about Nick
GM – "He doesn't know what he's in for I'm going to rip that a$$ up"
GM adds that she said it in the diary room and they all started laughing.
12:01AM Big Brother comes over the speakers "You are one day closer to 5 hundred thousand dollars"
Use the Big Brother Live Feeds to FLASHBACK to SEE what they can't show you on TV:
BB15 N!p Sl!ps / N*des
Share it YO!!
Tweet