POV Holder:
?
Next POV
Aug 31st
POV Used
POV Ceremony
Sep 1st
HOH Winner:
GM
Next HOH:
Sept 5th
Original Nominations:
Current Nominations:
Last Evicted Houseguest
David, Nick, Jeremy, Kaitlin, Howard, Candice, Jessiem, Helen, Aaryn
Have Nots
Big Brother 15 Live Feeds FREE TRIAL: FLASHBACK FEATURE
10:40am – 12:25pm The live feeds switch to TRIVIA. When the feeds return – There are popped balloons and confetti everywhere! Amanda says that was her childhood dream to have a room full of balloons. Andy comments to Ginamarie that he didn't find any. Spencer wonders why they have to do the clean up. They house guest comment about having to pop the balloons to find a token for a certain amount of money. Ginamarie says that if she had won she would have ended up buying Freddie the new truck he wanted. Gina says she wishes there had been 3 – $5000 prizes instead for more people to to win it. Elissa says that was super fun! Spencer says when they were told the rules he wanted to bite his nail so that it was sharp to pop the balloons better. Amanda says that she can't believe all of them were in one spot and not spread out more. In the kitchen there is a post with a button on the top of it to press when they had it.Judd says confetti what the hell!? We are going to be finding it for the rest of the season! Elissa says Spencer got a trip now and $10,000, that's good! Amanda says I can't believe they are making us clean this up! This is going to to take all frigging day! Judd says Thank you Big Brother. Spencer laughs at how Judd is being sarcastic. Amanda says that Spencer no matter what you have won, you got a trip and $10,000. Spencer says that he has made out good on Ginamarie's reigns. (He won the trip during Gina's last HOH) Amanda says yeah you have. They find more balloons in the shower and one has a chip in it. They pop it and it was just a zero. They had to find a "1", a "0" and a "k" to spell out 10K. Spencer tells McCrae I feel like I will definitely go up now (Get nominated by Ginamarie because he won the $10,000) Amanda asks McCrae what did he say. McCrae tells her. Amanda tells McCrae that he needs to talk to Ginamarie today. McCrae says yeah.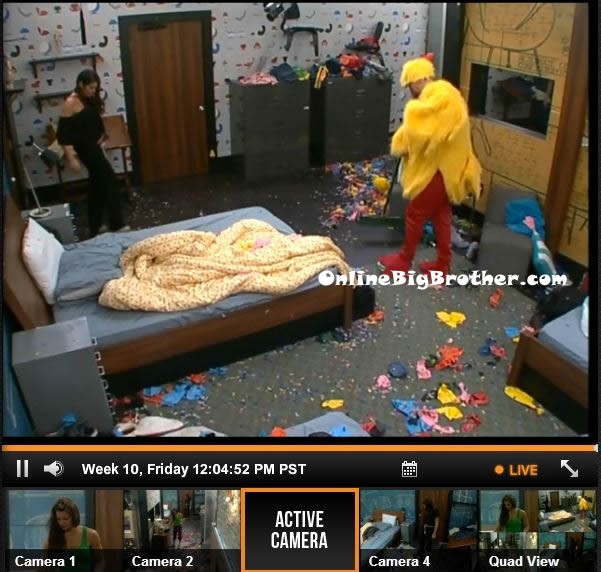 12:30pm – 12:40pm Judd comments don't worry Andy we got this. (Andy isn't really helping clean up) They all complain about their back hurting from sweeping and cleaning up. Judd says I think they did this to get us to clean the house after Julie Chen's comment about how messy the house is. They talk about how there was only one "K", two "1"'s and three "0"'s. McCrae jokes that he found two diamond power of vetos. Judd comments how he needs his suit cleaned now he has been sweating so much. Gina comments how all the prizes and money have been during her HOH's and POV. Judd says lets start calling her luxurious.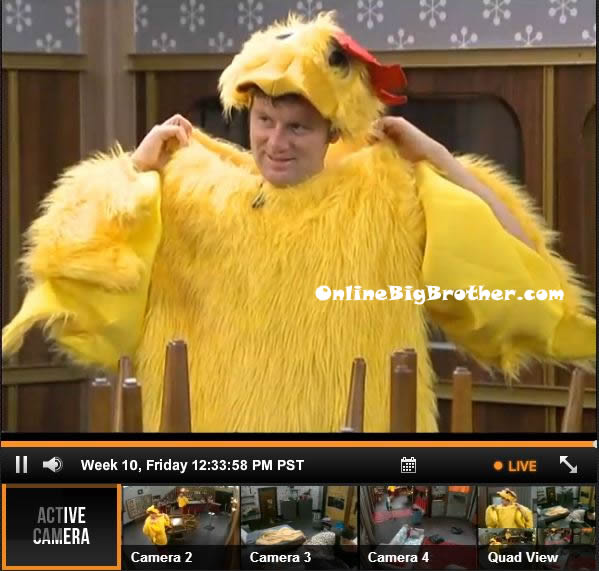 In the storage room Andy comments that if he couldn't have won it he wanted Spencer to win it. Andy says I would have killed myself if Elissa had won it. Spencer says she would have said you can't buy anything with $10,000. Spencer says she said last night that her (Elissa) hockey rink seats 5,000 people. Andy says that he is scared to win VETO because Amanda and McCrae will want him to use it. Andy says but Ginamarie and Judd will be mad if I don't fight for it. They talk abotu how they both still want Amanda out over McCrae because they think he is more controllable. Spencer and Andy talk about waiting after the nominations to come up with a plan.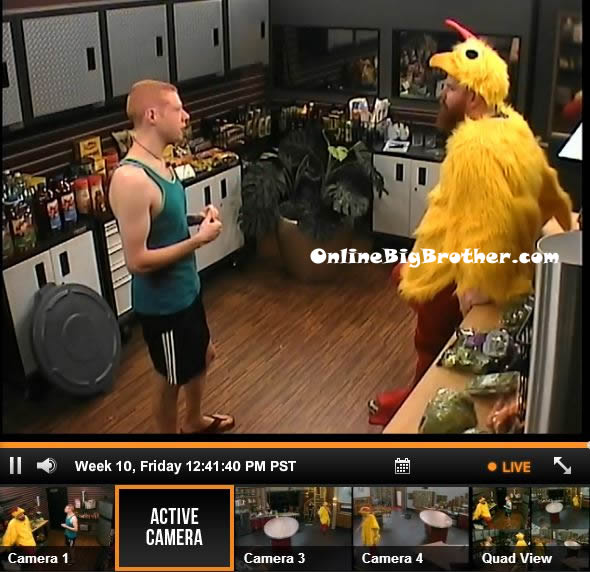 In the kitchen – Elissa looks at Ginamarie's toe. They wonder if she broke it. Elissa says she probably didn't break it if she isn't in extreme pain. You probably just sprained it.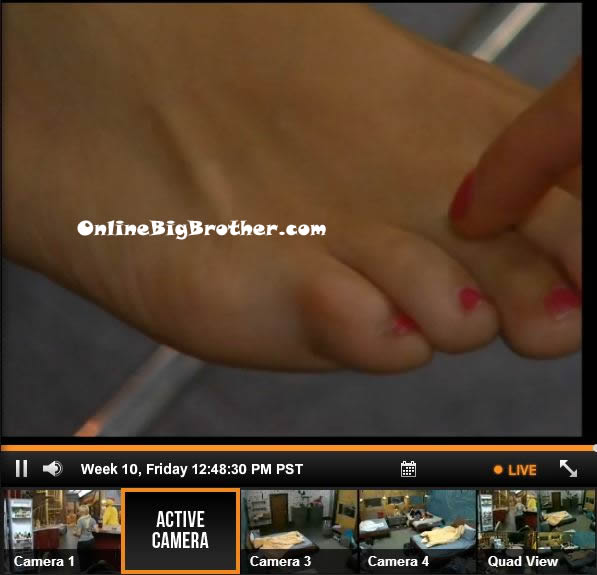 12:50pm – 12:55pm In the bathroom – Amanda asks McCrae so you're not going to talk to her?? McCrae says I am going to talk to her! Amanda says well I am going to sleep and it would be nice if you talked to her because it would really help me out. McCrae says again in an annoyed voice I am going to talk to her. Amanda rolls over to go to sleep.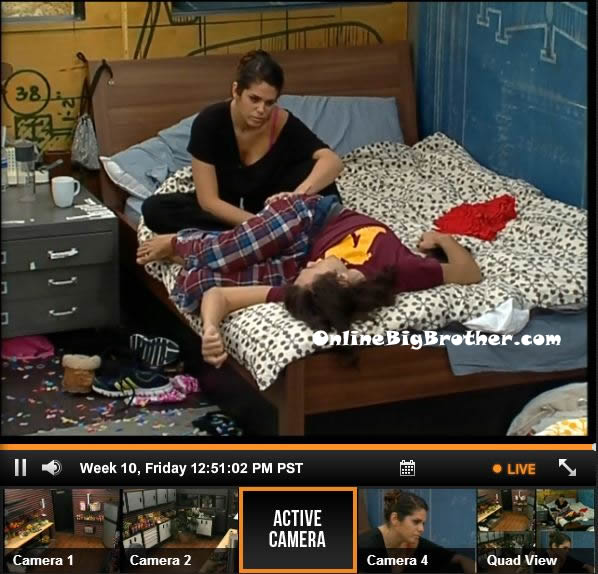 Use the Big Brother Live Feeds to FLASHBACK to SEE what they can't show you on TV: