POV Holder:
?
Next POV
Aug 31st
POV Used
POV Ceremony
Sep 1st
HOH Winner:
GM
Next HOH:
Sept 5th
Original Nominations:
Current Nominations:
Last Evicted Houseguest
David, Nick, Jeremy, Kaitlin, Howard, Candice, Jessiem, Helen, Aaryn
Have Nots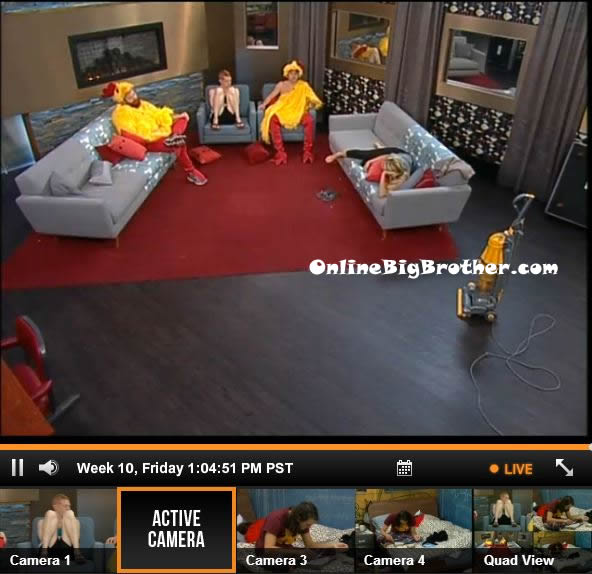 1pm In the living room – Spencer, Ginamarie, Judd and Andy are hanging out talking about random things. Judd comments my talons are sore! Andy laughs. They notice that the "Nomination's Today" appears on the living room tv. Gina says she is going to head upstairs to the HOH room to start doing her makeup. Andy heads up with her and he comments that he is happy Spencer won the money but I wish I had. Gina agrees but says things happen the way they do for a reason. $5000, $50,000 ya know what I mean. Gina says I just hope I don't go out with nothing you know. Big Brother tells Andy to exchange his mic. He gets annoyed that he just came up here and now has to go back down.
Big Brother 15 Live Feeds FREE TRIAL: FLASHBACK FEATURE
1:10pm – 1:20pm McCrae heads up to the HOH room to talk to Ginamarie. He asks her if she is going to do meetings today? Gina says yeah I just want to do my make up and go see the medic for my foot. McCrae says okay you want to just call me up when you are ready. Gina says yeah I will probably talk to Andy first since he will be up here but I will call you up after. McCrae leaves. Andy comes back up and tells Gina I don't even think I need to talk to you before nominations, do I. Gina says no. She says that McCrae already came up asking to talk and I told him I was going to talk to you first. So basically you can lay out and relax, listen to music and we can pretend we are talking. Andy goes to listen to her Britney Spears CD.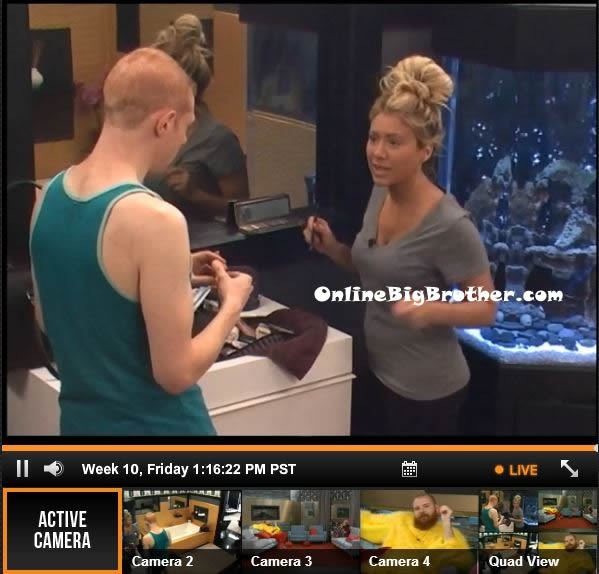 1:10pm – 1:30pm In the kitchen – Judd, Spencer and Elissa are talking about random things. Elissa wonders if they will still have a have/havenot competition. Judd says he isn't sure. In the bedroom – Amanda tells McCrae that Gina is up alone in the HOH right now. McCrae says I already talked to her she said she would come get me when she was ready. Amanda asks why he doesn't talk to her now. McCrae says she is talking to Andy right now. Amanda asks do you think she will put me up? McCrae says I don't know. Amanda asks do you care? McCrae says yeah. Amanda says I don't even care anymore! I hate it here now! McCrae says that's a good attitude to have. Amanda says I am upset and feel tortured. You have no idea how it feels to be tortured. McCrae says so you are just giving up. Amanda says I just want her gone, I don't want to talk about her any more. I don't know what your attitude is about but it doesn't help! And you don't talk to me, you don't even tell me what is wrong. Which makes me more upset. McCrae says I think you are fine. Amanda asks so what is wrong? McCrae says I don't know. Amanda says you were making jabs at me. McCrae says you were turning the lights on and off and annoying people. Amanda says that Big Brother was f**king with us so I was f**king with them. Everyone was laughing. The camera's switch to the kitchen. Judd goes and tells Amanda and McCrae the backyard is open. Amanda asks for a cigarette and takes one she asks if he is coming and he says no. Amanda heads outside. Judd asks McCrae what's wrong. McCrae says that he is just annoyed. Judd asks with who? McCrae says I just woke up on the wrong side of the bed. I am just annoyed with Amanda.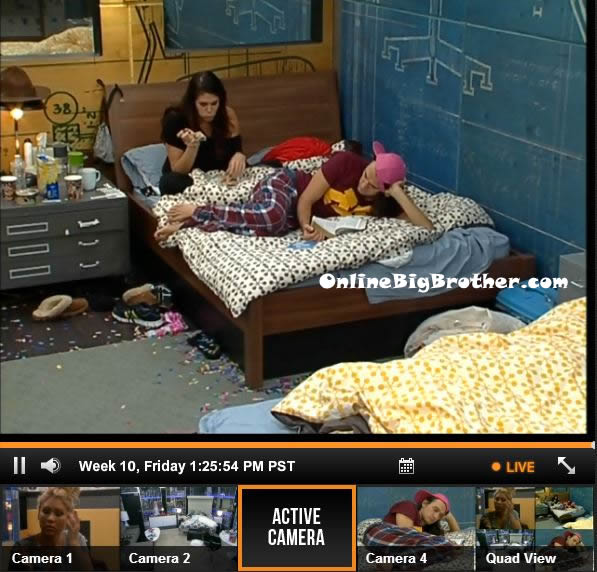 1:35pm – 1:50pm Out in the backyard – Amanda, Spencer and McCrae are sitting on the backyard couch talking about Elissa. Amanda says that she can't stand being in the house with Elissa any more. Her voice is like nails on a chalk board. Amanda wonders if how many balloons were in the house would be a question in a competition. Spencer says a good estimate would be 1000 – 1500. Amanda says f**k I just want to sleep for the rest of this week. McCrae asks Spencer if Judd has made any deals with you? Spencer says no. McCrae says I figure he's made one with Ginamarie. Amanda says he just made that week to week deal. Spencer says that he is going to wait it out in Gina's room to talk to her. Amanda asks where is the devil (Elissa)? Spencer says in the back room I think. Amanda heads inside. Spencer tells McCrae that he and Amanda need to get out of their foul a$$ moods. McCrae says that he is just pissed off at Amanda, she is annoying the f**k out of me. Amanda joins them again. They talk about pushing for Judd to go up because this is his second chance. Amanda says I am pushing for Judd and Elissa. Spencer says yeah f**k I think we all are, united front! Amanda says if she puts up Judd and Elissa I will volunteer to go up as the replacement. Spencer says I will volunteer the same thing. Amanda gets called to the diary room. McCrae heads back inside. Spencer talks to Elissa about how Amanda and McCrae are mad at each other. Elissa laughs.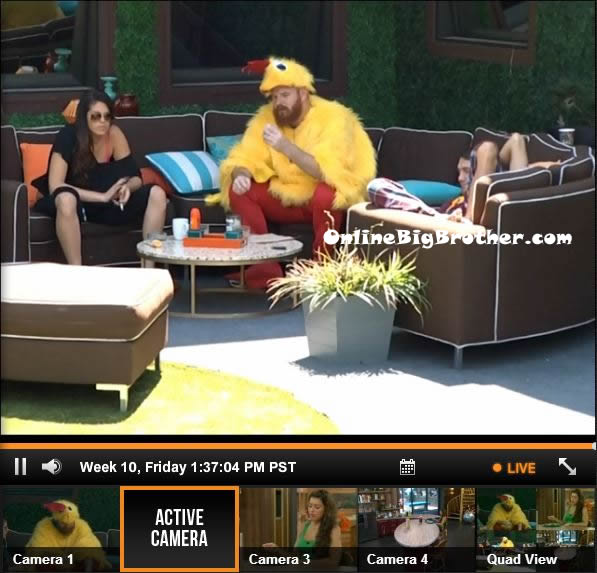 Use the Big Brother Live Feeds to FLASHBACK to SEE what they can't show you on TV: