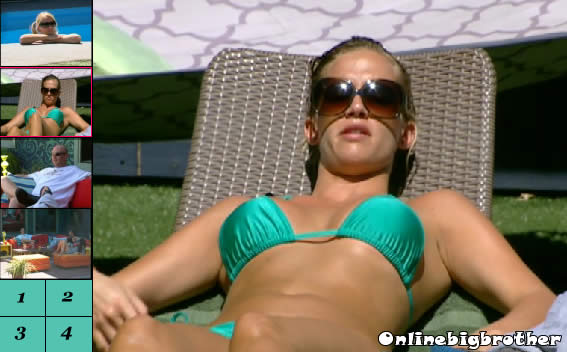 Preseason Big Brother is always a thunderdome of rumors about the upcoming season. With only three weeks to go we've got a nice collection of Big Brother 15 Rumors that has precipitated out of the internets. Take these with a grain of salt regardless of how many reliable sources they originate from. Please add your own rumors in the comments because I'm sure you've heard something crazier than the list below.. and don't forget to vote for Dawg.
All newbies, couples, old peeps/young peeps and lesbians These rumors come from the twitter account @15CornerOffice Why are we caring? random corneroffice twitter/forum account are a BB tradition it's cutting a tree down to put presents under..
– A HUGE vote takes place before the show even begins!
– Not all cast members will be known prior to the start of the season. In fact, you won't even meet some until after the first eviction.
– The Jury will consist of 9 people.
– They make age exceptions when somebody in involved in a twist. I.E Daniele BB8
– There will be a lesbian couple in the house.
– My source tells me that there will be a lady and her son in the house but nobody will know that they're related.
– The youngest house guest this season just turned 18 in February.
– The oldest house guest this season will be 74 years old
– Half of the hg to be above the age of 35 while the other half to be under 28
– 18 House guest to enter with no returnees
– HG enter the house 6/20 and finale is 9/25
Survivor players on BB15 source – @EvelDick
"Survivor people in the Big Brother house this summer"
"ut oh, I have BB production people texting me after I posted the rumor of survivor people being on BB, lmao"
BB15 Commercial "More Twists"

16 house guests and couples source – @SpoilBigBrother
"Definitely all new HGs & some will walk in with relationships intact. But a twist will cause division & rivalry in the #BB15 game."
"Next week 16 houseguests, including alternates, will have their intros & "hijack" scenes shot at home & will go into sequester for #BB15″
Casting was looking for couples / Family members source – @TheGameSurvivor
During Kassting, applicants have been asked extensively about their significant others, how they met, likes/dislikes, and some were asked to even email pictures of their significant others back into casting. Some have done this via emails and some have done it via phone calls and then mailed the pics in, when not able to attend in person casting calls. Both ways, applicants are being drilled about their significant others. Some even got return calls with follow up questions on their significant others.
Lots of times CBS shows copy each other and with Survivor doing the "Plus One" next season, meaning a returnee plus a loved one, it appears Big Brother could very well be using the same concept but it appears to be with newbies. However, they could add in returnees and their loved ones because all of this info strictly comes from new applicants.
Source: https://www.facebook.com/groups/bigbrotherwhispers/

Live audience tickets starts July 3rd source – on-camera-audiences.com via Survivor Sucks
"Be in the live audience for Big Brother! The new season starts July 3rd, 2013. Join the wait list now and we will email ticket information on a first-come, first-served basis."
Random Rumors circulating around
-Simon's spoiler – Jessie Godderz is picked by random draw to re-enter the house.
-Unknown source – "New BB house with HIGH DEFINITION cameras"
-Unknown Source – Tranny sisters were cast
-Unknown Source – Lesbian couple was suppose to be Nakomius and Lydia but has been changed to Ivette and JoJO
-House guests move into the house June 19th
-Media day is June 10th/June 11th
Confirmed
1) No feeds in Canada unless you use a VPN
2) Early Bird pricing 23.99 for the entire season!! Big Brother Live Feeds

3) Feeds similar to what Superpass offered: Chat, Flashback functionality, IOS/Android Support, Multiple Cameras,
4) June 26th – The Big Brother 15 Premiere airs at 8pm on CBS
5) Afterdark moved to the TVGN and 1 hour less.
6) Big Brother 15 starting earlier and going longer
– Early Bird Special – All sites offer the same deal keep your favorite site open, buy the feeds from them. Available only until June 25th – Our best offer. Subscribe today for full season access beginning June 11th. TWO week early access starting June 11th and ends a month after the finale episode. Get special content and connect with the other Early Bird subscribers for Season 15. Live Feeds begin streaming June 26th. $23.99 / season
Share it YO!
Tweet