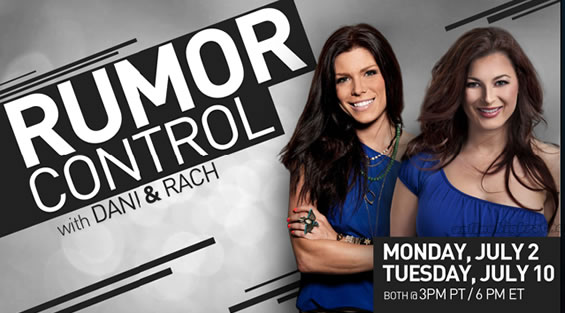 Rumor Control was suppose to be free today to anyone with a iOS device but unfortunately the full length show was only available to superpass subscribers
(For $29.99 get 3 months of Live Feeds. limited time offer). For BB14 there will be 2 episodes of Rumor Control the one today with Daniele Donato and Rachel Reilly and one the follow Tuesday July 10. Again you need a superpass subscription to watch rumor control and the Live feeds.
Last year's Rumor Controls with Dani and Ragen really didn't give away anything big and today's episode followed in that theme. If you are following all the crazy rumors on the internets like the mentors Rumors and Janelle tweets then you would have found the show interesting. It you are looking for any hard Spoilers than your shit out of luck. The show confirmed 2 things for me A) Nothing new done to the house other than the new "Tokyo POP" theme B) Dani Thinks CBS will not put Rachel on the show for 3 straight years the ratings would suffer (And so would the live feed watchers)
Here is a few important tid bits Keep in mind that Rachel's connection was faulty so Daniele did most of the talking.
1 – Rachel claims she is in Costa Rica with Brendon and doing the Rumor Control show via an iPad.
2 – Rachel got robbed in Costa Rica
3 – Daniele dodges the question when asked if she is with Dominic. They are Good Friends
4 – Daniele doubts CBS would Bring Rachel back for a third season in a row
5 – Danile briefly talks about having Survivor players in Big Brother, she doesn't think the cross over would be a successful one for the Survivor players.
6 – When asked about the Mentors Twist Dani says if the rumors are true thinks good mentors are Will Kirby, Dan Gheesling , Danielle Reyes, Janelle with Dan being the preferred Mentor
7 -About the Janelle tweets and the fake pictures of her in Greece. Dani says Janielle probably has someone tweeting for her
8 – Dani mentions that last year she had someone tweeting for her when she was getting ready to be on the show
9 – Daniele says there is no new rooms or major changes done to the Big Brother 14 House.
10 – A caller brings up the rumor that the HOH can play the following week in the HOH comp. Dani says she thinks it's a great idea but is unsure if CBS wants to have the chance of winning back to back HOH Competitions
11 – Dani doesn't think it's an Allstar Season (Yes someone asked this)
12 – Dani likes Endurance Competitions the best and doesn't like twists that bring players back into the house..
13 – Dani thinks it would be good for CBS' business if they bring Janelle back because she is so popular
14 – Dani still doesn't talk to Dick and doesn't know why he left the Big Brother game last year
15 – Dani claims there is no bad blood between her and Rachel
Do you Believe any of these Twitter Rumors?
Share it YO!!
Tweet