If you like this site and want to help us keep it running please consider donating, Your donations go directly to paying the server and bandwidth fees. Donate Link
10:30pm Kitchen Dani, Adam, Lawon and Kalia They are talking about what production told them about the POV. They heard that it was going to be early and that there wasn't going to be much waiting around.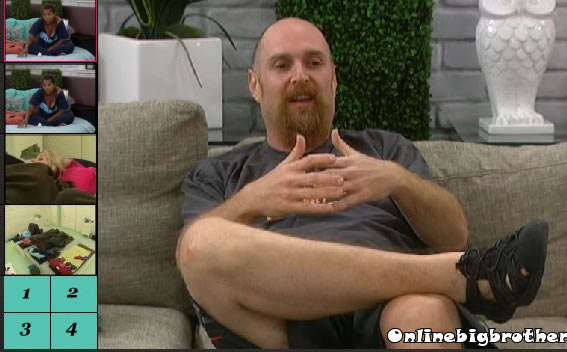 10:30pm HOH Adam and Kalia
Kalia says she really needs him to try for the POV.. Kalia: "You're not just a fan.. you can be a player you can leave a allstar" she's not trying to build him up but she wants him to know that the vets aren't invincible she's not in shape like Jeff, Jordan and rachel but she beat them in the endurance comp. Adam says he felt good about the spelling comp but messed up. He's tried for everyone except the bubble gum one because he didn't want to be on slop.
Adam asks if she has a target, Kalia tells him she does. Adam wants to know if he wins the Veto will should he use it.
Kalia I'm not going to lie to you people are getting pretty pissed at the floaters. She thinks right now he has no target and if he uses the POV a person may come back and have a grudge against them. Both Adam and Kali agree that the twist isn't as simple as a person evicted come right back in the house. Adam: "that's not big brother.. it would mean your HOH is a wash" Kalia: "Well that was what JJ were trying to tell me all day". Kalia says untimely she doesn't think he should use the veto but if she had won it she may use it and weigh her options.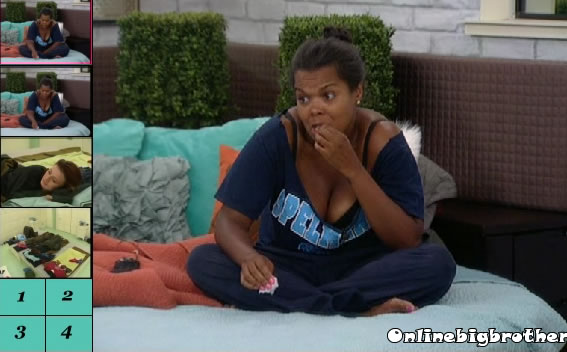 Adam: "I'm telling you this.. my ultimate goal is to not have a veteran win this game". Adam says he's really glad that Dani joined "their side" but he warns Kalia that his goal is to have a newb win. He thinks they have to be careful with dani she is a good ally now but she'll be dangerous later.
(Wow Adam if adam is shooting straight this is pretty cool Team bacon)
adam Praises Kalia for making a big move in the game. "What you did today is hit the nail on the head.. you did what you had to do to your game" . Kalia: "When they came up here it really to talk to me and they started yelling at me it shool me.. .. and seeing Jrodan act that way towards me it was hard"
Adam says it's been tough lately because of how rachel has been acting. Adam says he's had pep talks with Rachel as a person not as a game player because as a person you feel sorry for her. Sometimes you see the good in but the bad overweighs that, "and then she comes to me and asks me why people treat me like that.. and i'm like ahhhhhh".
Adam leaves
11:08 HOH Kalia, Porsche and Lawon
Kalia says that during the NOM ceremony she was visible nervous and stumbling and Jeff was laughing at her.. She asks them how is it that these people are so popular and considered adults.
Kalia is saying who are they to walk around the house and say that because we're not playing there game we don't deserve to be in here. Kalia is sick of this floater talk, she thinks they are just laying low and it's a vaild strategy. You can be a 70 year old man come into this house and there is no way you'll beat 20 years olds that work out all day so you have to lay low. Lawon they always say that there's a way to play this game that somewhere there is a rule book that says this is a way you play it and if you don't you have to leave.

Lawon thanks kalia for standing up today and letting everyone see there true colours. Kalia appreciates it says she was so scared in the DR getting ready to walk out with her nominations she was crying.. they made her leave because she was using up too much time.
11:40pm POrsche up in the HOH with Kalia Porsche tells her Kalia made a big move that will benefit them all. and she's happy for it. She's also glad Kalia picked her to host it.
11:47pm havenots JJR sleeping wondering why the big brother house is so unfair
This is not the official CBS Poll, go to this link https://www.cbs.com/shows/big_brother/americas_vote to vote for a evicted houseguest to have a chance at coming back into the house


Big Brother 13 Spoilers POLL CAST your VOTE!

Big Brother 13 Live Feed Image Gallery
Follow: @BigBspoilers and @Dawgsbigbrother on Twitter for recent crazed out spoilers. Theres also our Facebook page.
Share it YO!!
Tweet