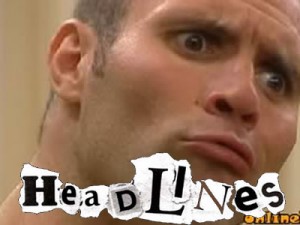 Only 45 days remaining until Big Brother 2011. There has been no word on how the casting process has gone yet, probably the most exciting news has been Kristen Bitting in May issue of Kasanova magazine.
Remember Adam Jasinki the winner of BB9? He was the guy while on the feeds called autistic children retards. Later in 2010 he got caught smuggling oxycodone in a sock and running a drug ring that serviced the east coast's pharmaceutical needs. His partner in crime Matty Mick has been xentenced for his roll in the drug ring and is to be in court next month on assault charges and witness intimidation. This is from beating his pregnant girlfriend!! There is now a total of Three past Big Brother Houseguests behind bars, Amber for driving while on drugs with her kid, Adam for the drug smuggling and Matt for beating pregnant girls/drug smuggling.
FYI this months Tthe Price is Right Season 39, Episode 158 has BB8 Jen Johnson and BB11 Michelle Noonan. CBS doesn't stream to Canada so I haven't seen it yet.
Shout out to Chris Warden BB13 Hopeful good luck getting on the show!

Other Fans applying for BIG BROTHER 13 good luck guys.
https://www.youtube.com/watch?v=cR9QbKb81CM
https://www.youtube.com/watch?v=6MkRBgq2EgA
https://www.youtube.com/watch?v=xzLEzCZP0VM
https://www.youtube.com/watch?v=72nACL4HBRM
https://www.youtube.com/watch?v=gR4geq93OBs
https://www.youtube.com/watch?v=gM5TQMf0XKI
https://www.youtube.com/watch?v=mNaU2natpYQ
https://www.youtube.com/watch?v=TO4Mc4Qa-fQ
Audition master Big Brother Allstar Howie
https://www.youtube.com/watch?v=oog8ZN3dp94
Share it YO!!

Tweet