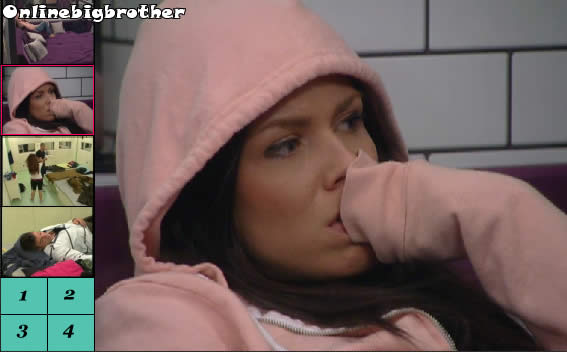 Big Brother 13 Spoilers POLL CAST your VOTE!
7:45pm Dani and Kalia Purple Room
Dani tells Kalia to stop talking like their defeated.. They're right back where they were 2 weeks ago and are down a number but not all is lost they have Porsche. Dani says they need to win HOH and put up power players (Like you did).. She's thinking they should maybe try to cut a deal with someone. Dani thinks they options for deals right now are slim.
Kalia: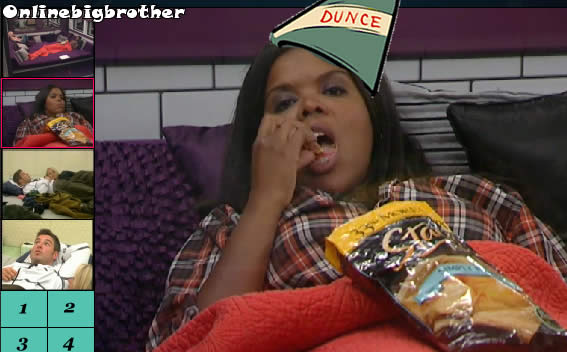 "
Dani: "don't talk about it like that… wait until after tonight if we win HOH then great if we don't then.. I dunno"
Dani is worried about the HOH she says it's all of them against Porsche and her. Kalia reminds her that it was the same 2 weeks ago. Dani: "It's not going to be endurance"
Kalia: "How the hell did America pick Brendon over Dom.. I can't live here with these people" Dani is pretty surprised that it was Brendon to. Dani brings up some more good news about what just happened says that JJBR now control the Jury .. they control who wins the Big Brother 13. .Kalia Da Hut :"Ohh"

Dani: "our only chance to stay in this game is to win comps.. it's horrible but that is the game we have to play from here on in." She tells Kalia to stop talkng about pulling a chima because if Kalia goes home Dani is screwed and if Dani goes home Kalia is screwed.
Kalia looks at the camera "Seriously casting you found the worst people on earth" (yeah and you're one of them.. remember Kalia this was all your fault)
Kalia says it's amazing how quick Shelly and Adam are up JJBR's asses, "and she turns back into that devil BLANK that she is." (rachel)
Dani tells her they need to stop having this pity party they need to turn this around it doesn't look good (dani does some pity party herself to but mostly just tells Kalia to suck it up).. Kalia meniotns that she has no problems if she goes home next week she hates this place,
8:01pm Storage room Shelly and Adam
Adam says that the only problem is now they have to get rid of Brendon again.. Shelly isn't worried it's going to be tough for them but once they get Dani out they can move on.
Shelly: "You'll see this when you get home but I played them llike fiddles last week" (Nicely done straight shooter.. but everyone is onto you now)
Adam says that Dani has made so many bad game decisions and he told her he's chosen the other side she has to deal with it. Adam: "She wanted to start siomethign with me but I wouldnd't engage her"
Shelly: "Ohh trust me there will be a fight tonight"
8:05pm Rachel gives Brendon a debriefing about the deal that DK gave her.. She says Jeff was being mean to her for Talking to DK. Rachel adds that it was almost like DK were threatening her. she was really confused by the whole thing. She never told JJ about the deal though so Brendon isn't suppose to say anything. Rachel adds that Shelly is playing both sides She spends each night upstairs in the HOH.
Rachel: "POrsche told me this morning that Shelly is making fun of me with Dani and Kalia "
Brendon: "wheres Porsche at"
Rachel: "Porsche is ridiculously stupid.. she's best friends with Dani now"
Jeff walks in Brendon asks him who he thinks is playing both sides.. Jeff thinks it's Adam.
Brendon: "everything from now on if you tell Shelly or Adam it goes to them"
Rachel: "We can only trust Jeff and Jordan"
They agreee.
Follow: @BigBspoilers and @Dawgsbigbrother on Twitter for recent crazed out spoilers. Theres also our Facebook page.
8:33pm Havenots JJ
Jeff is saying that adam and Shelly were both not really Happy about what just happened they are acting happy though. Jeff mentions that Adam told him last night that Brendon being gone was a bit of blessing because Rachel is such a mess.
Jeff: "What a cop out from Dani for voting out Lawon.. OHHH MY GOD"
Jeff adds that word was getting around about BLANK they say around Adam and Shelly.. she's starting to feel like they should rethink their "deals" with them.
Jeff: "I think Adam is going to fly the other BLANK way no problem though we'll put him up as soon as he does". Jordan explains that Rachel came up to her and asked her if JJS had a final 3.. Jordan: "Where would she of gotten that from…. I told her that Shelly thinks we do but we really don't"
Jeff is sure DK are going up and Dani will probabaly win POV but once Kalia is gone he's going to try and break Dani down. Jordan: "I can't believe this happened they lost a number and we gained a number and a strong one"
Jeff: " there last 2 weeks was a complete waste"
Jordan wants to rub it in her face but decides she better stay quiet.
Jeff: "It feel good to be winning but we can't be cocky.. "
Jeff tells her that they need to lay low and let BR fight everyone else in the house. Jeff is positive that Shelly and Adam are talking to the other side so they need to just let everyone destroy themselves.
Jeff instructs Jordan about how to deal with Shelly and Adam now. she's not to not talk BLANK about anyone, especially DKP.. don't bring up anything new just repeat what they say.. and never talk game with them ever again.
Jeff: "Now you just watch Adam is going to try to cut something with DKP .. after the HOH because he knows he's on the bottom of the totem poll"
9:03pm Feeds cut HOH underway yo
Share it YO!!
Tweet