Uncensored Live Feeds Free Trial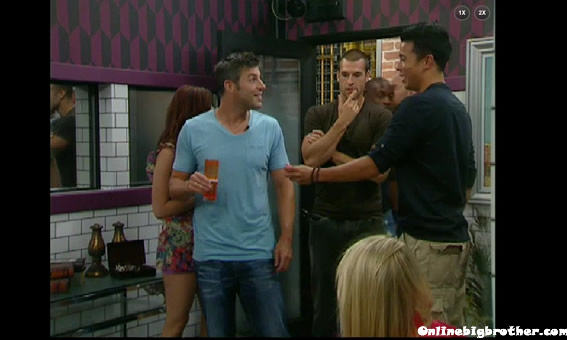 10:10pm Fortune room
Here we go… lounge brief talk about playing a prank on Dick. Dani Joins them, they start asking her if DIck is another twist she says no. They start suggesting hiding his key, Dani joins in reminds them she hasn't talk to her father in years. They Dani if Dick is doing a live blog in the DR she doesn't think so they all agree that wouldn't be fair. Adam charges in asks tells them he found a piece of paper in the living room it was under a nominations chair cushion. Most people are giving Adam a hard time saying he's making the paper up. Adam swear to them that he's telling the truth. Brendon makes Adam promise him he's not lying about the paper and if he's lying he has to give up bacon and cigarettes for a week. Porsche says she feels like she's playing the game "clue" with all the secret message laying around. Jordan brings up that the POV is tomorrow.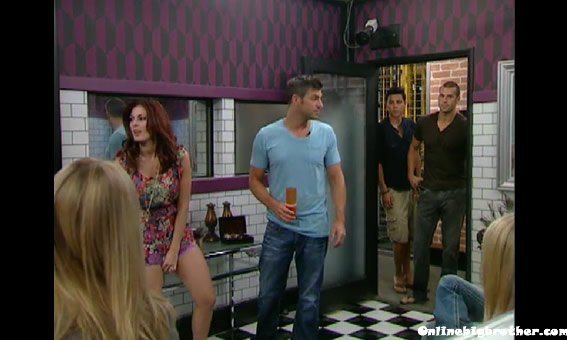 10:17pm Fortune Room
Jeff and Jordan talking about if Dick is allowed to do his web "things" it wouldn't be fair. Jordan is worried that something happened to Dick that's why he's in the DR for so long They Giggle about planting the piece of paper under the cushion with Brendon. Brendon walks in brings up that DICKS been gone for over 2 hours. They laugh at the planting the clue.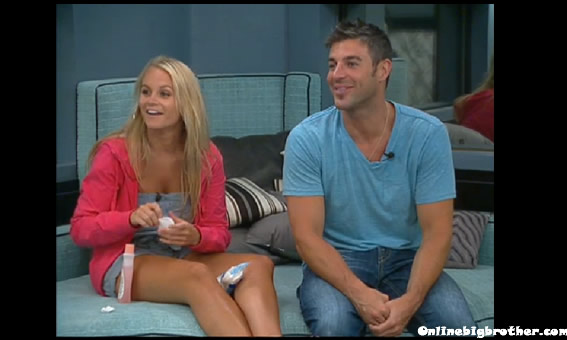 10:20pm Rachel starts to rally the houseguests to play her game Porsch from the kitchen asks her something about a red stain Rachel says it's wine porasche says she though it was menstrual blood, Rachel: "Thats so gross". The houseguests meet up in the HOH room They are playing the same game Rachel made them all play last season (Find the differences). One group stays in the HOH the other group hides stuff in the living room. THe HOH group then turns on the HOH spy cam and tries to find out what the other group moved.
10:40pm HOH Random talk hearing a lot about BACON BACON BACON BACON.. Their all in the HOH talking about how bored they are Rachel suggests they have another fashion show. … They can't decide to do.. Dani brings up how exciting it was during her season. Rachel Suggests heads up 7-up… Jeff wants to do something that allows them to cool off "Lets use our minds", Adam "lets all take showers" everyone laughs POrsche doesn't want to. 10:51 they all leave the HOH cause it's so "BLANK" hot. There's grumblings about not being allowed to play charades.
Share it YO!!
Tweet