Big Brother 13 Live Feeds Can be watched on your iPhone and Android Mobile devices sign up -> Watch Big Brother 13 on Your iPhone or Android Phone
9:02pm POrsche and Dani porsche: "Dude Adam has clearly lost his mind" Porsche explains that he's acting super sketch his mannerisms and "Stuff" are out of wack. dani is sure Adam will do whatever JJ tell him to do. Dani: "And where does that get him final 3. Porsche wonders if they can get Shelly to tell him that she has a final 3 deal with JJ. Dani thinks it's worth a shot.
dani thought Adam wanted Jordan out. Porsche says he did but not if he's got a deal with JJ. Porsche mentions that Adam has been warning her about Dani. Dani: "Whats wrong with him I literally never lied to him ever".
They start breaking down that perhaps Adam has had a deal with JJ for 2 weeks. Porsche thinks adam's vote to keep rachel was Shelly's doing. POrsche says if she wins Big Brother 13 she will take Dani out on a Caribbean Cruise. Dani accepts the deal. (team Porsche Yo includes Caribbean cruises sign me up :) )
9:25pm Kitchen Rachel and Dani alone Dani gets up walks to the fridge grabs some juice and walks away rachel says to the camera "seriously.. f-en bitch". Rachel makes a gun shape with her hand.
9:50pm Backyard Couch Shelly, Jordan, Kalia on the backyard couch chit chatting. Jeff, Adam and Rachel playing pool.
10:15pm Shelly and Jordan hottub Shelly says she's been thinking about her final 3 deal and she's pretty sure she can't beat JJ in the end.
Jordan wonders if Dani has talked to her. Shelly says no she hasn't talked to DAni much today. Shelly says that Dani is going around telling everyone they lied to her.. Jordan says no.
They head up to the HOH.
Shelly says that JJ swore to Dani that they would not back door her. Jordan I SWEAR we never said that. Shelly believes her.
Jordan says that her and Kalia have a final 2 deal and if she's so willing to throw Kalia under the bus then who can trust her. Shelly brings up that Dani was talking about Kalia today. Jordan warns her that Dani is throwing everyone under the bus.
Shelly: "There's a lot of lying going on int he house"
Jordan swears on god that her and Jeff never promised they wouldn't put her up. Jordan is getting mad she says she'll go down right now and tell Porsche. Shelly says don't worry she knew right away when Dani said it it was a lie. Shelly: "Everything dani is saying is made up".
Shelly mentions it's so important for them to win HOH. Jordan thinks if Kalia and Porsche win HO they will target JJ. Shelly thinks it'll be Rachel because all the girls Hate her so much. Shelly says she's going to call out Dani because she is calling Jeff a hypocrite. Jordan asks if they should go talk to Porsche now. Shelly says no wait until tomorrow.
Jordan goes on and on that JJ will not turn on Shelly or Adam for Dani.
Shelly says she a little worried about Rachel.. Jordan reassure her that Rachel won't put her up.
Shelly: "What is your and Jeff's plan for Rachel.. If Rachel gets down in the money I'll be pissed"
Jordan: 'No no it's me you Adam and Jeff.. It depends on HOH's"
Shelly: "Adam and I have no chance to beat JJ in final 3… but I'm taking my chances"
Shelly says that JJ are unbeatable.. she shoots straights and tells them that everyone back home will give her shit for taking JJ to the final 3 because there is absolutely no way she will win.
Jordan: "Lets just go to final 5 and everyone can play it out then.. what do you think…"
Shelly: "I dunno"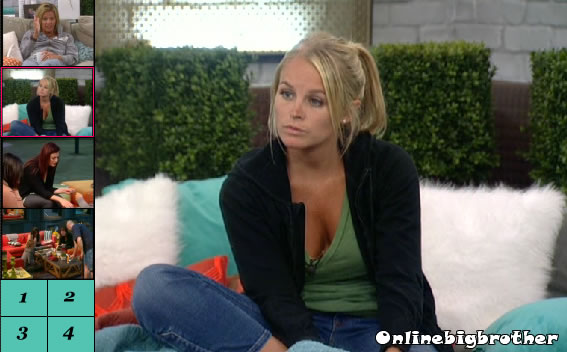 Jordan is worried that Adam and Porsche have something.. Shelly says Adam and Porsche have some type of agreement.. she wants him out before they hit questions.
Shelly: "Dani told me a HUGE LIE today if she gets evicted than Jeff and Natalie will leave"
Jordan: "WHAT.. This is their job"
(Dani's was joking that her friends that work for big brother will leave if she gets evicted)
Jordan: "I'm worried you are going to flip"
Shelly: "No no I just wanted to talk to you as a person.. I'm just worried I won't win against you guys"
Jordan swears that if Jeff gets knocked out she'll take Shelly.
Shelly: "I just hate that everyone lies.. I know it's the game but it bothers me that people are tearing each other apart.. it's not me" (Holy F yo Shelly is a piece of work yo seriously wow)
Jordan: "You're still voting her out right… "
Shelly: "Jordan YES"
Shelly: "I would trust JJ with my Lfe"
10:55pm Shelly saying that she has been trying to avoid Dani and rachel. Shelly brings up the reason she was on the couch earlier today with Dani. Dani was feeling like shit and she didn't want to get up and leave. Shelly is really nervous that all of rachel's drinking is going to cause a fight with Dani, Kalia or Porsche. Shelly doesn't want all that Drama.
11:05pm Shelly tells her about how she convinced Kalia not to put up Porsche/lawon. Shelly says she's been going into the other side making deals and that is how she's been getting information. She called her self the "Trojan Horse" . Shelly defends her final 3 deal with Dani and Kalia. says she did it to manipulating them help their team.
11:15pm Shelly says that Adam is on her team and shouldn't be going around saying that she can't win competitions its not a nice thing for him to say. Shelly wonders if people watching the show think she's a loser.. Jordan say no way you'll win a comp sooner or later. Shelly: "It sucks to be a Enzo"
11:40pm playing games chit chat
11:46pm Hammock JJ Jordan recaps her conversation with Shelly.. Jordan focuses on Shelly being worried that she cannot beat JJ in the final 3. Jeff says Dani is spreading those ideas in her head.
Jeff: "Tell her fine lets cut her now"
Jordan: "No no it wasn't like that"
Jeff: "Well what did she say"
Jordan: "she's still good with us"
Jordan brings up that Dani has been going around telling people that JJ have lied to her because JJ swore they wouldn't backdoor Dani. Jordan adds that Shelly told her she would trust JJ with her life so their still good with shelly.
Jordan is worried that Dani is going around telling people that they are liars. Jordan brings up that Shelly made a final 3 deal with Kalia and Dani 2 weeks ago.
Jordan: "She told me she did what she had to do what she had to do"
Jeff: "I never swore to Dani that I wouldn't back dooer.. "
Jeff is getting a bit pissed about Adam and Shelly, "They want me to knock out Brendon they want me to knock out Dani.. fck them they can do something"
Jordan agrees says they need to keep saving Rachel.
Jeff getting mad about Shelly and Adam, "You f-ing get me next time you talk to her.. they want people knocked out they should go f-ing do it"
Jeff swearing a lot about Shelly not winning anything in the house and cutting final 3 deals with other players. He doesn't understand why it's not ok for him to cut deals with Dani but Shelly can cut final 3 deals and say, "Ohh I did what I had to do"
Jeff talks about Shelly to Jrodan "Dude Get the fck out of here.. you worried about final 3.. How about you get to f-ing final 3 and stop riding me my back hurts… f-ing talking about final 3 go get f-ed.. people in this house don't know their f-ing boundaries… She wants to know her place she's at the f-ing back of the line" (LOL i wish shelly could hear this)
Jeff: "I wish we could of kept or final 5 deal then we wouldn't have to deal with all these f-ing loser.. we should of f-ingkept Brendon.. it's not sinking in their f-ing heads"
Check out the Big Brother 13 Polls
Share it YO!!
Tweet