Big Brother 13 Live Feeds Can be watched on your iPhone and Android Mobile devices sign up -> Watch Big Brother 13 on Your iPhone or Android Phone
3:40pm Adam floating on by to another HOH
3:55pm Porsche and Adam Kitchen Briefly talking about what there is to eat. POrsche is making a sandwich Adam starts screaming I NEVER WANT TO SEE A HARD BOILED EGG AGAIN!
POrsche asks him if he thinks it will be a good idea or bad idea if he sleeps upstiars. Adam: "Why bad omen" Porsche: "Kalia thinks it might make them think they are too close and they will want to vote you out" Adam stuffs some food in his mouth ""ahhh I gots cha" Adam asks if Kalia will be sleeping upstairs or downstairs. Porsche says she will probably be downstairs..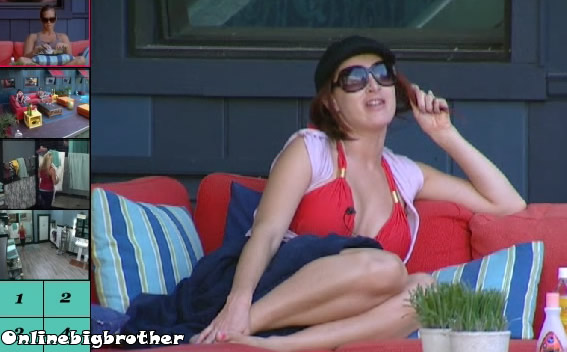 4:15pm Backyard Porsche and Rachel Rachel explains a dream she had were she was trying to call Brendon and she couldn't. Porsche points out that Brendon is in jury right now and he won't answer so her dream was true.
Rachel:"thinks it's because of separation anxiety"
Porsche: "rachel.. don't be a freak it's only been a week"
Rachel: "we've never been apart for so long"
Porsche: "weren't you apart when you went to Charlotte"
Rachel: "That was just a few short days"
Porsche: "Think of it as a opportunity to be rachel and not Brenchel"
rachel: "that's not what I wanted to hear"
They giggle for a bit.. Rachel asks Porsche about her boyfriend. Porsche says she's glad he just signed the release a little while ago.. Feeds cut..
Porsche asks her if she's read "The Model wife" in the bible. Rachel doesn't know so Porsche explains. basically She cooks, cleans and takes care of the kids, She wakes up before everyone and goes to bed after everyone.
Rachel: "do they get to have lots of sex.."
Prosche: "Yes, So you would do all those things as long as you get lots of sex?"
Rachel: "Ohh I just want to make little Brendon Happy"
Rachel: "Hmmmm.. the model wife and mother"
Porsche: "ya it doesn't look very awesomness .. looks like a lot of work…"
Sign-up NOW and watch the houseguests live! Uncensored Live Feeds 3 Day Free Trial
4:30pm Porsche heads to the hot tub becuase her shoulder is sore. Rachel reads the model wife..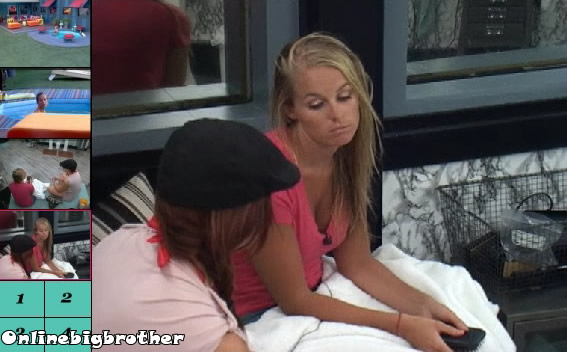 4:40pm bathroom Rachel and Jordan They are talking about KP putting them up if Kalia wins HOH. Jordan is pretty sure they will take Rachel out first then Jordan, she hints that Adam will be with KP because they want to get rid of all the vets. Rachel is saying that Kalia threw the veto comp she thinks she'll be tougher on physical then they thought. Porsche is scared when it's just the 4 of them (JRKA) and Kalia is competing for the HOH she'll win it and put up JR. Jordan turns on the hair dryer so I can't hear shit.
Jordan reminds Rachel how many times she was almost out of the house this year. "You've been lucky 3 times"
5:13pm Adam floating around the backyard
5:25pm rachel and Jordan walking laps they are talking about how "fat" they are getting. Rachel: "I've been eating M&M's like it's my job". Porsche says that They (production) told Kalia to "freshen up" because she's hasn't really fixed her hair or anything. They both agree that the "jason" deodorant is crap (I use it it's great) ..
They start talking about hoe much brendon use to sweat. At first Rachel tries to deny that Brendon sweats (He was notorious last year for sweating) Porsche says he "Sweats A lot" rachel: "But not under the arm and he doesn't stink" POrsche: "Yeah you're right"