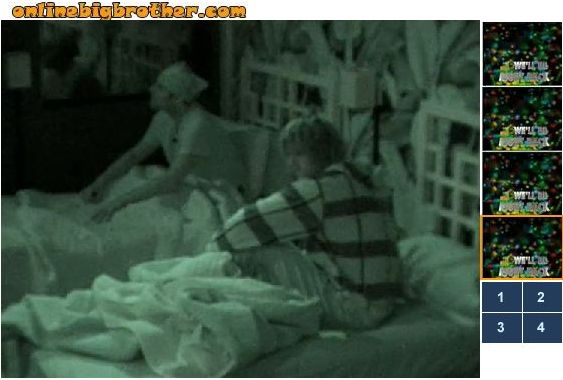 10:25am- 10:50am Big Brother cuts the live feeds to the "we will be right back" screen. When they come back Enzo and Hayden yell damn!!! The feeds cut out again. Then Enzo, Lane and Hayden tell Big Brother to play Eminem – Cleaning out my Closet …. And then they will start cleaning up.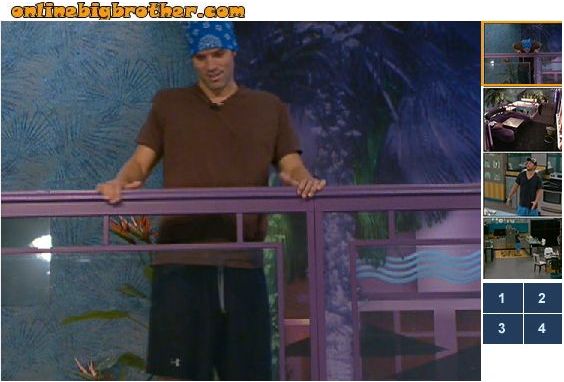 Enzo asks do we go out there now …or what? Hayden says she said at like 10:30am. Enzo asks what time is it now? Hayden says its 10:25am. Hayden says that he can hear them doing stuff outside! Hayden and Enzo head up to the HOH room. Enzo puts on a bandana. Enzo and Hayden go out to the HOH balcony and start listing off all the things that are almost done …just like the show. Enzo and Hayden say look at the cereal … done yo! … brigade shirts …done! … dirty dishes ..done yo! Lane says that they have gotten their hopes up … and now they will have to stay in here another week. Lane says we're not done …she got our hopes up … this is crazy! The feeds cut out. When they come back Lane, Hayden and Enzo are all up in the HOH room. Lane asks we have to stay up here for 2 hours without any pillow or blankets?! Enzo says that if today is a live show ….then who is getting evicted!? What is going on?! Who is getting evicted?! Lane says you can't think like that!! Hayden and Enzo get into the bed. Enzo asks if they have to stay up there for two hours? Hayden says that she said it's going to be like a normal Thursday. Lane explains that someone can't be evicted because they need all three in the end when they choose who they want to take to the final 2. They start reminiscing about the beginning of the season and the spelling competition. Hayden wonders how many people threw HOH competitions this year. He brings up being the HOH Winner the first week and how at first he was excited about it but after he started to realize that he was now the primary target. Enzo mentions he is glad to have at least won one competition this season, he would be embarrassed if he hadn't won any. Lane adds that Enzo never won a head of household (HOH). Enzo laughs says he was the POV Winner when his "life was on the line" and that is all that matters. They start talking about what the morning wake up song was … it was say goodbye to Hollywood.  Enzo asks what does that mean yo?! They start singing the song and the feeds cut out again.
When they come back Enzo is asking Lane what it means … are we going home today.  Lane says that we're not going home today.  Enzo asks Lane why his is being such a debbie downer.  Enzo says if we have a live show today …what are we doing?!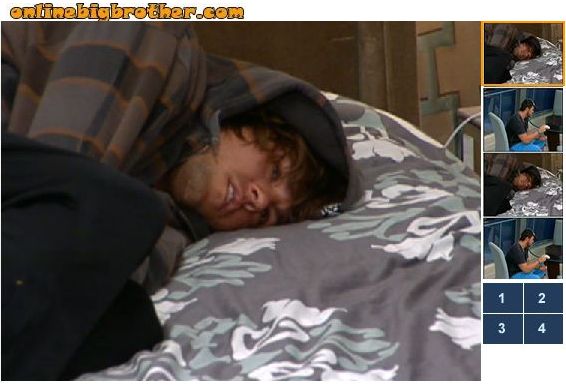 10:55am – 11:10am They start talking about the Justin Timberlake wake up song. Enzo wonders why they cut the feeds in the morning. Lane: "They cut the feeds in the morning?" Hayden adds that Britney was telling them that they cut the feeds whenever they play music. Enzo laughs says they do it to hide all the Morning Wood.
Talk Shifts to what family of theirs will be at the finale. Lane asks for them (producers) to just tell them what is going on!? Enzo says that they're probably not even doing anything out there … they're probably just banging pots and pans together out there when we come by. Lane says that he is going to just start wrecking and breaking things. Enzo talks about how he's feeling sick and want some sudafed, soup and a hot shower. Ezno says that he would split the money $175,000 each and get the BLANK outta here… Enzo and Hayden try to go back to sleep in the HOH bed, while Lane lies down on the HOH floor…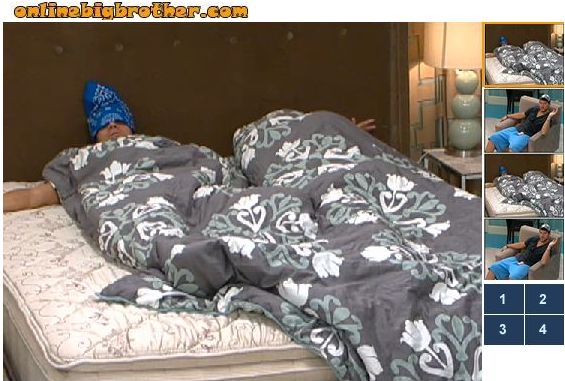 11:25am – 11:50am Big Brother blasts the big brother theme music in the HOH room but leaves the live feeds on. Lane says this is different! They wonder if it is a sign…. (Usually they can hear the music through the walls on the Thursday morning HOH lock down.)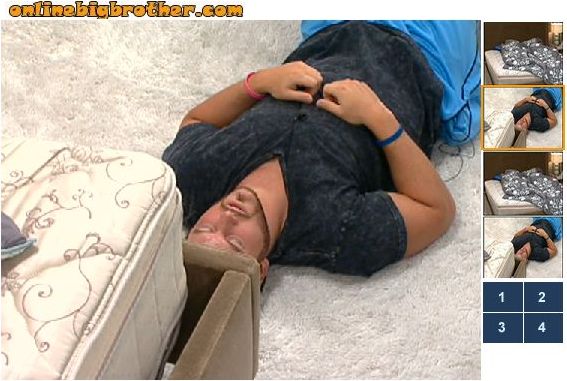 12:15pm – 12:25am The house guests are still on an HOH lock down. Enzo and Hayden are still trying to sleep while the theme music plays. Lane gets up and goes to the washroom and then comes back and lies down on the HOH room floor again…