12am Enzo hasn't been able to sleep, he gets up from bed goes to the washroom, then returns to bed. At 1am Enzo is up again and heads into the bathroom flosses his teeth, then goes to the kitchen to get a drink and then goes back to bed. At 2am both Enzo and Hayden are up and in the living room eating. Lane gets up soon after and joins them. They are now all eating in the kitchen.  chips and dip and then has some milk and cookies.
FREE Live Feed 24/7 streaming video of the BB12 house – 3 Day FREE TRIAL!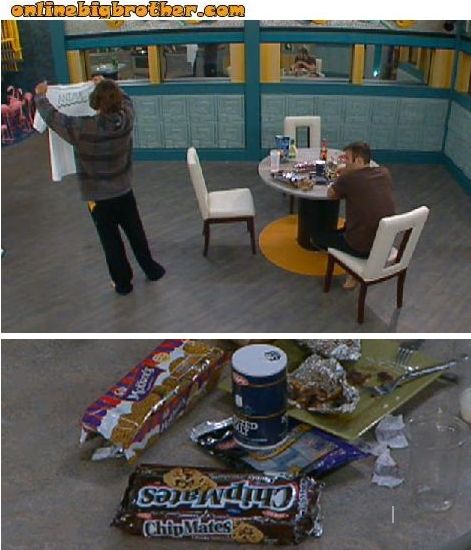 2:20am – 3:15amEnzo, Hayden and Lane are all sitting around the kitchen table talking about the final competitions to come. Hayden tells them to think of all the players from last year that we beat out. Enzo starts talking about Ragan and says that he was a smart player but he never won head of household. Lane asks what competitions haven't been used yet this season. Hayden says that the faces competition hasn't been done yet. They all think that the faces competition might be happening tomorrow.  Enzo says that he would love for the finale to be tomorrow.
Enzo talks about how he thinks Big Brother is over budget and he says that maybe they will end earlier than scheduled. Enzo says that he thinks there is a good shot the finale will take place tomorrow. Lane says that it's not tomorrow. Enzo says I am telling you…. Lane gets up and goes into the jumanji to go to sleep. Enzo and Hayden continue to talk and eat in the kitchen. Enzo says that tomorrow has to be finale because we want to get the BLANK out of here… Hayden and Enzo head into the bedroom. Enzo says that we got another week, Yo! Enzo tries to figure out what the schedule could be for the coming week. Enzo says that he doesn't know what they could possibly show on the Sunday time slot. Lane says that maybe there isn't a show on Sunday. Hayden says that he wonders if it could be the episode where they reminisce and look back over the entire season. Hayden says that from what he has gathered in his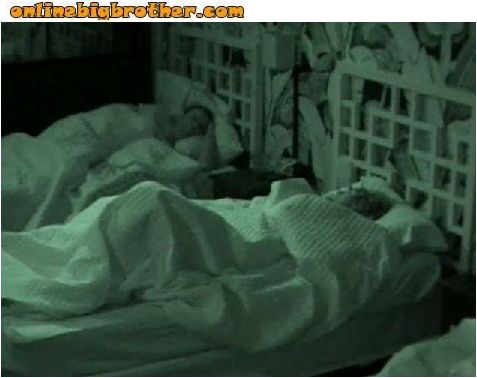 diary room sessions, he thinks the finale will be tomorrow. Enzo says that he ate too many cookies and complains that he has gas. Enzo says that's finale ass… Enzo says that he wanted to see some things in the walls this season, like some aliens or BLANK like last season. Enzo asks them what blew your mind the most this season in the house? Hayden says Hulk Hogan. Lane asks what did you say? Hulk Hogan? What the hell did he do? The wrestler? In this house? Hayden and Enzo laugh. Enzo asks Lane …you didn't see him??? Enzo says that it would be cool if the door bell rang right now. Lane asks why? Enzo says just for something different to happen. Lane asks at 3am in the morning?! Enzo says that he is going to be a have not when he gets back home. Enzo says that he is stressed about eating so much earlier. Enzo says that he is excited about getting to see his wifey… Hayden, Lane and Enzo are all now back asleep. …
FREE Live Feed Trial!Try it FREE for 3 Days!
5:50am All the house guests are still asleep..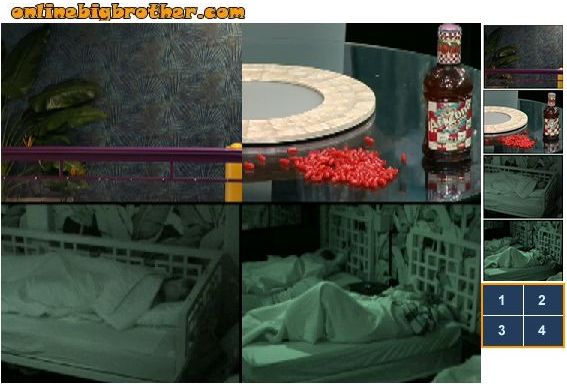 9:53pm Still sleeping yo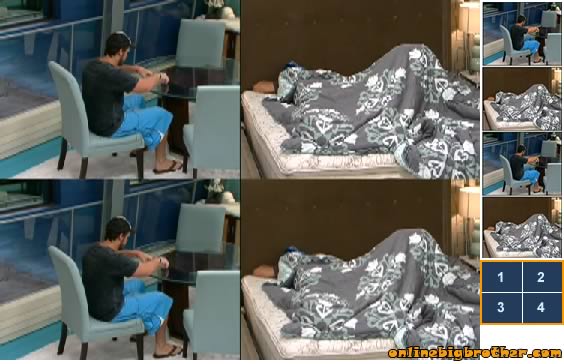 10:45pm Lane playing cards aka studying and hayden sleeping.. enzo sleeping