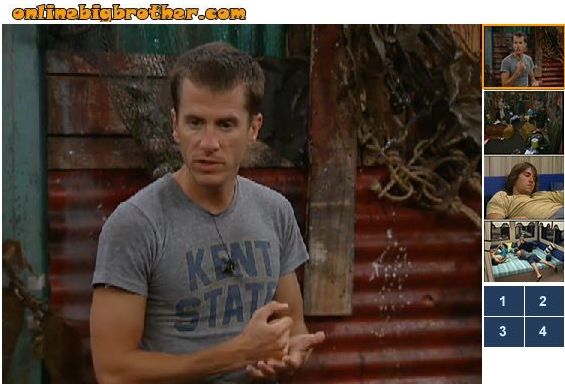 Watch everything LIVE as it happens!!
Superpass – 3 Day FREE Trial
5:40pm Matt and Lane are in the have not room talking about random things. They talk about Britney. Lane ask do you think they're going to have like a count of how many times him and her fight? Lane says that she is a little feisty Chihuahua. Ragan comes in and tells them both that they both need to give Hayden and Enzo sound reasons why they should keep them. Ragan tells them that Enzo and Hayden are both going to be talking this over tonight for awhile so they are taking this really seriously. Ragan says that this decision is a zillion time harder to make than the Kristen/Hayden vote. Lane and Matt tell Ragan about how they made Britney cry talking about her boyfriend Nick. Ragan says that she was fine when she came into the cabana room so I don't think she was very upset. Ragan says that it's a really hard decision for Enzo and Hayden to make but that everyone knows how Britney and him are going to vote. Ragan tells Lane and Matt that they are both incredible guys. Lane says that he doesn't know we just made a girl cry. Lane asks Matt if he's going to have a long speech and out speech him tomorrow. Ragan tells Matt and Lane again that they are both really incredible guys. Lane says except for me… Ragan says yeah except for Lane … hes a lady. Lane says yeah especially after we make 100lbs girl cry.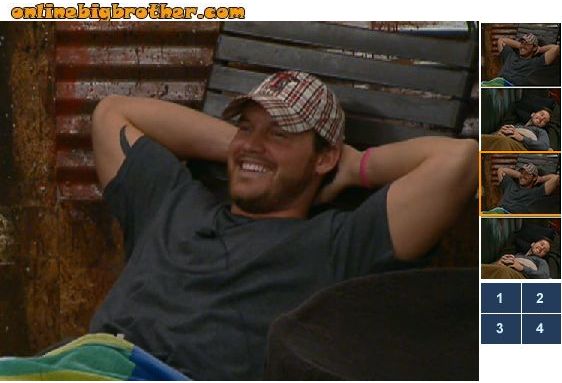 6:10pm Lane starts talking about how he made Britney cry.  Lane says that he was trying to talk to Britney and she wouldn't let him finish… Lane says that he looked at the camera and asked how do you do it Nick how do you get a word in edge wise when all she wants to do is argue…. do you run away??  Lane says that Britney then asked why everyone brings up Nick.  Lane says that on top of all of that Matt did back him up …he just layed there…  Ragan says yeah did he retreat into his bat cave.  Lane says that the reason why people talk about Nick so much is because you talk about Nick more than people talk about them selves.

SEE what they CAN'T show you on TV! 3 Day FREE Trial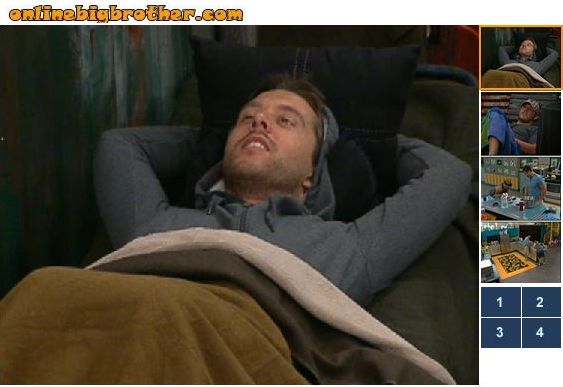 6:30pm Ragan tells Lane and Matt so here's something to put things in perspective. Ragan says that there's 11 episodes left. Lane says that eleven sounds a lot, is there anyway we can cut that down a bit? They laugh and Lane says not to count this week. Lane starts saying his calendar is the Lan-ender and goes from Matt to F. And you only work M and T cause on W you go out. Lane says that maybe he only sets himself up for disappointment. Matt says that he wants Ragan to take him and Stacy and her friends to a Chicago gay bar when they come to visit. Enzo comes into the have not room and they ask him what he was talking to Brendon about for so long. Enzo says that Brendon was just up there bitching about everyone… Enzo then says that he trapped Hayden with Brendon and that now he is in the kitchen pealing garlic for Brendon …They all laugh. In the kitchen Hayden is trapped pealing garlic for Brendon.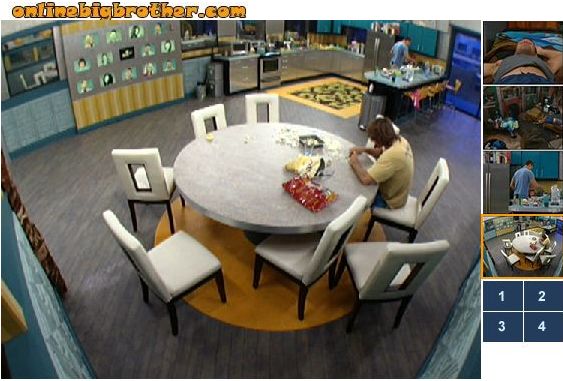 6:56pm Pool outside, ragan telling brit he's already getting tears in his eyes thinking about matt leaving.