SEE what they CAN'T show you on TV! 3 Days FREE No Commitments
7:27pm Hammock Ragan giving matt a debriefing about his conversation with Hayden, saying that matt never had a chance to fight for POV, MAtt made some moves that we wanted to and Matt's word is good. Ragan suggesting that matt should let ragan have the HOH next week becuase the hoh comp after that will be skill and matt will be better at it. Ragan says MAtt staying tomorrow will be the greatest thing ever but also just as great will be the look on Brendon's face if MAtt stays it will be INSANE. Matt agrees: "it sure will…what kind of speech should I do should I wing it or should I plan on something. Ragan: "if you find out your going then don't waste a single breath on brendon, Matt: "oh yeah if I think i'm staying i'll rip into him but if i'm going maybe i'll do a bit of both.. Some nice words should be said"
Hayden joins them
Ragan: "I'm so excited to eat tomorrow" they start to talk about the jury house and music, Matt says he's going to request ear plugs so he doesn't have to listen to Rachel. Lane comes out and the POOL tournmament begins, Ragan vs LAne, Ragan leaves. Matt tells him that Ragan doesn't know about the brigade so he's doing some hard core campaigning, Matt just wants Hayden to know he's not sending ragan out into the house to campaigning for him Ragan is just a emotional person and he doesn't want matt to leave. Matt thinks Brendon had every intention to BAckdoor him, everything was planned from day one even the deal Brendon made and then broke. Hayden is shocked that kathy is the saboteur, MAtt agrees but he thinks theres enough evidence know that she's the one. Matt asks Hayden if he's talked to Enzo about the coup d'etat. MAtt says if he has the coup d'etat he doesn't necessarily have to put up 2 people he might just want to put up one like Kathy. HAyden thinks he should put up Kahty and Brendon. MAtt wonders if Enzo will do it, hayden thinks he will it's so important right now, Matt: "yeah putting up Kahty would be a POWER move.. imagine if the Brigade stayed whole after next week the audience would be screaming BRIGADE"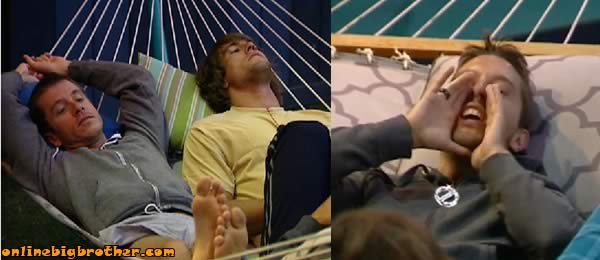 7:28pm lane and hayden. Lane is thinking that it will be a double eviction, he's not sure there will be. Lane eating brendon's burger, "what the BLANK did he put in these burgers there was a huge chunk of garlic in mine". lane lets say Kathy is the sab so her vote will be americas vote. Hayden tells him there are 4 poeople that are keeping Lane if the votes come back 3-2 then one of us 4 are the sabetour, either Kathy, Enzo, Brit and Hayden. Hayden: "I know it's not me so that leaves 3 people" Enzo joins them, "burgers good hey". They talk about who they would put up either Ragan and BRit or Brendon and Ragan.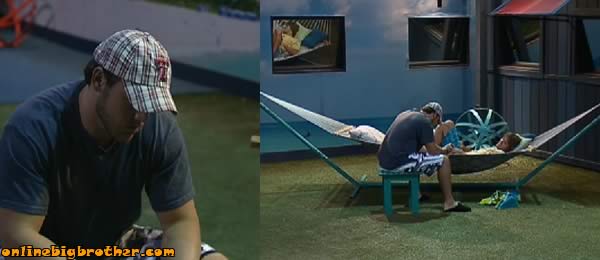 8:00pm Hammock Lane and Hayden Hayden is thinking that Enzo has some real power, all day hayden has been asking enzo but he's not getting a straight answer from him. Hayden points out that Enzo has fans, LAne: "Thats what we need fans where do we get those" Hayden: "He have to start winning", Lane: "Well what has enzo won.. I need to stop being stupid and you need to stop being a surfer guy" Lane isn't sure about the power being in the game he thinks production would tell them if there was. Hayden brings up that he asked production in the DR and they told him that they doe not have to tell the hosueguests if a wizard power is in the game. Lane wonders who Enzo would take out… they go over who they will take out next week, hayden says he wants Brit gone next week. Lane agrees he thinks Brit is really sneaky, lane also is sure if matt goes this week and BRit next week he can pull ragan in and control him.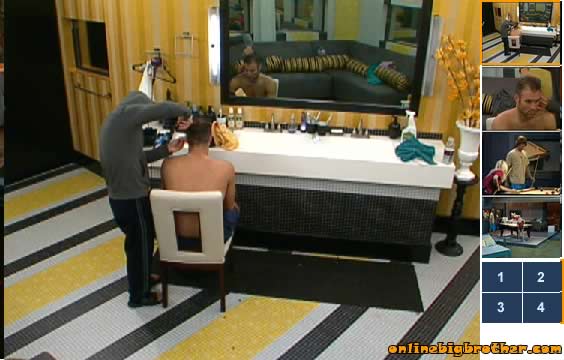 8:10pm Gremlin finishing Enzo's Hair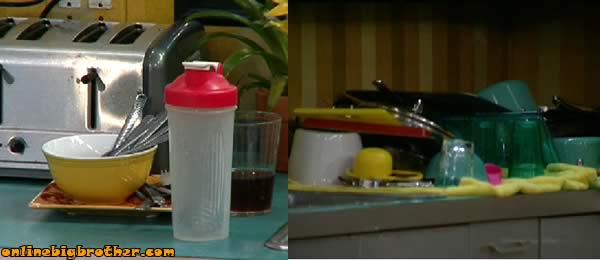 8:19pm Kitchen, Matt, Brit and Hayden MAtt is showing them that Brendon did everyones dishes but a little pile that the have nots was using. HAyden: "WOW what a child" Matt: "and it's not lilke he did a few he did a ton of dishes then left a bowl and a couple of spoons.. what a child" Ragan comes in and they tell him about the dishes. Matt: "what a BLANK baby". Ragan: "BRendon's is being super pouty right now".