SEE what they CAN'T show you on TV! 3 Days FREE No Commitments
8:40pm Taj Room Kristen and Ragan Kristen thinks it's strange that Hayden hasn't been campaigning at all. Ragan says that HAyden came up to him twice, Ragan thinks he has been just not as much. Kristen tells him there are things going on in the house that we don't know about. Ragan says he's been tackling this question, it has consumed him all day.
Ragan says he doesn't think there is any conspiracy, he has really considered that something is going on but he doesn't think that the boys are together at all. He knows they are all friends and and maybe that is why Hayden feels safe but he doesn't think there is any final 4 deals between them (BOOOOM grenades) Kristen says she knows that she thinks that if she leaves though that the guys will form up. Ragan knows that it's a big possibility but this game changes every second. She asks him if he's talked to rachel , he says he has but they were just talking about production so they were teetering on getting in trouble. Ragan tells her that she's in a tough situation. Kristen asks him if he's had a chance to talk to anyone else in the house. ragan said it's feeling so weird to have these conversations with people, going up to them and telling them there is something going on in the house. Ragan thinks they should start having meetings of 3 people, "for the playing field to be level she should shift to getting 2 people together and talking and she can mediate it". Ragan bring sup the lack of conversations that are going on in the house is hurting her chances. Ragan: "the game right now is all based on friendships, it could be different next week… you need to change the board"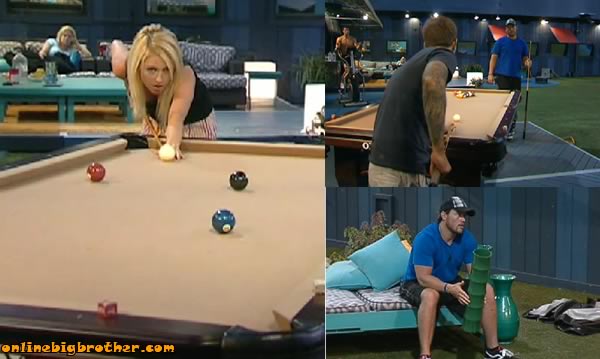 8:40pm – 9:00pm ongoing pool tournament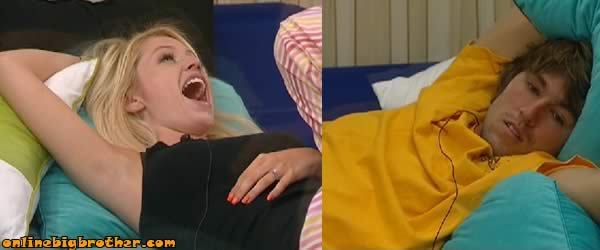 9:04pm cabana Room Brit and Hayden Brit telling him about her pool game with Rachel and how Brendon was on the elliptical giving Rachel advice how to play, "Hayden i wanted to throw a rock at his face". Rachel walks by brit says "Theres 8 beers and 2 bottles of wine" Hayden: "The last thing she needs is more alcohol". Brit: "I won't be drinking any of it" Brit asks him if he saw rachel's boobs last night, hayden swears he looked the other way he doesn't want to see that, "I knew they were out though". Brit brings up Kristen is really picking it up she's going hardcore. I don't want to tell her right now but i'll tell her before we go in.
Ragan walks in… Rachel walks in Hayden leaves… Ragan, Brit and Rachel start talking about their favorite BB websites.. we're not one of them :( Rachel wonders what the websites would be calling her… ragan says roachel. They start going over the casting of the houseguests.

Annie is the bipolar
monet is the model
Ragan is the gay
Rachel is the part girl
Andrew is jewish
Matts the offbeat rocker
Lanes the "good ol boy"
brendon is the brain
Hayden is the all American
Kathy is the mother
Enzo is the joker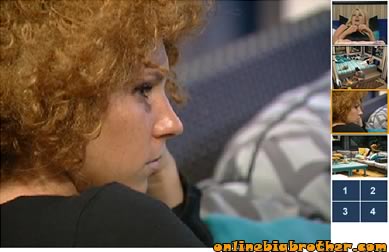 9:30pm backyard Kristen sitting on the couch, brigade playing pool
Share it YO!!
Tweet