SEE what they CAN'T show you on TV! 3 Days FREE No Commitments
9:50pm Taj Room Kristen and Brit. Kristen is campaigning, she's giving her the same speech she's gave her yesterday and earlier today. She wants people to vote for the person that will further her in the game not based on what the HOH wants. Brit will be the only girl left after the boys take out rachel and kathy. Brit says she doesn't want that to happen. Kristen offers Kathy final 2 says she'll go after Brendon and rachel, she knows she can win the HOH comp because it'll be physical. Brit is bored to tears she tries to change the subject to the HOH comp but Kristen keeps going back to her angle. Kristen says she hasn't seen Hayden campaigning, asks "shouldn't that be a red flag"? Brit says that Hayden is acting very nervous and he's been talking to everyone all day long. Kristen says this vote is going to be really close she's talked to people and she's shocked how close it's going to be. (Krsiten is trying hard reiterating the same speech over and over nothing is working)
10:10pm Backyard Lane and Hayden Talking about how they need to get Brendon out. Lane brings up how it sucks that Kristen is leaving, "you got to hand it to her she is really fighting". HAyden agrees, tells Lane that she a good girl. Hayden explains that he knows it's a game and he's here to win so either she goes now or later, lane: "Sucks that she's sooner though" Lane brings up how strong a competitor she is and how they may be in trouble later in the game if she would stay. Hayden out of the blue "goddamn we need to get brendon out". Lane: "its your time Hayden the way things are going you'll win it".. they continue to work out for awhile lane says "this house is getting thinner and thinner". Hayden: "one of us 2 need to become friends with Brendon and Rachel". Before Lane can say anything the sliding door opens and we hear "HEEEEEEEEYYAYYYEYY WUD UP" Rachel walks out tells them that she's counted the whole container of nuts and found out that the packaging is wrong it's only 20% other nuts not 50%… She heads back inside.. Kahty comes out starts to smoke.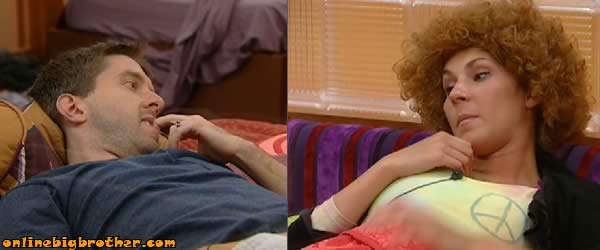 10:25pm TAJ Kristen and MAtt Kristen campaigning.. tells him the same as with Brit except she doesn't offer final 2. She adds that if Brendon wins HOH chances are she's going to be put up. Matt "Thats good to know"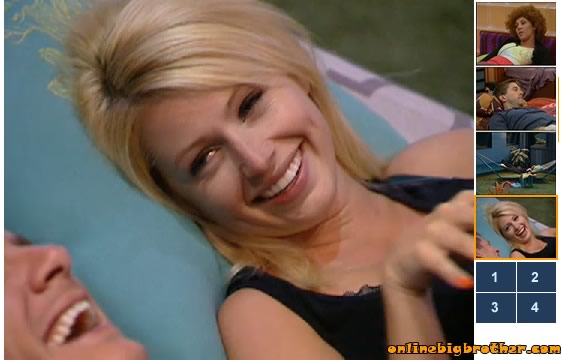 10:30pm Hammock Ragan, Brit, Hayden on the elliptical and Lane working out They wish they had told Brendon to go talk to HAyden when he was in confinement in the have nots. HAyden starts laughing "Thats the ultimate trap". They continue to laugh about Brendon and how he talks forever, Brit tells Ragan he better not leave her alone around Brendon again because he does it ever night and she's not getting sucked into that black hole again. Brit asks what breaths better a fish out of water or Brendon's thighs in those shorts. Ragan: "Whats higher a hippie smoking gange in the 1960 or Brendon's shorts". Brit: "He's wearing some Daisey dukes". Ragan says he can't believe Brendon and Rachel are inside counting the amount of nuts in the nut containers. BRit" this is what its come down to".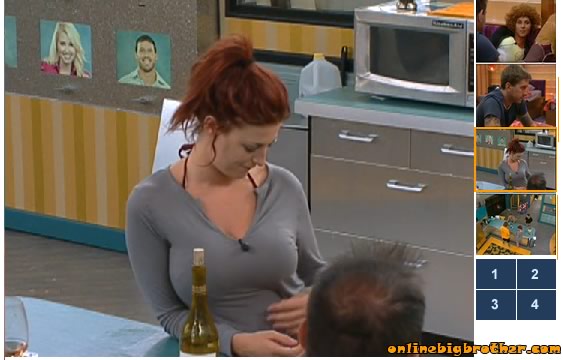 10:51pm Kitchen, Brendon, Enzo, Rachel and Hayden hanging out drinking. Enzo did the mistake of bringing up that Hayden is part Native American because now Brendon is telling them about family friends of his that are and his "africian Amercian friends are part native Amercian" etc etc .. Rachel has had one glass of wine.