SEE what they CAN'T show you on TV! 3 Days FREE No Commitments
7:54pm Cabana Room Kathy is telling Hayden that she's pretty much given up, she's going to the Jury house she knows it. Hayden tells her if Kristen leaves on Thursday then Kathy can talk to Hayden like she talks to Kristen. He knows that they aren't close like her and Kristen are but he trusts kristen's judge of character and he know Kathy is a good person. Kath: "I'm going to miss her to death.. She's all i got". Hayden "I'm going to miss her to.. I rally am". Kathy: "look at the damage they've done to the good people in this house so far.. she disgusts me".. "if i have to site in the jury house and vote the 500K to either Rachel or Brendon I'll refuse neither deserve the money playing the way they play". Kathy "Rachel has threaten every girl in the house, I've been hiding my fight" kathy says she's been trained by the police force to "hide her fight" but she won't stay silent for every, She can't play her game because R/B control everything. Hayden says they won't win every competition sooner or later someone else will. Brit walks by and tell Hayden he's up for pool.


8:10pm Rachel and ragan workign out, brendon, hayden, brit, lane, enzo playing pool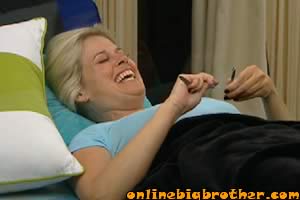 8:12pm Back in the Cabana Room Hayden and Kathy Kathy telling him that Ragan isn't going to put B/R. Hayden says he knows ragan wouldn't put B/R up. She bets him laundry for a week that Ragan will not put those 2 up. Hayden says he's been talking to him and Hayden likes him and he knows he doesn't b/r. Kathy says she wants to win HOH and be the one that puts B/R up. She knows they will go off on her but she's going to fight and put them both up. Hayden says he may be getting played by everyone but everyone is on the same page. Hayden tells her they should open the door because he doesn't want Kristen to think he's campaigning against her. They start talking about Andrew and what he did to hayden, Kathy says she is speechless about him. Hayden is going to give him a piece of his mind at the wrap party. Hayden doesn't know what he'll say in his speech on Thursday. He tells Kathy that her speech was classy and she sounded well spoken. Kathy said it wasn't preplanned she just got up and started talking. Kathy starts to instruct him how to write a successful eviction speech. Hayden tells her he hopes that Kristen DR session doesn't upset her. Kathy tell him Kristen won't show the people here how upset she is.. Kathy: "She not a crier.. I wasn't until I came in here"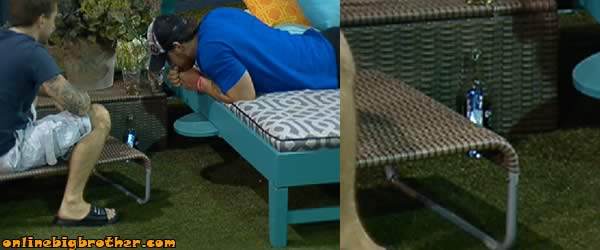 8:29pm Lane and Matt Have used their brigade training to make a ant trap. It's basically a ramp that leads up to the lip of a cup. Lane says he's been staring at if for 30minutes and he saw one ant almost go up. Lane (Whispering): "Shhhhhh don't make a sound it's like we're hunting… WE'VE set the traps all we have to do is wait"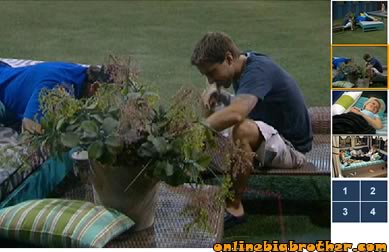 8:40pm Brigade boys Masters of the hunt
Share it YO!!
Tweet