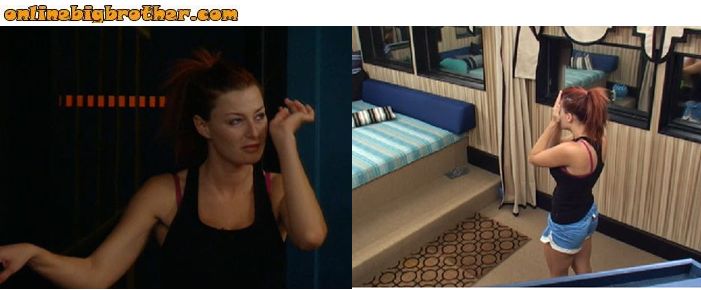 9:10am Rachel is in the kitchen and starts to cry. She opens the backyard door to get some fresh air and continues to cry. Then she heads to the lounge room and cries some more. She pulls herself together and then starts working out like crazy in the small lounge room. She does jumping jacks, uses the steps up to the bed as a stepper, runs around in small circles, stretches.. etc.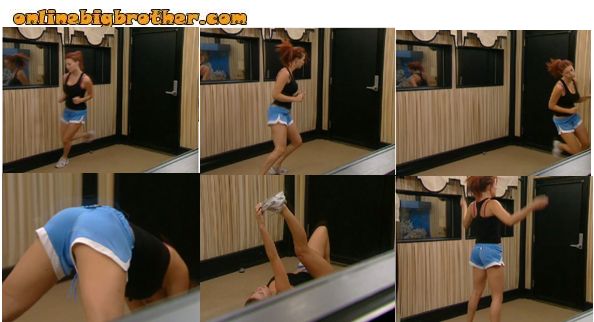 SEE what they CAN'T show you on TV! 3 Day FREE Trial
Rachel is jumping near the door and the blind covering the window shoots up and freaks her out and she says sorry. (lol) Then Rachel heads to the kitchen to get a drink and then goes back to the lounge room and starts doing push-ups and jump rope without the rope.  She then sits on the floor and is silent with her hands over her face for about ten minutes and then starts working out again.  (I think someone is having a mental breakdown..)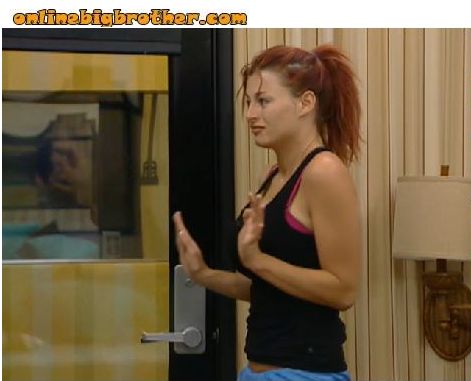 9:46am – 10am Rachel is running in one spot when Kathy opens the door and asks her what she is doing.  Kathy asks why are you up so early.  Rachel says because she got called to the diary room and that she is now trying to sweat out the alcohol in her system.  Kathy talks about how drunk Rachel was last night and tells Rachel what she was saying.  Rachel doesn't remember any of what she said or did.  Kathy tells her that she didn't know that Rachel was drunk and asked if she wanted to talk and Rachel said that she couldn't talk right now, that she was going to throw up …and then make out with Brendon.  Rachel asks if Kathy knows if she threw up or not.  Kathy says she doesn't know.  Rachel says that she doesn't think that she did.  Rachel says that she doesn't remember a lot of what she said last night.  Kathy tells her that as long as she feels okay today, no big deal.  Kathy then leaves and Rachel goes back to working out and stretching.  At 10am Rachel heads to the washroom to wash up.  All the other houseguests are still asleep.

Watch all the drama on Flashback! Superpass 3 Day FREE Trial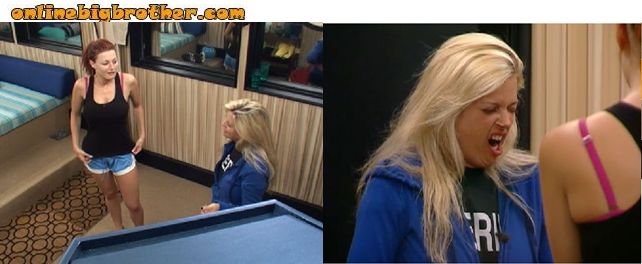 Onlinebigbrother.com is around because of your donations Every year the site costs us to host the images and run the 3 servers needed to handle the traffic. If you like the site then please consider donating to keep the madness going. Thanks!
Share it YO!!
Tweet